Ali Wong
Pint-sized and perpetually pregnant Asian comedian Ali Wong has been one of the stand-up stars to watch ever since her magnificent, filthy, and hilarious first Netflix special Baby Cobra came out in 2016, but her follow-up special Hard Knock Wife is just as excellent. She's an expert at toeing the controversial-vulgarity line, and her bits about feminism, anal sex, marriage, motherhood, and the horrors of shitting at work are pretty much guaranteed to leave you in tears. Now on "The Milk & Money Tour," Wong's gracing Portland with three shows at the Keller, and you shan't miss it. (Sat 7 pm & 9:30 pm, Keller Auditorium, $39.50-65) JENNI MOORE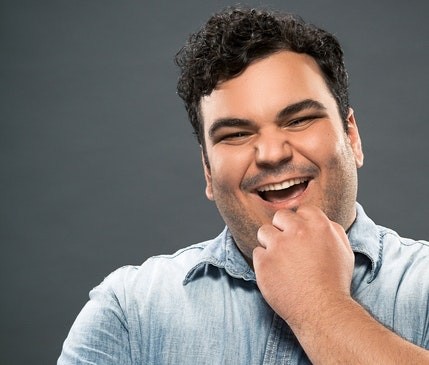 Ian Karmel
Watching hometown hero Ian Karmel blossom into an Emmy-nominated writer and beloved stand-up on the national scale has been a feel-good story for the ages. In the past few years, his weekly All Fantasy Everything podcast has become the perfect sandbox for honing his quick-witted referential material, and it's a constant reminder that he is one of the funniest comedians working today. Catch up with him tonight when he returns to the Revolution Hall stage to showcase a brand new hour of material. (Fri 6 pm & 9 pm, Revolution Hall, $22-25, all ages)
---
Jump to:
Friday
|
Saturday
|
Sunday
---
Friday, March 8
Laura Veirs
One of Portland's most beloved (and long-lasting) folk-pop artists, Laura Veirs, is back to charm the pants off of us with her newest solo album, The Lookout. Influenced—but not overwhelmed—by our current, chaotic times, The Lookout makes a strong case for self-protection and especially protecting others. The songs are gorgeous, warm, and just the thing to soften up your crusty shell for a bit—so self-protect yourself and listen to Laura sing these soon-to-be classics live! (8 pm, Polaris Hall, $20-25, all ages)
Alex Zhang Hungtai, Visible Cloaks
Though he's best known for the records he released as Dirty Beaches—which conjured the distorted daydreams of Suicide and the eternally lonesome croon of Roy Orbison—Alex Zhang Hungtai retired that moniker in 2014. Since then, Zhang has appeared on the Twin Peaks revival (to play the Roadhouse, naturally) and radically shifted his focus toward the experimental, abandoning retro rock 'n' roll entirely in favor of free jazz and expansive ambient soundscapes. Zhang's droning, orchestral 2018 album Divine Weight builds off of his "failed" saxophone recordings to explore "the uncharted labyrinth of the personal subconscious." (9 pm, Mississippi Studios, $15-17) CIARA DOLAN
22nd Annual Barleywine Festival
Lucky Lab's annual celebration of one of the biggest, maltiest, knock-you-on-your-ass-style beers in brewing history features over 70 varieties rotating through 20 taps Friday and Saturday. Admission includes a festival glass and four tokens, with additional four ounce pours for $2.25. The Lucky Lab sits right next to three bus lines, and the Portland streetcar, and this is mentioned because you definitely do not want to get in a car after sampling this malted heaven all day. (11 am, Lucky Labrador Beer Hall, $16)
The Chills, Cotillon
Plotting the history of the Chills is a task that requires a conspiracy theorist's level of obsession and attention to detail. Since its formation in 1980, dozens of musicians have joined and departed the ranks of this New Zealand pop group, including Luna bassist Justin Harwood, former XTC guitarist Dave Gregory, and Martin Kean, who also spent a brief spell in Stereolab. What makes this remarkable is how consistent the Chills have been during this nearly four-decade stretch. That has everything to do with Martin Phillipps, the singer/songwriter who is the only permanent member of the band. All the while, he has maintained a clear vision for this project, one that draws from the jangling looseness of the Byrds and the seamy force of the Velvet Underground. The last few years have been good to Phillipps and the Chills—good enough to embark on a US tour that includes their first Northwest dates in nearly two decades. Heavenly, indeed. (9 pm, Dante's, $20) ROBERT HAM
Jacob Miller, Lemolo, Sheers
With an affinity for minimalist pop and firm roots planted in American traditional music, Jacob Miller crafts a timeless sound unique to his style and abilities. (9 pm, Doug Fir, $12-14)
That's What She Said: Spring Queening 2
What better way to shake off this (apparently neverending) winter than to enjoy some brilliant comedy by feminist comedy collective, That's What She Said. Hear from Katie Nguyen, Berlyn Lee, Katie Piatt, Brooks, Oliver Warfield, and Shannon Sales, and rest easy knowing your dollars are going directly to SMYRC. (7:30 pm, Siren Theater, $10)
Mondo Trasho: Alien Resurrection
In 1990, Sigourney Weaver was like "I've about had enough of this whole Ripley thing, and I think it's time to end that story." And thus 20th Century Fox began one of the most thorough botch-jobs in film history, leading to first-time director David Fincher abandoning (and disowning) Alien 3, his broken and un-scary gothic drama that only (barely) works as an AIDS allegory. Then, around 1995 or so, Fox gave Weaver a shit-ton of money to come back, despite that whole dying in the last movie thing, and they hired a disinterested Jean Pierre-Jeunet (The City of Lost Children) to direct Joss Whedon's embarrassing Aliens fan-fiction starring a cloned Ripley swimming, fighting and fucking (!) her way through a glistening swarm of roaring penis-monsters. As an unofficial rough draft for Whedon's Firefly, it kinda works if you squint real hard. But as an Alien movie, it's straight garbo. Hence tonight's screening in the Hollywood's Mondo Trasho series. (9:45 pm, Hollywood Theatre, $7-9) BOBBY ROBERTS
A Collab for International Women's Day
This IWD, spend your dollars dining on a collaborative meal prepared by six women and non-binary chefs. Each dish or drink is designed by a different culinary artist! The event will also feature music from a woman or non-binary performer. (7 pm, Broad Space, $50-60) EMILLY PRADO
Ceremony of Sludge VIII
The Ceremony of Sludge mini-fest returns for its eighth year, bringing you a landslide of headbang-worthy heavy metal and doom played at ear-melting volumes for two straight nights at the Kenton Club. (Fri-Sat 8 pm, Kenton Club, click here for bands and showtimes, $10 per night)
---
Saturday, March 9
XRAY.FM's 5th Birthday Party
The much-beloved community radio station celebrates its fifth year with a birthday blowout at Polaris Hall, with live performances from Seattle soul and R&B artist Sassyblack and Portland's own Blossom, along with DJ sets from The Numberz, Ambush, and Kevin Berry. Hosted by DJ Klyph and KayelaJ. (9 pm, Polaris Hall, $15)
5th Annual Baker's Dozen Coffee, Beer, & Doughnut Festival
You probably just clutched at your heart simply reading the title to this event. Slowly retract those claws. Redirect them to your wallet. Keep it in your hand as you drive to Ecliptic. You will want it at the ready, because holy shit it's a beer/coffee/doughnut festival! All at the same time! Admission includes a souvenir glass, and 4oz samples of all 13 coffee and coffee beers available, as well as samples of the doughnuts. (10 am, Ecliptic Brewing, $29-35, all ages)
Dylan Meconis & Ben Coleman
If you're full-up on dire visions of future apocalypse, maybe it's time to give a silly one a try! Set five years after a "cataclysmic event" destroys downtown LA, investigative reporter Victor Lai discovers a lone, insulated comic book convention that has survived, and built its own dystopian society. The Long Con is a hilarious mash-up of sci-fi/fantasy references, co-created by regular Mercury contributors Ben Coleman and Dylan Meconis. (2 pm, Powell's City of Books, free) SUZETTE SMITH
All Fantasy Everything
As part of a 24-hour whirlwind that might as well be dubbed "Karmel Con," hometown hero Ian Karmel is set to sandwich a pair of stand-up shows between early-afternoon live tapings of his All Fantasy Everything podcast. With AFE co-hosts Sean Jordan and David Gborie joining in on the fun, and special guests lined up for each performance, it's no wonder that this marathon of laughs is already nearly sold out. (2 pm, Doug Fir, $22-25) CHIPP TERWILLIGER
Action Bronson, Roc Marci, Meyhem Lauren
Flushing, Queens-hailing rapper, reality television star, and talk show host Action Bronson makes his way back to the Roseland for an all ages Portland stop on a tour supporting his latest album, White Bronco. (9 pm, Roseland, $32.50-35, all ages)
Donavon Frankenreiter, Matt Grundy
Billabong-sponsored surfer and Jack Johnson protégé Donavon Frankenreiter comes ashore for a headlining show at Revolution Hall. (8 pm, Revolution Hall, $25-30)
Wings of Desire
In honor of legendary thespian Bruno Ganz's passing in February, the Hollywood Theatre presents this special screening of Wim Wenders' landmark romance about an angel who falls in love with a human, recently restored at 4K resolution and given a new 5.1 surround mix. (7 pm, Hollywood Theatre, $7-9)
Erica Rhodes
The actress and comedian who began appearing as a frequent guest on A Prairie Home Companion at the age of 10 before going on to guest star in New Girl, @midnight, and Modern Family swings through Helium to record her debut live album. (7:30 pm & 10 pm, Helium Comedy Club, $17-33)
2nd Annual Empty Bowls for Self-Care
The PDX Alliance for Self-Care connects folks from marginalized communities with the resources they need to access self-care from events and education, to practitioners and more. Local potters have donated beautiful handmade bowls so attendees in need of some TLC (in the form of tasty soups and stew) can do so in style. This nourishing event will also pair soups with sides, beer and wine, music, and a raffle. (6 pm, Unity Church of Portland, $10-30) EMILLY PRADO
Pleasure Leftists, Arctic Flowers, Havania Whaal, Silence Mill
Cleveland post-punk quartet Pleasure Leftists bring their infectious sounds back to Portland in support of their long-awaited debut full-length, The Woods Of Heaven. Like-minded locals Arctic Flowers, Havania Whaal, and Silence Mill round out the bill. (8 pm, Black Water Bar, $10, all ages)
TOAST
Sure, you like booze, but how sophisticated is your knowledge of it? At the Oregon Distillers Guild's TOAST, you'll get to taste over 120 spirits from around the world, getting tipsy and learning about new innovations in hooch, for a not-bad-at-all price. (5 pm, Tiffany Center, $15-65)
CFA Cat Show
So many kitties! Over 200 pedigreed cats competing for prizes! Not a single one of them likes you! Not. A. One.. Such beautiful, supercilious little furballs, aren't they? (9 am, Doubletree Hotel, $5-10)
---
Sunday, March 10
The Biggest Clothing Swap in the NW
Now in its eighth year, the Biggest Clothing Swap embraces the secondhand. Bring a bag of clothes you're ready to thank and discard like Marie Kondo told you to (make sure they're free of dirt, holes, et cetera), and go hunting through other people's trash for treasure. Keep your garment-grubbing energy up with music from DJ Gregarious. The Biggest Clothing Swap is a fundraiser for Unmentionable: A Lingerie Exposition, which showcases local designers and celebrates body positivity. (noon, Crystal Ballroom, $8-10 plus a bag of clothes, all ages) BLAIR STENVICK
Get It on Paper: 20 Years of Street Roots
The opening of Central Library's exhibition charting the two-decade history of Street Roots, one of the most important publications in Portland history, with appearances from the paper's leadership, its vendors, and its supporters. (2 pm, Multnomah County Central Library, free)
Bryson Cone, Amenta Abioto
I just can't shut my trap when it comes to Amenta Abioto, whose work is a fluid combination of jazz, hip-hop, soul, and African music. Last month the singer/songwriter released a gorgeous, mystical music video for her single "Plant It," exploring themes of environmentalism, the connection between humans and nature, and manifesting your dreams. To see her perform live is a real treat—Abioto has been at the top of her game recently, having perfected her soul-stirring vocals, improvised song-construction, and spot-on comedic timing. Come see her play unreleased songs like "Kujichagulia," "Wade," and "Revolution," and then start the countdown until her next show. (8 pm, Rontoms, free) JENNI MOORE
Sarah Kwak, The Oregon Symphony, The Percussoin Collective, Robert van Sice
The Oregon Symphony performs the world premiere of a piece called "Drum Circles" by Christopher Theofanidis. This dynamic 25-minute composition is created for a full orchestra accompanied by four guest percussion soloists, each tasked with playing an expansive instrumental panoply that includes maracas, congas, glockenspiels, cowbells, and a typewriter. Ralph Vaughan Williams' "The Lark Ascending", one of the most beloved musical gems to ever take flight, is also on the program, showcasing our magical concertmaster Sarah Kwak with her brilliant violin work. An overture by Wagner and Mendelssohn's "Italian" Symphony No. 4 round out the setlist. (2 pm, Arlene Schnitzer Concert Hall, $24 & up, all ages) BRIAN HORAY
Jesus Christ Superstar: A Singalong With The OK Chorale PDX
Portland-based drop-in community choir the OK Chorale return to Mississippi Studios to pay tribute to the Andrew Lloyd Webber and Tim Rice rock opera, Jesus Christ Superstar. (7:30 pm, Mississippi Studios, $22-25)
Jukebox the Ghost, The Mowgli's
Ben Thornewill, Tommy Siegel, and Jesse Kristin bring their Washington, DC-hailing power pop and idie rock act back to the Wonder stage for an all-ages show supporting their latest album, Off to the Races. Los Angeles-based alt-rock outfit the Mowgli's round out the co-headlined bill. (8:30 pm, Wonder Ballroom, $22-25, all ages)
Flash Gordon
December 5, 1980 is a very notable date in film history—it was the day that camp ascended to unassailable art. Before that Friday, the term was a synonym for clumsy, failed ambition, earnestness gone sour and turned to kitsch. And then, Dino DeLaurentiis, inspired by Star Wars and holding the rights to the property George Lucas wanted to make in the first place, plugged "camp" into Queen guitarist Brian May's amplifier stack, fed "camp" through designer Danilo Donati's sewing machines, and firehosed "camp" through cinematographer Gil Taylor's camera lens, with the resultant mess expansively splattering the meaning of the word all over the delirious circus of ridiculousness barely holding its orbit around the lunkheaded, beefy majesty of Sam J. Jones as Flash (ah-aaaaahhhhh!) Gordon, and praise Ming, cinema itself was forever altered. (7 pm, Hollywood Theatre, $7-9) BOBBY ROBERTS
Don't forget to check out our Things To Do calendar for even more things to do!