Something strange lurks in the background of Shana Cleveland's songs. It's not necessarily sinister; there's just a sense that an unknown entity is circling the perimeter, eyes glowing out from the shadows. Beginning with 2012's Damp Face, the first EP from Cleveland's surf-rock outfit La Luz, ghostly doo-wop harmonies are paired with lyrics populated by faceless ghouls. Even the chorus of "California Finally" (from La Luz's 2018 album Floating Features)—in which Cleveland sings airily about actualizing her "golden dream" of migrating south—is punctuated by a distant scream.
Backed by her nine-piece band the Sandcastles, Cleveland's solo debut, 2015's Oh Man, Cover the Ground, showcased the fluidity of her American primitive-style guitar playing. Accented by cello, clarinet, ritualistic-sounding percussion, and cryptic, near-whispered lyrics, the whole thing is bisected by a 47-second track titled "(death riff)." There's an uneasy beauty to Cleveland's work, and that remains true on her new album, Night of the Worm Moon.
The Worm Moon—the first full moon in the month of March—signifies the return of worms to the soil once the ground has begun to thaw. Drawing inspiration from this terrestrial phenomenon, Afro-futurist Sun Ra, the 2017 solar eclipse, UFOs, the allure of unknown realms, and wonderful bizarreness of her new Los Angeles home, Cleveland's latest continues to burrow deeper into the uncomfortable space between light and darkness, life and death, knowing and not knowing. That comfort with the universe's unanswerable questions is what makes Cleveland's music so great—as she sings on "I'll Never Know," Worm Moon's closing track, "I try my best to live in truth/I guess I'll never know."
Sponsored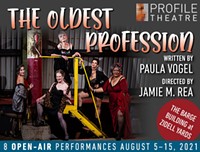 What's the retirement plan for the oldest profession? A moving comedy by the premier writer of our time.