ALL HAIL PIZZA WEEK!
From April 15-20, the
Portland Mercury
's Pizza Week will make its long-awaited return, giving pizza-loving
Mercury
readers the chance to get special slices from some of Portland's finest purveyors of pizza pies… for a mere two dollars each! (That's right: Each slice is just TWO MEASLY DOLLARS.)
Sponsored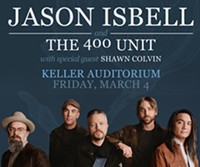 Jason Isbell has established himself as one of the most respected songwriters of his generation. Don't miss Jason Isbell and the 400 Unit, March 4th at Keller Auditorium!
Along with our pizza-loving pals at Jim Beam, Oregon's Finest, and the SPLIFF Film Festival, the Mercury is proud to present what might be our greatest Pizza Week lineup ever—one that features over 40 different slices, available across the city and lovingly crafted by your favorite pizza masterminds.
Here are all the special $2 slices you can get on the Westside of Portland April 15-20!
Hot Lips (Pearl) Temple of Shroom
---
Old Town Pizza Brewing Curry On My Wayward Son
---
Rogue Ales & Spirits Star Wipe
---
Hot Lips (Civic) The Natural
---
Straight From New York Pizza (West Burnside) Fearless Vampire Killer/Date Night Special
---
21st Century Pizza A Slice of Tony
---
Chiosco Pizza Window Porchetta and Tomatoes
---
Hot Lips (PSU) Red Dawn
---
And check out the pizza week map:
At portlandpizzaweek.com, you'll find even more info about Pizza Week—including live updates and an interactive map of all Pizza Week locations! And you can find even more about Pizza Week with #portlandpizzaweek on Facebook, Instagram, and Twitter.
RSVP to the Pizza Week Facebook for updates, and click here for Portland's most comprehensive Food & Drink Calendar.