One of the most emotionally crushing songs to be released this year comes from a somewhat surprising source: singer/songwriter
Paula Cole
. At least, it will come as a shock to anyone who only knows the 51-year-old for her early hits "Where Have All the Cowboys Gone?" and "I Don't Want To Wait" (the latter forever remembered as the theme song to teen drama
Dawson's Creek
). But throughout her discography, Cole has exposed fresh emotional and psychological wounds, from the damage she inflicts on herself ("It's me who is my enemy/me who beats me up," she sings on "Me," a track from her 1996 album
This Fire
) to, on her 2015 album
7
, the agony of a fraying marriage ("How can you say the word 'divorce'?/How can you come around then later/with flowers and empty apologetic words").
Sponsored

Custom framing, photo frames, printing on metal, paper and canvas.
On "Silent," the haunting centerpiece of her latest album Revolution, she reveals much more and to much more devastating effect. Using a nursery rhyme-like melody, Cole recounts moments from her past that, at the time, struck her dumb. During one verse, that means those simple, relatable pangs of self-doubt as she spends time among the parents of her children's friends. But the gentle, yet bruising impact comes earlier, when she sings of being sexually assaulted by a tour manager while on the road in Europe. Her description of the incident is detailed, unblinking, and hard to shake off.
That feeling resonates throughout Revolution even as Cole's songs take on more universal concerns and attempts to shake our often-complacent personalities out of our collective stupor and toward positive action. By encouraging something as simple as "universal empathy" on the Bob Marley-inspired song of the same name and turning the spiritual maxims of a Buddhist text into a beautiful piano ballad, the entire album becomes challenging and enriching in equal measures.
Ahead of her performance on Friday at the Walters Cultural Arts Center in Hillsboro, Cole spoke with me about her new album, refusing to stay silent, and her new personal mantra: "I'm 51 and fuck it."
PORTLAND MERCURY: Where did the journey to Revolution begin for you?
PAULA COLE: It's interesting because I had the follow-up to Ballads [her all ready to go. But these times are kind of staggering. Gobsmackingly worrisome. I felt the need to make a sociopolitical statement in the hope that it would give myself courage, and maybe other people courage, to speak up. So that we don't keep taking things stoically or feel frightened to speak. We need to speak to have it keep spreading like a wave so that we are naming what's going on. And hopefully just to have enough courage to stop it. I guess I need to live more by the credo of Picasso that artists are the politicians of the future. It was time to make an album larger than my own autobiographical issues. The songs came furiously. Some of them are old seeds that have been in the back of my mind. Like "Shake the Skies" is an idea that I've had for a couple of decades. "Revolution," as well. I would just work them and change them. Then, some came quickly like "Silent." I pushed myself to write differently by adopting that technique that Dylan used to do in the '60s of just sitting at a typewriter and letting things pour out. I did it on a computer and went about it in a more short story aspect. The mindset that was taught to me by the Silent Generation was taking it on the chin and finding dignity and stoicism by holding it in. It wasn't working for me. It's dangerous to be silent.
Are you inspired by what happened at the Global Climate Strike and seeing young people speaking up as loudly as they are?
Yes, of course. It's encouraging. I've taken so much heart from Millennials and Gen-Y kids. I've learned so much from them, and I thank them on the album for helping me and encouraging me to be less silent.
Revolution is such a varied album, with all these different genres you're playing around with: reggae, gospel, blues, and then some of the more poppy stuff that I think people would most associate you with. Was that important for you to mix things up in that way?
It wasn't conscious whatsoever. It's just what came out. I've always been difficult to categorize as an artist. They usually put me in the bin with other white females of the same age. In reality, my influences are very diverse. I don't fit in anywhere. But in the end of my life and the end of me building a catalog, I think that's going to be a really good thing for me. I mean, I've adored Bob Marley for years. I've played his music in the house before every show for 20 years. I don't want to be classified. It doesn't work for me.
It's always something I'm curious about with artists who make diverse albums like this. How much of their music just comes out naturally and how much of it is deliberate.
I was just playing around on this old upright piano that I have in my house. I was playing the skank and experimenting and it sounded really good. So I just wrote a whole song around it. Then it ends up blending with Middle Eastern music and spiritual mantras.
I want to ask about the song "Silent." To me, it's the centerpiece of this album. It's the one time on the album that you get very autobiographical, or at least looking at this huge global concern through a personal lens. How was it to write that song and express those things? Was it cathartic? Terrifying?
What we ended up using on the album was actually the one and only recording of it, which was a demo made in my home. It was very new. I didn't have anybody's reaction to it prior to recording it. It was just me and Ross [Gallagher] on bass and the engineer. I think in my heart, I knew how important it was because it was so revelatory as to my own uncomfortable experiences being a bystander in verse one or being the victim in verse two or being a mother in verse three. Verse four is just this omniscient overview of what it is to take on silence. It doesn't work for me. I'm not going to do it anymore. Once it's been recorded, people really picked up on that song. It defined so much, starting with myself. To let go of this mantle of silence and to learn from millennials to speak out.
How does that extend beyond the recording studio? Are you applying those ideals of not being silent and stoic to the rest of your life as well?
I try. I try.
Revolution also features some pretty amazing guests, including former Labelle vocalist Nona Hendryx and Meshell Ndegeocello. How did those collaborations come about?
I've known Meshell for years and years. We met at Lilith Fair and have stayed friends. We share a guitar player, Chris Bruce, and Meshell has, from time to time, come to my gigs and sat it. So it felt very natural. Her voice is just so gorgeous. It has such authority and sensuality. She brought her own magic to "7 Deadly Sins." She went into the philosophy and the thoughts behind sin, just speaking into a handheld mic. She sent me the that and we designed the track around her thoughts and it worked really, really well. Nona I met through Teri-Lynn Carrington. We played a Bessie Smith tribute together and I was so blown away by her energy, her voice, her beauty, and her desire to take on the sociopolitical mantle. She was playing "Strange Fruit" and she mixed in words from Martin Luther King… She's not afraid to go for the jugular. I asked her if she could do some wailing on [the title track] and man did she wail. I love what she did. She's a real musician.
Between this and your jazz album, it feels like you're entering into a great period of your career where the sky's the limit. It's not like you held yourself back in the past, but you're really letting it all hang out these days. At least that's how it feels to me. Would you agree?
I'm 51 and fuck it, first of all. You feel less beholden to what people think. Being independent, there's not anyone in the control room goading me on to write a certain way or to create a hit. It's up to me. I have a more direct online relationship with my fanbase. I'm so inspired that I can't get the music out fast enough. I have to promote it and that slows me down, but if I had my druthers, I've got a couple more albums that I could put out right now. I feel very urgent and prolific right now.
(Fri Sept 27, 7:30 pm, Walters Cultural Arts Center, 527 E Main, Hillsboro, $35-40)
Sponsored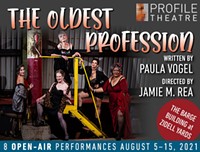 What's the retirement plan for the oldest profession? A moving comedy by the premier writer of our time.