THURS DEC 5
The Thesis: Donte Thomas, Maarquii, Kid Indigo, Trox
The Thesis is known for consistently bringing together some of the most promising names in Portland hip-hop, and this month's lineup is true to form: esoteric rapper Donte Thomas, R&B/pop crooner Kid Indigo, commanding MC Mickey Taelor, skilled sampler Trox, and locally beloved DJ Verbz. But my personal favorite artist on this month's bill is Maarquii, the dynamic genderqueer rapper/performer whose latest singles feature a full, expertly produced sound and a good amount of lyrical swagger. "Won't you bump that new Maarquii?" they ask on "Day Ones." Indeed, won't you?
(Thurs Dec 5, 9 pm, Kelly's Olympian, 426 SW Washington, $10)
BLAIR STENVICK
Madame Gandhi, SassyBlack, MILCK
MILCK (real name Connie Lim) first rose to national prominence when her song "Quiet"—about the expectations survivors of sexual assault are too often faced with—went viral during the 2017 Women's March. It's a beautifully sad and uniquely powerful anthem that's buoyed by Lim's full, lush vocals—though there's much more to listen to and enjoy from this artist. Her first releases are similarly defiant with songs that are heartfelt and pertinent, like the bold "Devil Devil" or the soft, cooing storm of "Ooh Child," a cover of the Five Stairsteps' classic. Her newest release, "A Little Peace," is a gospel-inspired message of survival and empowerment in these oh-so-trying times, and it should be on a playlist for anyone who just needs to get through the day. (Thurs Dec 5, 9 pm, Doug Fir Lounge, $15) WM. STEVEN HUMPHREY
Sponsored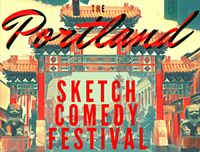 Sketch comedy troupes from all over N. America descend on The Siren Theater for 3 glorious nights.