There will be two Charas in the Portland Timbers' starting lineup come March 1.
Sponsored
Sketch comedy troupes from all over N. America descend on The Siren Theater for 3 glorious nights.
The Timbers announced on Thursday morning that they have signed Diego Chará's 28-year-old younger brother Yimmi as a Designated Player (DP), bringing to a close a years-long quest to reunite the brothers from the southwestern city of Cali in Colombia.
The transfer fee the Timbers paid to acquire Chará from Brazilian first division side Atlético Mineiro is reportedly one of the largest in club history.
"Yimmi is a player we have followed closely for nearly 10 years and having the resources made available to bring him to Portland is tremendous for everyone in the club," Timbers general manager Gavin Wilkinson said.
"He is a quality player and person who has proved himself at the highest level for both club and country and having two Charas on the same team is something we are all very excited about," Wilkinson continued.
This season will mark the first that the Chará brothers have played in the same team since Diego left Colombian side Deportes Tolima to become the first DP in Timbers history back in 2011.
Yimmi Chará stayed at Tolima for three more seasons after his older brother departed, eventually helping lead the club to the Copa Colombia in 2014 and securing a move to Mexican side Monterrey.
After several loan spells outside of Mexico, Chará had a highly successful stint back in Colombia with Atlético Junior before moving to Brazil in June of 2018. Chará also has ten caps for Colombia, and was a part of the country's preliminary squad for the World Cup in Russia two summers ago.
If there is a reason to be skeptical about Chará, it is his relative lack of production outside of his home country: he struggled to make his mark in Liga MX, and while injury limited him during his time in Brazil, it would be difficult to paint his time with Mineiro as a significant success either.
But Diego Chará had never played outside of Colombia when the Timbers signed him either, and given the situation he is walking into, it seems reasonable to expect that Yimmi will be able to settle into life in Portland quickly.
In stature and style, Chará resembles his older brother: he is just 5'7, fast, sharp, and notable for his work rate. Unlike Diego, however, Yimmi has played the majority of his career as a right winger — and he is expected to slot into the Timbers' lineup on the flank opposite Sebastian Blanco.
It is a position of serious need for the Timbers, who have struggled to find a longterm answer in that spot since Darlington Nagbe's departure after the 2017 season. Given his speed and ability to play in space, Chará should be a stylistic fit for Giovani Savarese as well.
Though Chará can play in multiple positions, his signing likely spells the end of the Andy Polo experiment after the Peruvian provided just one goal and three assists in 48 MLS appearances over the last two years. Polo is still under contract, but he won't enter 2020 as a starter.
The signing also brings the Timbers back down to one available DP spot, with Wilkinson still expected to pursue a high-priced forward to compete with Jeremy Ebobisse up top.
A report from Poland on Thursday morning has linked the Timbers with 24-year-old Leiga Warsaw striker Jaroslaw Niezgoda, who has scored 14 goals in 18 games so far this year for one of that country's biggest clubs.
Though the Timbers have bet big on Chará — both in financial outlay and the commitment of a DP spot — there is already an air of triumph about this move.
Diego Chará is, alongside Diego Valeri, the most beloved figure in the history of the club. Inking his well-regarded younger brother, after years of interest, feels like a significant achievement. All of the sudden, the contours of the Timbers' 2020 season are beginning to take shape.
Sponsored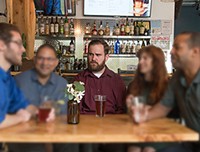 Adults aged 18-35 with good hearing will be paid for their time. Located at the Portland VA Medical Center