Former Multnomah County Commissioner Loretta Smith has traditionally leaned on wealthy donors and powerful political action committees
to fuel her campaigns
. But for her latest run to fill the Portland City Council seat vacated by Commissioner Nick Fish, she's trying a new strategy.
Sponsored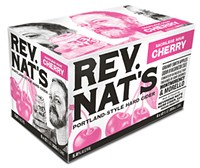 No-fee, same-day delivery of Rev Nat's Hard Cider & Old Town Brewing throughout Portland Metro
"I could just call up a few people who I know could write me big checks," Smith told the Mercury. "But I want to give every candidate a fair chance—and I want to reintroduce myself to the community."
Smith, who formally entered the race last week, intends on participating in Portland's Open and Accountable Elections (OAE) program, a new system that offers public financing to candidates who pledge to only accept individual donations $250 and below. It's a distinct contrast to Smith's 2018 run for City Council, where she lost to Commissioner Jo Ann Hardesty even after out-fundraising her by an almost two-to-one margin.
While this recent loss might contribute to her change of heart, Smith's new financial limitations also fall in line with her new campaign messaging.
"This is a different race than last time," she said. "This campaign will be about poverty and helping minimized communities. This is about service. This is about saying, 'Poverty is not a crime.'"
While on the Multnomah County Commission, Smith was a vocal supporter of turning the defunct Wapato Jail facility into a homeless service shelter—despite the county's own study finding the plan far more costly than improving and expanding shelters already in operation. Smith said she's no longer calling for public investment in Wapato.
The county and city governments "need to be supporting each other and working towards the same goal to address homelessness," said Smith. "I want to do whatever I can to help make that happen."
Smith said she's particularly interested in expanding the city's commitment to permanent supportive housing, a term for programs that combine affordable housing with social services that help stabilize tenants at risk of homelessness. She's in favor of the burgeoning Here Together campaign, backed by Multnomah County and the City of Portland, that's hoping to get a plan to finance supportive housing services before voters in November.
Smith said she wasn't considering a 2020 run until Fish announced he was planning to resign late last year. Fish died two days after making that announcement.
"2018 was a tough race. It took me 14 months to reflect on it and emotionally be able to enter a grueling campaign," she said. "But I feel prepared now to step back into leadership. My passion is real."
Smith is one of at least ten candidates who've announced their run for the Commissioner 2 seat, including Metro Councilor Sam Chase, tenant advocate Margot Black, immigrant advocate Ronault "Polo" Catalani, and progressive activist Julia DeGraw. As of now, Smith is one of four who have already signaled their intent to participate in city's OAE program.