Based on the first three episodes given to critics, Star Trek: Picard is great—anchored by a fantastic performance from Patrick Stewart, the show, overseen by Michael Chabon, ticks off all the sci-fi boxes (spaceships! laser guns! acid-spewing aliens!) while also weighing in on current events and reflecting on personal frailty and societal obligation. (In other words... pretty much like the best Star Trek, then.)
There's only one problem: In America, Picard is only streaming on CBS All Access, a service whose non-Trek offerings struggle to compete with those from other services. With Netflix, Amazon, and Hulu—not to mention more specialized services like the Criterion Channel and Shudder—bringing their A-game, signing up for CBS All Access can be a hard sell unless you're obsessed with Star Trek *raises hand* or need every single episode of Young Sheldon available at any given moment *lowers hand*.
But hey, good news: From now until Wednesday, February 5, CBS All Access has made the first episode of Star Trek: Picard available for free. It's well worth checking out if you're at all curious about the show, but have justifiable doubts about signing up for yet another streaming service. Make it so, etc.
(One last thing I'd add, here: Like Star Trek: Discovery—and to an extent, Star Trek: Deep Space Nine before it—Picard breaks from the usual Trek mold of episodic storytelling. There's a reason CBS gave critics access to the first three episodes, and while the first episode is definitely a solid intro, don't expect it alone to answer all your questions about how Picard's story is starting to play out.)
Sponsored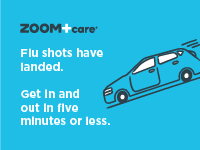 ZOOM+Care makes flu shots easy and safe. Schedule ahead, skip the line—get in and out in 5 minutes.