STUCK THE LANDING: 10/10 pic.twitter.com/bOibVS8QY0
— Portland Trail Blazers (@trailblazers) February 10, 2020
Sponsored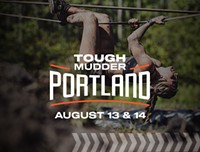 Lock in your summer adventure, Portland. Join us for world famous obstacles over a 5K or 10K distance.
Damian Lillard continued his hot streak on Sunday night, dropping 33 points on the short-handed Miami Heat. Gary Trent Jr. added fuel to the fire with 22 points off the bench in another breakout game. Recent addition Trevor Ariza knocked down 21 points while showing plenty of hustle, including the great crowd-dive shown above after which he can clearly be seen saying, "oh shit" as he sits up in the laps of several startled onlookers. The Blazers won the closely contested match-up, 115-109, a good victory for a team vying for a spot in the playoff hunt.
Before the game Damian Lillard could be seen hanging out with fellow rapper, Common:

Lillard, having just been named to his fourth all-star team, went on to sink some more of his famous deep threes, like this:
Dame makes this 35-footer (!) look so casual. pic.twitter.com/QKmwlXNbbO
— Portland Trail Blazers (@trailblazers) February 10, 2020
Miami sits in fourth place in the eastern conference, a surprise contender, largely due to strong play by wingman Jimmy Butler and future star, rookie Tyler Hero. But neither of those guys suited up for this game due to injuries, a clear advantage for the Blazers who have dealt with their own adversity all season. They got screwed over in Utah in their previous game and lost the services of Anfernee Simons to a concussion to boot. Both teams needed a win on this night as they fought to establish playoff position before the upcoming all-start break. Even without Butler and Hero, Miami came out firing. Newly acquired veterans Jae Crowder and Andre Igudola appeared as members of the Heat for the first time and performed well.
The Blazers led 63-60 at the half. Here's a look at some of the fans inside the Moda Center that night:
A Father/Son duo!

A Father/Daughter duo!
And a Brother/Sister duo!
There were some Heat fans in attendance as well, like these two who were from Miami, but live in Seattle now:
The second half saw the Heat take the lead briefly, as the Blazers struggled to contest outside shots. Hassan Whiteside came up big though against his former team, grabbing 17 rebounds, and blocking 4 shots. Things stayed close throughout as Gorgan Dragic and Crowder hit timely three point shots for Miami. In the final quarter the Miami defenders focused on Lillard, known throughout the league for his final frame heroics. On this night it was Gary Trent Jr. who made the opposing team pay. Lillard dished to him several times and to the crowd's delight the second year guard continued to convert on the big threes.
Here's the full game highlights:
With this victory Portland inches closer the playoff picture, still in 9th place, 2.5 games behind Memphis. It was coach Stotts' 350th win as a Blazer, an impressive milestone only held by three other coaches with their current teams, Miami's Erik Spoelstra, San Antonio's Gregg Popovich, and Rick Carlisle of the Dallas Mavericks. That's fine company!
Portland travels to New Orleans next to take on western conference rivals the Pelicans on Tuesday. It'll be another heated game, this one featuring some young talent in the form of newly minted all-star Brandon Ingram and rookie sensation Zion Williamson. All eyes will be on Lillard though, as fans watch to see how long he can stay red-hot and continue to drill those crazy long three pointers.