On Sunday afternoon, the Portland Timbers will launch their tenth season in Major League Soccer when they take on Minnesota United at a packed out Providence Park (4:30 p.m., TV on Fox Sports 1).
It has been a wonderful journey so far. When the Timbers entered MLS in 2011, the league had 18 teams and 11 soccer-specific stadiums. As it kicks off this year, MLS is welcoming its 25th and 26th teams in Nashville and Miami and will play its games across North America in 19 stadiums designed specifically for soccer.
Sponsored
Sketch comedy troupes from all over N. America descend on The Siren Theater for 3 glorious nights.
The league's financial outlay has grown commensurately. The 2011 Timbers had seven players making a six figure base salary; this year's team will likely have in excess of 20 players making six figures and a handful making seven.
Providence Park, renovated beautifully last year, now holds some 7,000 more people for Timbers matches than it did ten years ago. The club's reach has expanded, its presence in Portland has deepened, and there is new optimism ahead of this anniversary season.
The Opponent
Adrian Heath's Minnesota United enjoyed a breakout year three in MLS last year, racking up 53 points and easily qualifying for the postseason for the first time.
The big difference for the Loons was that their defense — anchored by MLS Defender of the Year Ike Opara — was unrecognizable from what it had been during their first two years in the league. After conceding 70 goals in 2017 and 71 in 2018, Minnesota only allowed 43 goals last season.
Opara's presence at the center of defense was vital, as was the partnership of Osvaldo Alonso and Jan Gregus in central midfield. That trio has returned this year, though Goalkeeper of the Year Vito Mannone, who was outstanding in three games against the Timbers, has returned to Europe and been replaced by Tyler Miller.
The bigger changes for the Loons are coming in attack, where two Designated Players, Darwin Quintero and Angelo Rodriguez, have both departed. Heath is betting that Luis Amarilla will produce consistently up top, and that the group of B/B+ attacking players around him will do enough to adequately replace Quintero.
If Minnesota is going to get back to the playoffs, they're likely going to do it on the strength of their defense. That said, and though it might not be much to go on, the Loons were in Portland for the Timbers' preseason tournament and won a meeting between the clubs' reserves 4-2 last week.
The Tactics
The league games between these teams last season were incredibly tight affairs — a 1-0 Loons win in St. Paul and a 0-0 draw in Portland — in stark contrast to the preseason game last week.
For the Timbers, the emphasis this week has been on shoring up the team's defense. Croatian center back Dario Župarić is only new starter in the team's back seven, but the group was a mess in preseason — collectively and individually.
A number of those players are veterans, and they need to lock in. If they don't, we're likely going to see Giovani Savarese turn to more regressive soccer, which, at this stage in his Timbers tenure, is not exactly what anyone hopes to see.
Given the way last season ended, there is a well established blueprint for how to play against the Timbers in Portland: sit back and limit their opportunities in transition. Minnesota will almost surely follow that plan, try to keep the game in front of them, and look for chances of their own on the break.
The best way to beat that gameplan is to attack effectively and creatively. The Timbers have all kinds of talent going forward, and it will be up to the likes of Sebastian Blanco, Diego Valeri, and new forward Felipe Mora to get the crowd going on Sunday and the season off to a proper start.
The Lineup
12 - Clark
4 - Villafaña
13 - Zuparic
33 - Mabiala
2 - Moreira
21 - D. Chará
22 - Paredes
10 - Blanco
23 - Y. Chará
8 - Valeri (C)
9 - Mora
— This group appears set, for now, as Savarese's first choice XI. Jeremy Ebobisse and Andy Polo look like the primary attacking options off the bench.
— New Polish DP Jaroslaw Niezgoda is unlikely to play a part on Sunday, though he is nearing a return to full fitness.
The Memory
Minnesota played their first ever MLS game at Providence Park four years ago, and were demolished by a score of 5-1. Only one player who appeared for the Loons in that game, Kevin Molino, is still with the club.
The Pick
The Timbers have never been fast starters under Savarese, and if preseason is any indication, that might not change this year. This will finish 1-1.
Sponsored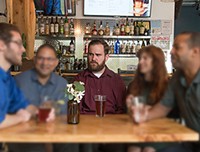 Adults aged 18-35 with good hearing will be paid for their time. Located at the Portland VA Medical Center