2020 has been a... lets call it a challenging year so far—and one that definitely offers up more than a few good excuses to fill a glass with drinkable goodness in the hopes of dulling some of that edge. And that's where we come in, just in the nick of time! The Portland Mercury's HIGHBALL is here to make sure when you're feeling like "Damn, I need a drink," not only is there something amazing getting poured, but it only costs $5, too!
Sponsored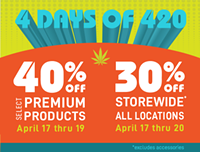 30-40% off Premier Dispensaries April 17-20
Flower, pre-rolls, edibles, carts and more.
These 4 Days of 420 are for you.
Along with our pals at Jim Beam and Portland Beverage, the Mercury has teamed up with 50 of Portland's favorite bars and restaurants—each of which has created a one-of-a-kind, specially crafted cocktail just for Highball! But before you race to your nearest Highball location, keep a few things in mind...
• Drink responsibly! Be safe and smart with your Highball consumption—and NEVER drink and drive.
• Be patient! Since the world's on fire, all of us could use a drink right now. So if a Highball bar is slammed, be cool—it'll all get sorted soon enough, and there are plenty of other spots! And if you want to help things going smoothly, pay in cash—it'll save time, and your server will appreciate it. Speaking of which....
• Tip your bartenders, and order food! While the whole PURPOSE of Highball are those $5 drinks, we've made sure each Highball location also has great food! So relax, grab a bite, and let your bartenders and waitstaff know how much you appreciate them.
RSVP to the Highball Facebook event for updates!
Click here for Portland's most comprehensive Food & Drink Calendar