A climate-focused debate of Portland mayoral candidates held Sunday evening was high on drama, but light on new policy proposals.
That wasn't for lack of trying on the part of the debate's organizers and moderators. Hosted by Sunrise Movement PDX, 350PDX, and the Harriet Tubman Middle School environmental justice club, the debate poised thoughtful and pointed questions at incumbent Mayor Ted Wheeler and challengers Sarah Iannarone, Ozzie González, Teressa Raiford, and Piper Crowell. It was moderated by Lincoln High School students Bella Esbeck and Sriya Chinnam, Harriet Tubman Middle School student Wallace, and local writer and DJ Emilly Prado.
Sponsored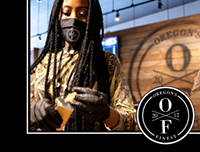 Oregon's Finest has great deals on cannabis gifts with curbside pickup & FREE delivery!
But more often than not, the candidates offered stump speeches—and bitter attacks on each other—rather than specific answers.
Often, the candidates' responses fell more into the realm of what Portland's mayor should do, and not how they would do it. However, there were some substantive ideas and points of ideological difference at Sunday's debate, which was held at Revolution Hall.
Wheeler takes heat over I-5 and Zenith
Wheeler took heat from his opponents by supporting ODOT's I-5 plan, which has been staunchly opposed by local environmentalists.
"I'm going to say something controversial: I don't believe we should end the project," Wheeler said about I-5, pointing out that thousands of freight trucks move through the area each day, and even if those trucks become electric at some point, they'll need room to move free of traffic. The crowd at the debate loudly booed as he made his point.
Wheeler also pointed out that his office has signed onto a letter asking for thorough Environmental Impact Statement (EIS) to be conducted before ODOT moves forward with the plan. But he got panned by opponents for what they saw as him not acting quickly enough.
"We've been asking for help from City Hall for months and months and months," said Iannarone, an urban policy consultant who's expressed support for No More Freeways, the campaign against the I-5 project. Iannarone said that as mayor she'd use her position to advocate for building "high-speed rail in place of I-5."
González, a TriMet board member and architect, criticized Iannarone's plan as short-sighted.
"If we were to do the thing you're saying and dismantle I-5, what would we do tomorrow?" he asked. "We need to make ourselves ready by investing in new infrastructure first."
Moderators also questioned the candidates about Zenith Energy, an energy company that operates an export terminal in Portland and has been running crude oil trains through the city. The city denied Zenith a key terminal expansion permit in October, after months of pressure from local activists to take action against the company.
Wheeler warned that he expects Zenith to launch legal challenges against the city in response to that permit denial, and said the city has been using "the legal tools we have at our disposal" to "limit these fossil fuels coming to our community."
Iannarone countered that the mayor ought to "move with urgency and legal creativity," suggesting she would likely take a more aggressive legal approach against Zenith if elected.
Houselessness as a climate issue
The youth moderators also pushed candidates to answer questions about houselessness, one of the top campaign issues this election cycle.
"In 2017, on any given night, nearly 14,000 people were experiencing houselessness in Oregon, some of them refugees of climate impacts from fires in California, hurricanes in the gulf, and drought in Central America," Wallace asked. "The unhoused also feel the effects of climate change first and worst. … As mayor, how would you address the houselessness crisis?"
Nike executive Piper Crowell, among other candidates, criticized what they saw as Wheeler's lack of effectiveness on the issue.
"This is one of the reasons I got into this race," Crowell said. "It did not make sense to me, as a concerned citizen, why Portland was not doing better."
One person in the audience shouted a solution towards Crowell in real-time: "Tax Nike."
Teressa Raiford, a police accountability activist and founder of the group Don't Shoot Portland, focused her answer on what she saw as a failure to harness funds from the local recreational cannabis tax to help with housing and support services like job training. She pointed to a 2019 audit that showed that Portland's cannabis tax money has mostly gone towards the city's police bureau budget, not the social equity causes promised by elected officials.
"We have the funding stream, we just aren't utilizing it," Raiford said. "Let's reinvest that money not into police, but the things our most vulnerable communities need."
Wheeler talked up the city's partnerships with Multnomah County, the state government, and local nonprofits. He said that in 2019, about 6,000 people were moved off the streets and into homes in the county.
Iannarone said the city was doing "an okay job in partnership with the county and the state," but that city sweeps of homeless camps—which Wheeler supports—were "wasting millions of our precious dollars that could be going to services like safe injection sites and hygiene facilities and public restrooms."
Wheeler defends police
Toward the end of the night, youth moderators presented a series of quick questions from audience members. One of those questions referenced a Black teenager who was arrested by Portland police at last year's youth climate strike, and asked how the candidates would support environmental protestors if elected.
Wheeler's challengers took the opportunity to criticize others the Portland Police Bureau (PPB) for other times its officers have used force against protestors. In Portland, the mayor also serves as the police commissioner. Iannarone referenced her own public safety plan, and said it's "important for us to rethink how we're deploying the police at these protests."
Wheeler used his time to defend PPB, amid boos from the audience.
"I think everyone in this room is smart enough to know it has not gone flawlessly," he said. "However, I do believe police have gotten better on this in recent years."
Wheeler added that PPB no longer uses "aerial devices" like grenades to control crowds at protests—a tactic that has landed the city in legal hot water after past protest.
This was one of the first times the 2020 Portland mayoral candidates squared off in a public setting. They will next appear at a Tuesday Portland City Council candidate forum hosted by the Street Trust, focusing on transportation issues.