During tough times like these, music can sometimes feel like the only thing getting us through. The COVID-19 outbreak is affecting every corner of American life, from the school systems, to the medical industry, to the arts and media, restaurants and small businesses... Countless sectors are struggling financially because of this unprecedented public health situation, so if you can, make an effort to support the artists, businesses, and organizations who've been impacted most by the coronavirus by donating, purchasing albums, merch, etcetera. And please, be safe and stay sanitary during the social distancing period. In the meantime, here are some of the sweet tunes that are currently helping keep
Mercury
staffers sane.
Sponsored
Sketch comedy troupes from all over N. America descend on The Siren Theater for 3 glorious nights.
---
The "This is Dixie Chicks" playlist on Spotify
After "Gaslighter" came out last week, I had to go back and listen to more Dixie Chicks. Turns out, they're the perfect band to listen to in the time of coronavirus! High-energy but not manic, comforting but not trite, emotional but ready to fight at any moment. Keep this playlist on shuffle when you're stuck working from home, and you'll experience an entire, riveting lifetime in one afternoon. It's also full of live tracks and covers from the Chicks, so even old fans might find a new take to enjoy. BLAIR STENVICK


---
Megan THEE Stallion, Suga
Houston rapper Megan THEE Stallion's new EP
Suga
is what I've been playing when I no longer want to hear my own anxious thoughts, and need to be influenced by a quick hit of unadulterated self-confidence. The nine-track EP starts off with "Ain't Equal," a rhythmic stunner that sees her asserting her power as a self-made boss-bitch who can't be intimidated. It's a whole vibe. Other highlights include "Savage," "Hit My Phone" (featuring Kehlani), and especially "Captain Hook." The latter is encapsulated by its raunchy lyrics: "Dance on the dick/Now, you been served/I like a dick with a little bit of curve/Hit this pussy with an uppercut/Call that nigga Captain Hook." Much of the album pulls from the past, like "B.I.T.C.H.," which sees Megan interpolating 2Pac's "N.I.G.G.A." chorus and making it her own.
Also, Khruangbin, various projects
Khruangbin, another act from Houston, Texas, has been my go-to for when I'm reading, editing, or simply want to hear music without words. Most recently they collaborated with Leon Bridges on their 2020 EP Texas Sun, but I'm more partial to their earlier work: 2015's "Two Fish and an Elephant" from The Universe Smiles Upon You, and "August 10," from 2018's Con Todo El Mundo. The trio blends global influences with their affinity for soul, rock, funk, psychedelia, and dub; the result sometimes relaxing, always groovy, and it's all seamlessly woven together to help keep your mind active but not distracted for ultimate completion of healthy activities. Whether you work to it, smoke to it, fuck to it, or meditate to it is your call. JENNI MOORE

---
---
De La Soul, "Stakes is High"
An appropriate album title for its time, and this time (all times, really), and yet despite those stakes being high, the vibe (…vibration) of this album (their best/my favorite) has always been one that relaxes me and chills me right the fuck out. Partially due to its status as a nostalgic touchstone, true, but it's also an album drenched in chillout feels (Dilla's presence on the title track has a lot to do with that) and wry, smartass wordplay that the Native Tongues became world-famous for. BOBBY ROBERTS

---
Vanishing Twin, The Age of Immunology
In my preparations to write a feature on the band for our next issue, I have been spending a lot of time with the
The Age of Immunology
, the latest album from UK hypnogogic pop project Vanishing Twin. Their work is the perfect blend of dreamy psychedelia, easy listening, and experimental composition, extending the path laid by groups like Broadcast, Pram, and the Focus Group. Sadly, their upcoming show at the Doug Fir Lounge won't be happening. I'll just have to bide my time and keep spinning this hypnotic masterwork until they hit the stage at Pickathon this summer.
ROBERT HAM
---
Great Grandpa, Four of Arrows
I've been a big fan of Seattle/Milwaukee-based indie rock quintet Great Grandpa since catching their set at the 2017 installment of Treefort Music Festival, and naturally, the band was high on my list of must-see acts at this year's postponed installment of the fest. The band's latest album,
Four of Arrows
, harnesses the off-kilter energy and cathartic outbursts of their older material and gives it a little room to breathe. Tangled grunge anthems make way for catchy country pop and folk-tinged rock, with singer Alex Menne offering up some much-needed reassurance, especially on the hopeful "Bloom," where she eases her own anxious thoughts with a tidbit about Tom Petty writing his best songs when he was 39.
CHIPP TERWILLIGER
---
Charley Crockett, The Valley
In preparation for a (not-yet-cancelled) trip to Texas, I've been listening to the twangy, country tunes of Charley Crockett. A distant relative of Davy Crockett, this Texas cowboy grew up busking in the streets of New Orleans, adding a kick of cajun soul to his Lone Star blues. Crockett calls his 2019 album
The Valley
"a Gulf Coast story with a spaghetti Western thing to it." Think of Leon Bridges meets Townes Van Sant.
ALEX ZIELINSKI
Sponsored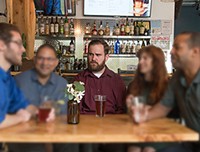 Adults aged 18-35 with good hearing will be paid for their time. Located at the Portland VA Medical Center