Good Morning, News is brought to you by Bar Bar, where their beloved burgers are available for takeout or delivery from Caviar.
Good morning, Portland! It's the last day of March 2020, the longest year of your life.
Sponsored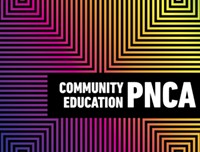 Online art and design classes at the Pacific Northwest College of Art now open for registration!
Here are the headlines!
• In an in-depth interview with NPR, the director of the Centers for Disease Control and Prevention warned that "this virus is going to be with us" for at least 24 months.
• Rent is due this week for a lot of people—but don't worry if your income has changed because of the coronavirus and you can't afford to pay it, because the city of Portland is under an eviction moratorium. Here's more info on what you need to do—and why some tenants' rights activists don't think the moratorium goes far enough.
• One local restaurant worker's warning:
In the "I, Anonymous Blog" quote of the day, a restaurant worker has opinions about delivery AND should report his boss to the state!https://t.co/yGDqFDilm8

— Portland Mercury 🗞 (@portlandmercury) March 30, 2020
• Amazon has fired the Staten Island warehouse worker who was responsible for organizing a wide-reaching strike yesterday.
• In a dizzying act of stupendous generosity, some major insurance companies are waiving COVID-19 patients' healthcare costs. The explanation for this, according to one expert: "Insurers are likely going to be asking Congress for some kind of bailout, and they want to look like good community players when they make that ask."
• House Democrats are starting to work on a fourth coronavirus bill—one meant to help stimulate economic recovery, which includes spending for things like infrastructure, free COVID-19 treatment, and more direct payments to people. But it remains to be seen how much Republicans will cooperate.
• Locally, dozens of healthcare workers and at least one TriMet operator have tested positive for COVID-19.
• As of yesterday, there were 606 confirmed COVID-19 cases in Oregon, and 16 confirmed deaths.
• Is your small business suffering because of the pandemic? You can apply for a grant from the City of Portland—but act quickly, because the deadline is tomorrow night.
• Exciting news: The Mercury is featured heavily in this USA Today article about... oh, it's about how coronavirus is killing the news industry. Ah, well, you can help with that by donating!
• This might be the most rage-inducing headline you'll read today: "Border Wall Work in Arizona Speeds Up, Igniting Contagion Fears."
• Time to cheer up!
Welcome to Monday's edition of the Mercury's Cheer Up Club—a roundup of funny stuff to brighten up the end of your day! (Psst... there's a bear swinging nunchucks in this thing.)https://t.co/jpzaKOs42L

— Portland Mercury 🗞 (@portlandmercury) March 30, 2020
Sponsored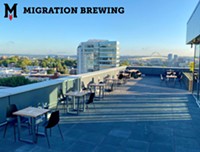 This 9th floor patio boasts stunning views of the city, three mountains, and Portland's West Hills.