Escape from Virtual Island
God, the
timing
on this audio drama release! I'm sure when it was written and recorded, it was still a clever, hilarious idea, but now that it's been post-produced and released for this weekend? This adventure by John Lutz (
Saturday Night Live
) about a bunch of people trapped online and needing rescue from their own heads?
Damn
. And if the concept alone didn't sound like a great thing to put in your headphones, the cast on this sucker is
choice
: Paul Rudd, Jason Sudeikis, Olivia Wild, Kenan Thompson, Jack McBrayer, Paula Pell, Amber Ruffin, and a
ton
of other cameo voices from in and around 30 Rockefeller.
(Now Streaming, Audible, $24.95, free w/ 30-day trial)
Sponsored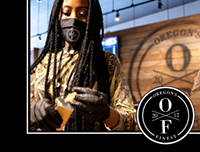 Oregon's Finest has great deals on cannabis gifts with curbside pickup & FREE delivery!
Nailed It!
Netflix is getting scary good at the whole reality show thing, and that's probably not a good thing overall, considering how the apex of the previous reality show era led to (waves frustratedly at current White House occupant), but the good news is that Netflix's best original reality show is still Nailed It!, a charming, fizzy, lighthearted cooking competition hosted by Nicole Byer and focused on baking tragedies perpetrated by well-meaning amateur cooks. The latest season dropped on April 1, and if it's like any of the show's other seasons, this is going to be one of the most guilt-free binges you can indulge on the platform.
(Now Streaming, Netflix, $8.99 per month, free trial here)
Onward
Especially when compared to Pixar's best, there's definitely stuff to nitpick in the studio's latest, Onward. Fair? Maybe, but then again, even Pixar movies can have a hard time living up to Pixar movies. But to focus on Onward's benign, minor missteps—none of which detract from the story's surprisingly emotional arc—is to miss the bigger picture. Funny and wholly original, it's a fantasy adventure that digs into something nearly all of us know but rarely talk about: How the memory of an absent family member can hang over the lives of the living.
(Now Streaming, Disney+, $6.99 per month, free trial here) ERIK HENRIKSEN
Disgraceland
This hugely-popular podcast is about to be turned into a cable docu-series by writer Callie Khouri (Thelma & Louise, the Nashville TV show) and music producer T Bone Burnett, but before that happens, why not catch up on four seasons of host Jake Brennan leading you through a hit parade of history's favorite musicians all behaving very badly. A good jump-on point is Brennan's very recent episode about Little Richard, because... well, shit, because it's Little Richard. C'mon now.
(Now available, iHeart Radio, Apple Podcasts, Spotify, free)
Wattstax
Everyone knows about Woodstock. Not as many people know about Wattstax. And of the people who do, more than a few (incorrectly) believe the latter was simply a soul music version of the former. It wasn't. Woodstock didn't really have shit to do with why Stax Records organized their all-star concert in the summer of 1972. Wattstax was a benefit celebration for the community of Watts, a remembrance of the Watts riots seven years prior, and a celebration of soul music and Black excellence, featuring the Staple Singers, Richard Pryor, Carla Thomas, Isaac Hayes, The Bar-Kays, Jesse Jackson, and more. Mel Stuart's film (shot by legendary cinematographer John A. Alonzo) has enough electricity coming off the screen and soul pouring out of the speakers to uplift an audience 50 years later.
(Now Streaming, YouTube)
Mad Max
It seems a little incongruous that one of the most relaxing gaming experiences currently available takes place in a post-apocalyptic wasteland littered with murderous cults of mutated car nuts, and yet, 2015's Mad Max from Avalanche Studios is just that. A sandbox-styled adventure only vaguely based on the films (hell, the films are only vaguely based on the films) Mad Max has a story (which is okay) and a slew of bizarre characters (who are pretty memorable, especially your sidekick mechanic Chumbucket), and while its mechanics aren't particularly difficult to pick up, none of this stuff is really the point of why Mad Max is worth owning. The point is to zone out for a couple hours a day progressing through skill trees, doing sweet jumps in your janky shitbox of a car, upgrading said shitbox, and absolutely wrecking as many war boys as you can. I don't know how Avalanche managed to capture the tone, the feel, and the look of George Miller's best films, but they did, and somehow made it chill. And because it's five years old, you should be able to indulge in this brand of game therapy pretty cheaply! Let's all ride to valhalla, shiny and chrome.
(Now available, $19.99 on Steam, PS4, and Xbox)
SCIENCE!
(If you heard that in Thomas Dolby's voice, you were supposed to. If not? Now you will) This Sunday was supposed to be the 2020 Portland Science Fest, a day-long celebration of helping young people enjoy and get even more interested in STEM fields, and hopefully make their generation's world a much, much better place to live in than the one we've got now. But even though the fest is postponed, we can still spend this Sunday getting our science on. Comedian, science educator, and YouTube star (one of the good ones, we promise!) Sophie Shrand hosts Science with Sophie, an educational series focused on helping an entire generation of girls get into STEM careers.
(Now streaming, YouTube, free, all ages)
Let Dolly Parton Read You a Bedtime Story
Weekend's over. Time to lay down and get ready for whatever the hell the world has in store for us starting Monday. But while that future is uncertain, we can still get ourselves to dreamland as wonderfully as possible thanks to indispensable treasure Dolly Parton, whose "Dolly Parton's Imagination Library" channel will be hosting a new weekly series where Dolly herself reads a bedtime story in full to your children. Or you. Everyone, really; if there's an age at which Dolly Parton reading you to sleep is inappropriate, I hope humanity never reaches it, or recognizes it. We sure as hell aren't starting now, that's for sure.