Hello and welcome to
Coping While Quarantined
, a web column about the
projects Portlanders are taking up while staying at home!
Sponsored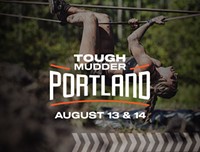 Lock in your summer adventure, Portland. Join us for world famous obstacles over a 5K or 10K distance.
Our first submission this week comes from photographer Ariela Subar, who has started doing virtual photoshoots of friends and strangers through Zoom, every social distancer's favorite video chat platform. From Ariela:
"Some people are as close as a few blocks away from me, and some are across the world: in Armenia, in Paris, in the UK. In general, I'm trying to document the feelings of both loneliness and connectedness that seem to occur simultaneously right now.

Even though I feel so distant from so many people I love, I've been heartened by the ways my community still safely builds connection: friends bringing each other sanitized groceries, people taking walks together from 6 feet apart, neighborhood pizza places giving out free pizzas to anyone who wanted them until they ran out of ingredients, blasting music out onto the street to keep the line of people singing along. This project is a way to capture that weird bittersweetness."
You can check out more of Ariela's portraits—and find out how you can
get your Zoom photo taken
—
here
.
Our next example was sent to me with the email subject line "Coping (Soaping) While Quarantined," so how could I not include it? It's courtesy of Beth Royston, an industrious junior at Portland State University who's using the extra free time to start her own soap business. From Beth:
"I have always wanted to make soap, because locally made and good-for-you bar soap is one of my favorite things! I use a lot of it! I also play a lot of video games, and thought that I might as well get my video-game soap shop idea rolling while I had all this time on my hands.

I worked hard to pick accurate fragrances and perfect colors for some of my favorite video games, and at the core it's just a hobby I want to indulge, but I really hope it does well so I can self-support my continued soaping!!"
You can follow Beth's soap journey—which she said should include an Etsy shop soon—on
Twitter
and
Instagram
.
Next up: Indexing a rock collection sounds like the sort of comically boring hobby someone would take up in a sitcom about quarantining. But Lydia Brooks is doing just that with her dad's rock and mineral collection—and has managed to make it look very cool!
"When I moved into my house 5 years ago Dad 'loaned' me his rock and mineral collection
'like they do at museums,'
" Lydia writes. "A few years later I had Dad create labels, I envisioned just the names but he included the history as well.
Quarantine has finally allowed me the time
to document this collection."
Rock on, Lydia!
Life is a rich tapestry, and so is this rich tapestry that is being created by Valerie Egan and Kim Larson. Valerie writes that this project is "a modern-day take on the Bayeux Tapestry, capturing shitty highlights of the Trump administration because that's what the dick-bags deserve, alongside the moments and people we should be damn proud of."
"COVID is forcing me to work daily on an embroidery project that, because I am very lazy, I honestly thought I'd barely move past the idea stage," Egan writes. "At this rate, we might have an actually super-dope project for show by election season!"
We'll close out this week's Coping While Quarantined with a special musical performance from Faith O'Malley, who is passing the time by digging up "old costumes and formal attire.,and wearing it around the house and doing a little photo/video shoot."
Here's Faith playing the theme song for the Addams Family, while dressed as Wednesday Addams:
That's it for this edition of Coping While Quarantined—but I still want to hear from creative Portlanders about what they're doing to pass the time while stuck at home! Send your photos, videos, etc. to blair@portlandmercury.com, and you could appear in the next blog. Now I'm going to go take a walk and try to find some cool rocks.
Sponsored
Virtual Auction Event & Drag Queen Fashion Show. You won't want to miss this show!