Go to Pickathon!
Pickathon's response to COVID trying to mess up everyone's outdoor music festival fun? A
60-day
long streaming series, spanning multiple online platforms, and featuring full sets by artists including Jeff Tweedy, Mac DeMarco, People Under the Stairs, Damien Jurado, Charles Bradley, Tank and the Bangas, and many, many more. Many of these performances haven't been put online before, and all viewer donations will go to the MusiCares iniative.
Click here
to see each week's schedule.
(Wed April 8-Sun June 7, YouTube, Facebook, Twitch, free, all ages)
Sponsored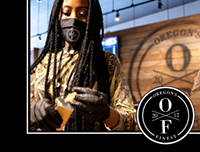 Oregon's Finest has great deals on cannabis gifts with curbside pickup & FREE delivery!
Go to Coachella!
Today is the 20th anniversary of what's become the biggest music festival in the world—if not in size, then definitely in terms of cultural impact. Coachella might still happen in late 2020, depending on whether or not the idiot asshole in the White House does his best to screw up the productive, constructive plans of our state governors to fight the spread of COVID-19. But while we're all sheltered-in-place for this weekend, why not load up this YouTube Original Documentary that will take millions of people behind the scenes of a festival we might otherwise never get to attend?
(Now Available, YouTube, free)
Fleabag Live
Phoebe Waller-Bridge's Fleabag is some of the best television made in the last 10 years period. A lot of people have heard it was adapted from a one-woman-show she did in London, but recorded performances of that show haven't been too easy to see... until this weekend, when Waller-Bridge partners with Amazon Prime (the platform that streams her show) to make her 2019 Wyndham Theatre performance available for $5, with all the proceeds going to The National Emergencies Trust, NHS Charities Together, Acting for Others, and the Fleabag Support Fund. Oh, and the show? It's somethin'. If you saw season one, you'll recognize some of it, but even if you know where it's all going, Waller-Bridge's storytelling is going to surprise and shock you a little. But a little surprise and shock shouldn't be enough to stop you getting into bed with Fleabag, right? Like Waller-Bridge herself says, "It's for charity!"
(Fri April 10, Amazon Prime, $5)
Bond Marathon!
Speaking of Ms. Waller-Bridge, another big deal debut was supposed to happen today, when her writing work on No Time to Die, the last Bond film to star Daniel Craig, was going to be heard in theaters all across America. Except theatres aren't open, and the movie got postponed to November anyway (Maybe they'll be open then? Maybe people will want to crowd into dark rooms full of inconsiderate strangers in various stages of recovery from a virus that has no vaccine? Sure!) So why not celebrate what should have been Bond Day by organizing a Bond marathon! You can handpick your 00-playlist at Amazon Prime (our suggestion: From Russia With Love, On Her Majesty's Secret Service, The Spy Who Loved Me, License to Kill, and GoldenEye), or you can do it old-school style: Just turn on Pluto TV, scroll to the Bond channel, and have yourself a lazy weekend while a small parade of janky-yet-charming Roger Moore movies stretch out with commercial interruptions.
(Now Streaming, Amazon Prime, Pluto TV free w/ ads)
Miles Davis: Birth of the Cool
At one point or another, nearly every person interviewed in Miles Davis: Birth of the Cool slips into an impression of Davis' gravely speaking voice. It's a minor detail in this superb documentary about the famed trumpeter, but a telling one: No matter how awful he was (ill-tempered and drug-hungry, Davis was also notoriously abusive to the women in his life), everyone in his orbit wanted to be Miles Davis. Director Stanley Nelson makes a great case for the allure of Davis' ineffable cool and creative genius, while not shying away from his uglier qualities—a sometimes tricky balance that this film handles easily
(Now Streaming, Netflix, $8.99 per month, free trial here) ROBERT HAM
STRFKR
Portland's STRFKR (formerly Pyramiddd, formerly Starfucker, still Starfucker) has never made a bad record. The album art is always on point. Their live shows are original and fun. Their music video for "In the End" is an homage to John Waters—it's about beautiful drag queens pulling off a heist with toy guns and showering a dance club in cash. I don't know how we ever got it so good with STRFKR's indie pop. You can dance to it, clean your house to it, take a long walk in the rain and feel morose to it. STRFKR continues to deliver; their latest album, Future Past Life is out now. SUZETTE SMITH

Schitt's Creek
Like Battlestar Galactica before it, Schitt's Creek is a show whose title has always been one of its biggest stumbling blocks—trying to convince friends an endearing, progressive, and honestly lovely sitcom that needs to be seen is called "shit's creek" makes said endearing, progressive, and honestly lovely sitcom kind of hard to buy into. That first season doesn't help much either, often playing down to the easy joke of its title and coming off like a lite-rock Arrested Development. But hey: Books, covers, judging... cliches like that exist for just this reason: Schitt's Creek is well worth the binge, and it just wrapped up its feel-good final season this week, so once you've witnessed how well the show levels up in its first five seasons on Netflix, hop over to Fubo TV (speaking of weirdly off-putting names), sign up for their free trial, and binge that last one, too.
(Now Streaming, Netflix; Final season on FuboTV, $54.99 [!], free trial here)
Howards End
Portland Center Stage was set to bring Caroline Hewitt's adaptation of this classic (and quietly devastating) E.M. Forster classic to the Armory today, but staying safe and staying home took precedence, and unfortunately the show was canceled. However, Netflix provides an easily streamable opportunity to watch the 1992 Merchant-Ivory film adaptation, starring Hannibal Lecter, Marla Singer, and Professor Trelawney. And if you're feeling a little generous, maybe make a fancy evening of it! Get dressed to the nines, bust out the candles and bubbly alcohol in a glass, and send a donation to Portland Center Stage as your admission before sitting down and really digging into a subversive story about sad British people who aren't particularly good at handling their raging passions.
(Now Streaming, Netflix, $8.99 per month, free trial here, donate to PCS here if you're feeling generous)
John Prine
It's awful that one of the strongest reminders we need to stay inside and stay safe is that we keep losing legends to this pandemic as it's prolonged, and this last week it took John Prine from us. Prine is beloved for making simple, but magnificent folk songs, which revolve around his acoustic guitar and inimitable drawl. Though his early work gets a lot of attention—particularly songs like "Sam Stone" and "Angel from Montgomery" from his 1971 self-titled debut—2005's Fair & Square is perhaps Prine's best record. He recorded the Grammy-winning album after undergoing throat surgery for squamous cell cancer, which deepened his voice into a low, gravelly rumble. The Tree of Forgiveness is John Prine's first collection of new material in over a decade, and it contains some of the legendary folksinger/songwriter's most playful tunes to date—it's sweet, silly, and a little sad, meaning it's the perfect kind of John Prine record. Remember him from safe inside your home as you watch him performing inside Canadian DJ George Stroumboulopolous' home, circa 2018. CIARA DOLAN