Disney on Broadway
Ryan McCartan hosts this charity-supporting livestream, celebrating Disney's quarter-century of taking their animated classics and translating them to the stage, often in seemingly-impossible ways. (Seriously, getting Julie Taymor to turn The Lion King into what it became on Broadway? *Chef's kiss*) The main performance was recorded on November 4, 2019 with an orchestra and 79 performers, and McCartan will be interviewing the stars of the show live from their own homes throughout, with performers including Tamika Lawrence, Jelani Alladin, Whoopi Goldberg, Adam Pascal, and more. Proceeds benefit the Broadway Cares/Equity Fights AIDS' COVID-19 Emergency Assistance Fund.
(Mon, April 13, 4 pm, YouTube, free, all ages)
Sponsored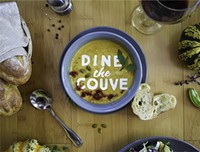 Experience the bounty of northwest flavor with special menus at Clark County restaurants all month.
Go to Pickathon!
Pickathon's response to COVID trying to mess up everyone's outdoor music festival fun? A 60-day long streaming series, spanning multiple online platforms, and featuring full sets by artists including People Under the Stairs, Damien Jurado, DakhaBrakha, and many, many more. Many of these performances haven't been put online before, and all viewer donations will go to the MusiCares iniative. Click here to see each week's schedule.
(Wed April 8-Sun June 7, YouTube, Facebook, Twitch, free, all ages)
Go to the Office. Any Office. Even a Spaceship Rainforest Office.
It's funny how when you're in the office, working from home seems like heaven, but when working from home is the only option, having an office to head into becomes like an oasis in a desert. When the novelty of wearing flannel jammies at your desk wears off (and it wears off fast) you might find that you almost need the sounds of a work environment to keep you focused. Obviously you can't actually go to the office, but MyNoise.net does you one better: pipe the sounds of any workplace setting you want into your headphones or speakers. The adjustment options are plentiful, the customization is thorough, and the sounds themselves are very well designed. Want your office to be the Enterprise? Can do. How about a treehouse carefully built in a rainforest? That too. Miss working from the coffeeshop down the block? Done. Wanna put that coffee shop in the lower decks of a starship while the camping holo-sim is running? You do you, just make sure you get that TPS report finished by 5pm.
(Now available, MyNoise.net, free)
Katamari Damacy
There might not be a better video game that speaks to the stir-crazy fantasies quarantine can induce than the bizarre Bandai/Namco classic Katamari Damacy, in which a put-upon prince with a weird head gets sent to earth by his terminally-grandiose dad (who happens to be King of All Cosmos) to roll a ball around and pick up whatever he can with it, so that new stars can be made to replace the ones his rainbow-vomiting dad accidentally destroyed. And... yeah. That's basically it! You roll a ball around, you pick up everything, and it is so goddamn satisfying. And that's not even getting into the treasure trove of pop grooves on its soundtrack. Sure, you could actually be picking up your room or your house if you really want to pick stuff up all day, but you can't then throw all that stuff into the sky and turn it into a star, now can you?
(Now Available, Nintendo Switch, Steam, $29.99)
A Band Called Death
In the mid-'70s, a trio of African American brothers from Detroit inadvertently invented punk rock. Led by guitarist David Hackney and supported by his brothers Dannis and Bobby, they called themselves Death. A self-released 7-inch aside, Death's tracks remained virtually unheard until record collectors got a hold of them decades later. In 2009, an album of their work was given a proper release by Drag City, cementing their reputation as cult icons and one of rock history's greatest and best anomalies. The film does Death's music a solid, but there's a lot more to admire here. A story of brothers bound by blood as well as music, A Band Called Death gives us a look at a troubled but ultimately united family. While they eventually got the admiration they deserved, Death's music and story still deserve greater recognition. A Band Called Death gives us both in the best possible way.
(Now Available, Tubi, Vudu, Pluto TV, free w/ ads) NED LANNAMANN
The Tiger King and I
Been noticing that there's a recent groundswell of negative attention focused on the quarantine-fueled success of Netflix's Tiger King? Hoping that you can get in on squeezing every last sour drop of schadenfreude before a backlash of (checks notes) "decency and basic human compassion" swallows this shitshow whole? GREAT NEWS: Netflix is providing one last bite of the poisoned apple via a Tiger King after-show hosted by Joel McHale, a veteran of looking at human trainwrecks and pouring gasoline on their dwindling fires as the host of E! Network's The Soup. He was also on a show about junior college too, apparently. ANYWAY: Special guests will include one of Joe Exotic's ex-husbands, a reality show producer and his wife, and Saff. Looks like meat's back on the menu, boys!
(Now Available, Netflix)
Sea Caves
If you're on the hunt for overlooked albums of the past year, Sea Caves' excellent November release, Across the Water, is the perfect place to begin your search. The album finds the long-running Portland band expanded to a quintet, with newly added member Sydney Rohrs adding a voice that effortlessly ebbs and flows over the band's twinkling indie pop sound. It's impossible not to become mesmerized by stand-out tracks like "Hieroglyphs" and "Dart," where Rohrs' fluttering and heartfelt presence calls to mind Sheena Ozzella (of the veteran Buffalo-based indie rockers Lemuria). CHIPP TERWILLIGER

Sponsored
This 9th floor patio boasts stunning views of the city, three mountains, and Portland's West Hills.