Mister Rogers' Neighborhood Viewing Party
Guaranteed to be the most wholesome thing you do this quarantine, WQED in Pittsburgh, the public broadcasting station that produced Mister Rogers' Neighborhood, is livestreaming three episodes of the beloved children's program: "How People Make Crayons," "How People Make Cellos (with Yo-Yo Ma)", and "Musical Games/Talking About Feelings." That last one is probably going to be the one that causes this meme to be re-enacted live on your living room floor, but that's okay. For about an hour tonight, everything is going to be okay, because for about an hour tonight, we're all going to be neighbors.
(Thurs April 16, 4:30 pm, Facebook, free, all ages)
Sponsored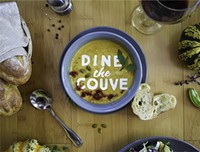 Experience the bounty of northwest flavor with special menus at Clark County restaurants all month.
Hello From the Magic Tavern
One of the funniest podcasts in existence, Hello from the Magic Tavern is the work of three phenomenal improv artists from Chicago, and follows regular guy Arnie Niekamp, who fell through a dimensional rift behind a Burger King, landed in the magical realm of Foon, and, naturally, started a podcast. Recording the show in the Vermillion Minotaur tavern, Arnie's joined by co-hosts Chunt (Adal Rifai), a chill, shape-shifting badger, and Usidore (Matt Young), a pompous wizard on a very important quest. Arnie & Co. are joined by all kinds of weirdos from Foon, and the results are hilarious, unpredictable, and, occasionally, deeply disturbing.
(Now Available, Apple Podcasts, Stitcher, Spotify, free)
DJ Papi Fimbres
One of Portland's most influential and hard-working musicians is also one of Portland's most entertaining DJs, and Holocene is letting him take over their livestream tonight for a couple hours of fire in the form of choice chicha, cumbia, and afro-funk cuts.
(Thurs April 16, 8 pm, YouTube and Twitch)
Crouching Tiger, Hidden Dragon
Did you forget something this goddamned amazing was just sitting there on Netflix? That at any point during the day you could just hit play on Crouching Tiger, Hidden Dragon and simultaneously fall in love with literally everyone in it? Did you forget what a divine display of pure wushu gold it is? Is your favorite sequence the big showdown between Michelle Yeoh and Zhang Ziyi? The stealing of the Green Destiny? The bamboo sequence with Chow Yun Fat? The correct answer is yes.
(Now Streaming, Netflix, $8.99 per month, free trial here)
Hip-Hop Evolution
For as ubiquitous as it is now, Hip-Hop is still a relatively young artform, which makes the sheer amount of history packed into its lifespan all the more amazing. This ongoing Netflix documentary began life on HBO Canada, hosted by Juno-award winning emcee Shad. "A hip-hop documentary done by Canadians" you say? Slow down with the disbelieving hot take you got brewing there, chief: The host 100% knows his shit, and since a big part of the show's mission is to show viewers just how far hip-hop has spread in so short a time, and how transformative the artform was for so many places not named Los Angeles or New York, Hip Hop Evolution coming straight outta Canada makes perfect sense. The doc is packed with one-on-one interviews with a laundry list of absolute legends, too, and more than a few stories you've never heard before. Listen, learn, and protect ya neck.
(Now Available, Netflix, $8.99 per month, free trial here)
Pleasure Curses
Shades of Style Council are wildly apparent in every sexy note of Pleasure Curses' disco-infused dance numbers, such as the crazy-fun "Mean Streets," where slick vocals thrum over a dirty bounce that defies you not to gyrate. The Portland duo, comprised of Jahn Alexander Teetsov and Evan Maxwell Grice, bring a strong synth-funk vibe to the party, along with a heavy scent of sex and a personality that lets you know they're prioritizing fun over art. If you've come to dance and have a good time, Pleasure Curses are ready to provide exactly what you need. WM. STEVEN HUMPHREY

Sponsored
This 9th floor patio boasts stunning views of the city, three mountains, and Portland's West Hills.