Toni Morrison: The Pieces I Am
There are a lot of things available on the virtually un-scalable mountain range of content comprising Hulu/Netflix/Prime/YouTube/etc., but you should
definitely
make sure you carve time out of your day to witness the rise of the prolific Nobel-winning author Toni Morrison, who holds forth on her life busting up the white male literary hegemony in Timothy Greenfield-Sanders's documentary, with appearances by Hilton Als, Oprah Winfrey, Russell Banks, and Angela Davis, among others.
(Now Streaming, Hulu, $5.99 per month, free trial here)
Sponsored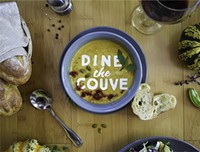 Experience the bounty of northwest flavor with special menus at Clark County restaurants all month.
The Stonewall Inn Gives Back
RuPaul's Drag Race judge Michelle Visage and Tyler Oakley host this livestreamed benefit concert for the LGBTQ nightlife community, with the World of Wonder YouTube channel presenting performances from beloved entertainers including Alan Cumming, Rufus Wainwright, Cyndi Lauper, Isaac Dunbar, Todrick Hall, Troye Sivan, and John Cameron Mitchell, among many others. Guaranteed it's going to be the only livestreamed concert that's being headlined by both Hedwig and Nightcrawler. BAMF!
(Sat April 25, 5 pm, free)
King Lear
A classic Shakespeare play, almost disturbingly appropriate for our current time, performed as brilliantly as possible by a cast that's—to borrow an overused-but-thoroughly-correct-in-this-case term—GODLIKE, in front of a very receptive audience. To clarify: A very receptive New York audience, in Central Park, in 1974. That cast, by the way? Oh, you know... James Earl Jones as Lear, with Paul Sorvino as Gloucester, Raul Julia as Edmund, Lee Chamberlin as Cordelia... and Star Trek: Deep Space Nine's Rene Auberjonois and Law & Order's George Dzundza popping up as well. If this doesn't open your eyes to how amazing properly-performed Shakespeare can be, nothing will.
(Now Streaming, allarts.org, free, all ages)
E.T. The Extra Terrestrial
Last week, Comcast/Universal propped open the door to their new streaming platform, Peacock, which isn't fully available to the public just yet, but if you're an Xfinity Flex or X1 subscriber, you've got access to it. If you have yet to choose a title to begin this illustrious Peacock experience with, might I suggest the highest grossing film of the 1980s, E.T. the Extra Terrestrial? Not because this saccharine-sweet Spielberg classic is one of the best movies at the platform's launch, but because its cinematographer, Allen Daviau, recently died due to complications from COVID-19. He was one of Spielberg's earliest collaborators, and went on to shoot Temple of Doom, Empire of the Sun, and The Color Purple for him. He also shot Fearless for Peter Weir, Defending Your Life for Albert Brooks... hell, this man shot Harry and the Hendersons! So why E.T. rather than those other films? Because Daviau's work on E.T. is some of the most iconic photography in modern history. Even if you've seen it a million times, watch it again, but this time and pay special attention to Daviau's craftsmanship, because it was something remarkable to behold.
(Now Streaming, Peacock on Xfinity, free w/ subscription)

Risky Business
Another '80s classic is new to streaming this month, and while it's primarily remembered for featuring a young Tom Cruise in his jockeys doing a lip-sync routine to Bob Seger's "Old Time Rock 'n' Roll," Risky Business is a surprisingly subversive entry into the teen movie canon of that decade. What looks like a bawdier, harder-edged spin around the teen movie block with one of the '80s myriad toothy privileged Reagan-era achievers is actually a low-key satire of that privilege, one that never really lets Cruise's character off the hook for every thoughtless assumption he makes and responsibility-ducking action he takes. It's also way more artfully made than most entries in the genre, features a star-making performance by Rebecca De Mornay, and was effectively the world's big introduction to the glories of Joey Pants as Guido, the Killer Pimp.
(Now Streaming, Hulu, $5.99 per month, free trial here)
Through the Looking Glass: Wonderland in Quarantine
The "progenitors of the spectacle of ecdysiastic pageantry," Verlaine & McCann, are taking their 12-years-running burlesque adaptation of the Lewis Carroll classic online for 2020, complete with Lily Verlaine's choreography, Stephanie Seymour's costuming, and a live jazz score from the Aces & 8's. Each show includes some backstage time at the top of the show, an intermission, and a cocktail party Q&A. If you've been all mimsy and missing the sort of bold and brassy entertainment a good burlesque show can provide, this oughta cure what ails ya.
(Thurs April 23, 5 pm, crowdcast.io, $25)

Polyrhythmics
Seattle octet Polyrhythmics do this big-band Afrobeat/funk thing with proper zest and adventurousness. The group's 32 limbs work in intricate harmony to generate a sophisticated slinkiness and expressive brassiness; theirs is a bold, complex chiaroscuro of wind, keyboard, guitar, bass, and percussion instruments. Polyrhythmics set out to move you, of course, but not without also ensuring that your mind expands out of its usual dimensions. Polyrhythmics are one of Seattles most impressive sonic pleasures, able to deliver Fela Kuti-esque gratification as well as sublimely greasy, Meters-like funk. DAVE SEGAL

Sponsored
This 9th floor patio boasts stunning views of the city, three mountains, and Portland's West Hills.