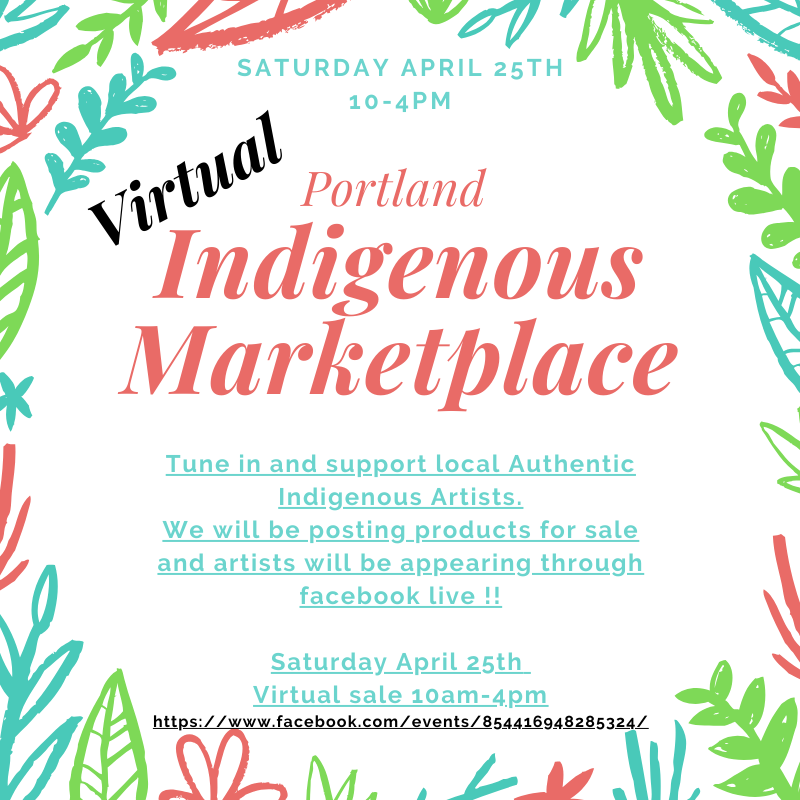 Portland Indigenous Marketplace

Indigenous Come Up is taking the latest in their series of marketplace events online after COVID-19 made going out and doing the in-person shopping thing a health-threatening activity. But they're dedicated to giving a lot of local makers as big a spotlight as possible, and so they're inviting you to engage with Indigenous artists in our community and offering an opportunity to show your support by purchasing the products showcased throughout the day.

(Sat April 25, 10 am, all ages)
Sponsored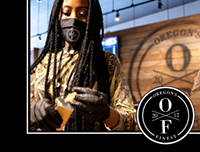 Oregon's Finest has great deals on cannabis gifts with curbside pickup & FREE delivery!
Pod-a-Palooza

Podcasts have been putting in much work in helping people get through their quarantine days, and now a whole bunch of them (over 70, in fact) are coming together for a two-day virtual festival to help benefit COVID-19 relief. Pod-A-Palooza features live, one-of-a-kind episodes, Q&A's, virtual listening parties, and an opportunity to discover stuff you should be listening to already but didn't know about because every "podcasts-you-should-listen-to" article you've ever read is just the same 20 shows the same 15 entertainment writers circle amongst themselves ad nauseum. Listen! Learn! LeVar Burton!

(Sat-Sun, April 25-26)
Block by Blockwest

Who could have predicted that in 2020, a global pandemic would have closed down most of the economy and relegated most of the world's citizens into self-quarantine? And further, who would have predicted that festival concert season would not only not slow down, but would instead move online? And then, THEN: Who would have predicted the number one place to host these online mega-concerts would be the video game Minecraft? And yet, here we are. In 2020. Staying home, staying safe, and raising money for COVID relief by donating during performances from Pussy Riot, Sir Sly, Hunny, Cherry Glazerr, The Wrecks, The Polar Boys, and many, many more, while inside a game of Minecraft. What a time to be alive, right? Asimov never saw this shit coming!

(Sat April 25, noon, Minecraft!)
Beastie Boys Story

This "live documentary" from director Spike Jonze was supposed to have already been out by now, viewable on IMAX screens, following Mike Diamond and Adam Horovitz as they walk viewers through the Beasties' amazing adventures in the worlds of punk rock, hip-hop, groove holmes, and boomin' grannies. It might be awhile before anyone's watching anything in IMAX again, but thankfully, this documentary is now online and streamable through AppleTV+, and if you thought the one thing the Beastie Boys could never do is jerk tears... make sure you have a hanky, or a sleeve, or the back of a pizza box ready, because Mike D & Ad Rock have a hilarious, heartwarming, and highly emotional story to tell about their friend Adam Yauch.

(Now Available, AppleTV+, $4.99 per month, free trial here)
Loop.tv Music Festival

Loop.tv and Twitch are teaming up to turn the video gaming platform into something more like a real weekend-long music festival, but without all the gross stuff that goes along with being stuck on a plot of land for two days with some seriously unhygenic people doing unholy things to the port-a-johns. Instead, it's just the music, being piped right into your living room, directly from the artists, who include Hanson, Nicole Bus, Mayra Andrade, Kimberly Nichole, Francesco Yates, AJ Rafael, Sharaya J, Netta, and many, many more. Proceeds donated by viewers (hopefully you) will go to organizations fighting COVID-19.

(Sat April 25, Twitch.tv)
Sink Some Battleships

Video Gaming has been doing a lot of heavy lifting when it comes to keeping people busy and mentally engaged during self-quarantine, but there are ways to get that classic board-game itch scratched online (which... I guess makes board games into video games? Ehh, whatever) and one of the best board games ever invented is Battleship, a guessing/puzzle game that tests your instincts AND your ability to graph things. You can help support our big sister paper The Stranger (which also helps support us!) by getting together a four-person Battleship squad, kicking down the $50 entrance fee, and joining this Underdog Zoom event to sinking some imaginary boats for a good cause.

(Sat Apr 25, 2pm-4pm, $50 per 4-person team)
Kokua Festival 2020

Of all the livestreamed fundraisers being put on recently by all-star musicians (see: basically all of Friday), this livestreamed fundraising music festival might be the most laid-back and easygoing of them so far, with Jack Johnson headlining from his front porch in Hawai'i, and getting a bunch of friends to perform from their homes as well, incuding Ben Harper, Ziggy Marley, Anuhea, Ron Artis II, and many more. Get in your comfiest pair of board shorts, strap on those flip-flops, and get a tall stack of banana pancakes ready. Click Here for more details, proceeds benefit the Kokua Hawai'i Foundation.

(Sat April 25, 3 pm, free)
We're Here

You're going to watch some reality shows (and by some, we mean hours and hours of them) while you're self-quarantined, but they don't all have to be soul-eroding trash pageants of exploitative misery. We've recommended feel-good shows before (Great British Baking Show, Nailed It) and HBO has entered into the personal makeover wing of the reality genre with We're Here, which is basically just taking Queer Eye and To Wong Foo and turning that up several notches, as Bob the Drag Queen, Shangela, and Eureka of RuPaul's Drag Race enhance small-town lives by letting people realize their drag queen dreams. Sure, it may sound derivative, but the word that more accurately describes the show is "transformative."

(Now Streaming, HBO)
Pete's Dragon

While we're here in heartstring-pulling territory, let's swing around to what might be Disney's very best modern remake: Pete's Dragon. Of course, it's the one that almost nobody saw in the theater (the weekend it came out, more people decided to watch Seth Rogen's Sausage Party), and most people don't even seem to know it ever even existed. All those weirdly-lifeless "live-action" Disney successes like The Lion King and Beauty and the Beast and Aladdin (although that one has its charms); and there's Pete's Dragon quietly sitting off to the side, being an adorable-yet-devastating film about childhood friendship that actually has more on its mind than just blandly translating all your favorite moments from the original into "real life," and is instead trying (and succeeding) to be its own emotionally engaging story about a feral boy in the Pacific Northwest and the dragon he finds in the forest.

(Now Streaming, Disney+, $5.99 per month, free trial here)
Babyface vs. Teddy Riley

The latest in Verzuz's Instagram beat-battle series popped off earlier this week, as R&B legends Babyface and Teddy Riley got on their respective apps, spoke very politely to each other, and unleashed a full-on fusillade of late-'80s-to-mid-'90s soul classics... reduced to tinny, crackly messes while tiny digital hearts rained upwards non-stop. If you missed it live (less "live" and more "stop-start-crash-restart"), don't sweat it: The Root has all the recap you need, and Spotify collected all the songs played, in order, so now you can hear them correctly, and really time-travel back to the days of high-top-fades, boxy Versace-suits, and mixtapes that were made with actual tapes. As with all Verzuz's battles, who "wins" doesn't really matter, because we all win. Just load up the playlist, and go New Jack Swinging through a quiet storm or two.