Sponsored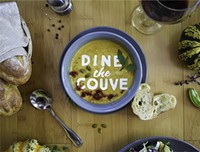 Experience the bounty of northwest flavor with special menus at Clark County restaurants all month.
Parks and Recreation Reunion Show
Rem through sitcom bliss, because tonight at 8:30pm on NBC, the gang at Pawnee is getting back together for a scripted special reunion show, starring Amy Poehler, Adam Scott, Aubrey Plaza, Rashida Jones, Nick Offerman, Retta, Aziz Ansari, Chris Pratt, and Rember a little bit ago, when we suggested one of the very best feel-good binges you could go on while sheltered-in-place was this show? Hope that binge was more like a lightspeed jauntob Lowe (as well as unnamed special guest stars... and Jerry, too, I guess, probably) in a story written by series co-creator Michael Schur about Leslie Knope trying to keep in touch with all her favorite people during this coronavirus crisis. Donations made during the show benefit Feeding America.
National Treasure
Is this completely ridiculous movie the platonic ideal of all things Cage? A Cage that is uncorked-yet-still-safe for the whole family? Before, if you wanted some measure of ripshit Nicolas to enjoy, you'd have to wade into deep (and deeply weird) waters, such as the kind found in Port of Call New Orleans or Vampire's Kiss, and those are not titles you can just put on while your kids are in the room. Maybe you could get away with Peggy Sue Got Married, or Moonstruck, or Raising Arizona, but this Disney adventure—this goofy-as-hell, lighter-than-air riff on Dan Brown's terrible Da Vinci Code that's better in every way—finally hits Disney+ tonight, and it seems inevitable that this premiere guarantees new generations of Cage Ragers will extend his outsize legacy even further into the future. The children (and Cage) will save us all. Believe.
National Theatre Live's Frankenstein
The latest title in National Theatre Live's #NationalTheatreAtHome series is director Danny Boyle's stage adaptation of the Mary Shelley classic, starring Benedict Cumberbatch and Jonny Lee Miller. The trick of Boyle's stage show is that both Cumberbatch and Miller could—and would—swap roles on any given night, in keeping with Boyle's desire to tackle the story in a way that amplifies the idea that the doctor and the monster create each other in their own ways. Whatever version airs tonight on the National Theatre YouTube, the other version plays tomorrow. You'll want to watch both, no matter what.
A Secret Love
You see the names Ryan Murphy and Jason Blum in the credit block of something, you're probably in for something highly acidic at the very least. Seeing their names together on a project might seem like a guaranteed night of delicious nastiness. And yet, A Secret Love, produced by both men and directed by Chris Bolan, isn't an experiment in sci-fi, horror, or alternate history, but a documentary focused on the true story of Terry Donahue and Pat Henschel, two women who met while playing baseball in the same all-women's league that inspired A League of Their Own, fell in love, and created "seven decades worth of stories" together, in secret, before coming out to their friends and family in 2009. Someone once said there's no crying in baseball, but tonight? That's a damn lie.

Cunningham
Dancer, choreographer, and founder of a world renowned dance company, Merce Cunningham is considered profoundly influential, and not just in the world of modern dance. Through his collaborations, Cunningham left his mark on avant-garde art, across mediums. Born over 100 years ago in Centralia, WA, Cunningham spent spent seven decades in the world of dance, founding the Merce Cunningham Dance Company, and this documentary tells the story of his remarkable life by juxtaposing archival footage, interviews, and footage—both old and new—of his dancing. SUZETTE SMITH
Aldous Harding
Aldous Harding's voice is a weird world, some sideways place where everything is always melting and morphing. It's a slippery and enchanting marvel that glances the hermetic realms of Scott Walker and Marianne Faithful and Anohni, but it remains its own odd thing. It is a prism refracting midnight vibes—childlike wonder and stricken desire, brand new glee and ancient menace. Harding funnels it into recognizable pop forms, but it is too much, and so it spills past the lip of the common to claim the space beyond what is known. To hear it is to believe in something you will never touch. CHRIS STAMM

Sponsored
This 9th floor patio boasts stunning views of the city, three mountains, and Portland's West Hills.