Stay Home, Drink Beer
The Oregon Brewers Guild has figured out how to combine safe social distancing with satisfying beerfest practices, and so:
Stay Home Drink Beer
, a virtual festival (that's also very valuable life advice) starting at 1pm on May 2, featuring brewery tours, "meet the brewer" presentations, info on special releases, and a curated list of brewers providing direct delivery options so they can bring the pours to you. There's merch available, a raffle to win, and more, with participating breweries including Von Ebert, Wild Ride, Worthy, StormBreaker, Bent Shovel, Lucky Lab, Migration, and Ninkasi, among many others.
The First Saturday in May: Kentucky Derby at Home
The actual "horses run around a track at high speeds while a stadium full of drunks in seersucker suits and fancy hats hoot loudly" part of the Kentucky Derby has been tentatively postponed until September—but that's not stopping Churchill Downs from having something derby-related for you to day-drink to: From 3pm-6pm, NBC will broadcast the 2015 Derby, commemorating the 5 year anniversary of American Pharoah's Triple Crown run. And if you need something to bet on, they'll also be running a virtual Triple Crown Showdown, computer simulating a Derby where the past 13 Crown winners all compete at the same time. Proceeds from this plot point you first saw in Rocky Balboa will be matched by Churchill Downs in the hopes of donating up to $2 million to COVID-19 relief efforts.
The Princess Bride
This movie, finally made available on Disney+ this month, is 100 percent pure charm in film form. That's not to say Rob Reiner's adaptation of William Goldman's bestselling novel isn't also shot through with moments of real romance ("As you wish") and cathartic satisfaction ("I want my father back you sonofabitch,") but the reason this movie occupies such a precious place in so many hearts is the charm radiating off its styrofoamy sets, through a score that sounds like it's coming out of a Casio keyboard's single built-in-speaker, humming under dialogue written so beautifully the actors can't help but smile at the magic flowing out of their mouths. It proves you don't need $200 million and two years of post-production to realize pure imagination. Not when you've got a big heart and all the charm in the world.
Andre the Giant
One of the (literally) biggest components of Princess Bride's success is Fezzik, the one-man brute squad played by Andre Roussimoff, professionally known as Andre the Giant, maybe the first real worldwide superstar in the realm of professional wrestling. This HBO documentary (directed by The Last Dance's Jason Hehir) is a must-watch if you've ever smiled at anything Andre did in his way-too-short life of bestriding the globe like a friendly colossus—but it's not just a "greatest hits" recounting of his in-the-ring exploits, either. There's sadness, and pride, and frustration (you will likely want to slap your TV to death whenever Vince McMahon starts talking) throughout this documentary's runtime, but the overriding emotion is a joyful one. Which is as it should be.
The Goonies Cast Reunion
Okay, here's today's last hit of pure '80s nostalgia (get it while you can, everyone's about to push all in on that '90s nostalgia here in a sec). Josh Gad started a new YouTube series last week called "Reunited Apart," which seeks to get the casts from your favorite movies together for some online fun. The first (and probably last, according to Gad) episode of this series is centered on the Steven Spielberg produced, Richard Donner directed 1985 adventure The Goonies. There's been many partial cast reunions at many a "geek" event over the past 20 years, but nobody's gotten everyone in the cast (everyone who hasn't already passed that is—RIP Anne Ramsey) back together at the same time...until now. That's right: Samwise Gamgee, Thanos, that one Michael Jackson impersonator, Short Round, Chunk, Joey Pants, they're all here along with some extra-special guests, and they spend a very jovial half hour reminiscing, sharing stories, and celebrating the film they made 35 years ago. Proceeds from all donations benefit The Center for Disaster Philanthropy's COVID-19 Response Fund.
Post Malone + Travis Barker = Nirvana (!?!)
Okay, so, here's that '90s nostalgia we were talking about earlier. And not the sort of hypercolored, day-glo, biker-shorted, candy-flavored Space Jam-style '90s nostalgia. I don't know if the lockdown has anything to do with it, but there's a real taste right now for that other '90s nostalgia. The always-overcast, oversize leather-jacket, choker-and-baby-doll-dress, chunky-boots-and-clove-cigarettes, floppy-haired-and-angry '90s nostalgia. And so: Post Malone doing a live Nirvana concert in his house, with Travis Barker on drums (in a different room—everyone may be smoking, drinking, and wearing sundresses but they're still socially distanced). This concert streamed live last week, but it took until just now before the performance (Post Malone kinda... sorta... kills it?) could be processed. The concert benefits the Solidarity Response Fund for the World Health Organization.
Normal People
Hulu's latest miniseries aims to fill your quarantine hours with meaningful sweetness via their 12-episode adaptation of Sally Rooney's acclaimed best-seller, Normal People. And as the title hints, there are no superheroes involved in this narrative; no sci-fi hooks to grab onto, no world-threatening scenarios to conquer. It's just a love story. A regular, low-stakes, small-town love story set in Ireland. A love story that pretty quickly stops feeling low-stakes as its two principals meet, hook up, grow, break up, leave, come back, hook up again, regress, break up again, and come to exemplify the absolutely commonplace but never-not-terrifying tightrope that you have to walk if you want to be really intimate with someone, especially when you still don't quite know who you are yet.
Electric Streams
Another fresh 'n' direct DJ Gregarious-brand dance party, kicking off at 7pm and co-starring DJ Rescue (AKA Zia McCabe of the Dandy Warhols), packed full of extra-disco-breakin' goodness, featuring visuals by VJ Disorder. Special guests just might be popping up, the Psychic iPod (!) will wow and amaze, and the cable-access wondrousness (Corny games! Weird-as-hell-interviews! Sock puppets!) will keep your eyes satisfied while an explosion of rock solid beats and vibes keep your feet steadily cutting up the living room rug.
Supernova Saturday
XRAY.fm presents this dance party inspired by all the classic R&B and hip-hop jams that Zenon used to rock, hosted by PNWth0tS and starring DJ George the Mixologist on the decks. This isn't your basic Saturday night livestream jam, either. Supernova Saturday is for those who want their in-home dance experiences to reach for the stars—literally—and so they're requesting you suit up in your finest futuristic apparel, because it's not just a hip-hop party set in the year 2049 onboard a space station with an entire bulkhead of subwoofers where the engines should be—but it's also a costume contest. RSVP to join the party on Zoom, but if you want to just listen to George's selections, you can dance along (in plain regular modern-times clothes) at 8pm on Twitch. Proceeds donated during the party help benefit XRAY.fm.
Diet Cig
We seem to have entered a period where a lot of social art is—at least initially—valued based on its level of political consciousness. There are positives and negatives to this, of course, all of which should be plainly obvious. But what Diet Cig does to me, for better or worse, is make me briefly forget about this particularly difficult moment in time, reminding me of the shouty, sing-along pop and rock songs I loved as a teenager, and through my 20s, and even last year and last week. Make no mistake: There's liberation in music like this. And while it's not the end of the world if some choose not to share in it, it's a shame to try and shackle it. NED LANNAMANN
Sponsored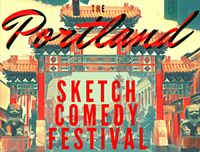 Sketch comedy troupes from all over N. America descend on The Siren Theater for 3 glorious nights.