Natalie Wood: What Remains Behind
This HBO documentary premiering at 6pm tonight seeks to take a different tack in recounting the life of actor Natalie Wood. Most of her biographies tend to prominently fixate on her premature death, and the mystery surrounding it. Hell, even this blurb can't make it to its halfway point without bringing it up. But this doc, directed by Laurent Bouzereau (
Five Came Back
) and focused through the eyes of her daughter, Natasha Gregson Wagner, is all about
really
looking at the very full, eventful, and transformative life she lived for 43 years, featuring footage from home movies, words from her private letters and diaries, and interviews with some of her closest friends, providing the chance to celebrate the star for no other reason than to appreciate how brightly she shined.
Altisimo Live!
An all-day online festival supporting front-line farmworkers through donations generated by the finest Latin artists in music and pop culture. Hosted by Eva Longoria and Enrique Santos, the lineup includes names like Edward James Olmos, Esai Morales, Los Tigres Del Norte, Las Cafeteras, Sofia Vergara, Steve Aoki, Tito Puente Jr., Dolores Huerta, Gloria & Emilio Estefan, Luis Guzman (the Guz!) and many, many more, including special appearances from J. Balvin, Alejandro Sanz, and Rosario Dawson. They're aiming to raise $3 million in one day, and they only want $5 from each viewer, so while you could just watch and dance and laugh for free, why not kick in a little if you can?
Little Fires Everywhere
Hulu's latest big, buzzy, original drama is this adaptation of Celeste Ng's best-selling book. Reviews have knocked the adaptation for essentially removing all nuance from Ng's novel, and it's hard to disagree that the story is a lot louder than it was on the page; Ng's novel is set in the mid-'90s, but never quite channeled it. This show doesn't feel like the book... but the sour, entitled, pretty-on-the-outside-but-mean-as-fuck-for-no-good-reason vibe it absolutely nails from its first 15 minutes on? That's some genuinely authentic '90s nastiness; the kind of sunshine-covered bitterness these characters would snidely razz as they watched their umpteenth hour of Ricki Lake from the comfort of their couch. The miniseries is now available in full for on-demand consumption, and the approach taken with the source material (an approach Ng herself applauded) makes a lot more sense when the reworked story is taken as a whole.
The Drunken Laboratory
If you're going to get tipsy and then start doing science experiments, why not do it from the safety and comfort of your own home while watching the mad lab rats from The Drunken Laboratory, who will be fulfilling many a kid's childhood dream tonight at 7pm and teaching everyone how to make quicksand with just starch and water. Now you can really put your G.I. Joe's and Star Wars toys through hell as scientifically accurately as possible!
Kentucky Route Zero
The feelings of cabin fever and the onset of stir-craziness can be offset satisfactorily depending on your mode of distraction in these locked-down days, and one of the best means to that end is this five-act video game that "plays" more like an actual play than anything else. Kentucky Route Zero (available on all PC and console platforms), is a point-and-click adventure game where the adventures and puzzles are tied directly to the interpersonal relationships you build and cultivate with the characters occupying its surreal settings. It starts as the story of an older truck driver just trying to get his cargo from point A to point B on a fictional Kentucky freeway, but becomes... well, hell, it basically becomes a dream. A playable dream, the kind of engrossing, inexplicable experience you wish you could have recorded and played back for others once you wake up. Except of course, in this case, you can.
The Florida Project
Director Sean Baker's most recent gem, 2017's The Florida Project (now streaming on Netflix), is must-see cinema for multiple reasons. There's Oscar-nominee Willem Dafoe showing his "softer side," as a budget hotel manager named Bobby, but the real reason Florida is such a success is due to child actor Brooklyn Prince. Prince plays a mischievous tyrant who spends her days terrorizing the Orlando hotel she calls home, harassing patrons and guilting tourists into buying ice cream. Prince—with considerable help from her costars, Baker, and screenwriter Chris Bergoch—resonates beyond the twee and cute. At the film's climax, Prince delivers a performance that would make even the surliest curmudgeon cry. Sometimes the tiniest underdog can beat the odds and become a star. CHASE BURNS
Caleb Landry Jones
Jones is one of the faces you'll spot in Florida Project too, playing Dafoe's estranged son—but you've probably seen him in a bunch of other great roles. The twisted younger brother in Get Out, the quiet dork in The Dead Don't Die, the billboard rental guy in Three Billboards Outside Ebbing, Missouri, Becky's trailer trash husband in Twin Peaks... all Jones. Also all Jones? The "mind-blowing" (according to NPR) debut LP, The Mother Stone, a psych-rock freakout that features Jones summoning the spirits of Lennon, Zappa, Syd Barrett, and any other hippie visionaries you could probably think of, channeling their vibes through his guitar, drum, and keyboard-playing, and splashing that all over an ensemble that also includes a string section and a damn tuba too.

Sponsored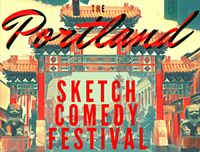 Sketch comedy troupes from all over N. America descend on The Siren Theater for 3 glorious nights.