Here's your daily roundup of all the local and national news about COVID-19. (Like our coverage? Please consider donating to the Mercury to keep it comin'!)
• According to the Oregon Health Authority, the state currently has 3,817 positive COVID-19 cases (that's up 24 since yesterday) and one additional death, for a total of 145. The current national death toll is now well over 91,000.
Sponsored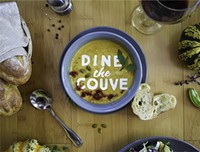 Experience the bounty of northwest flavor with special menus at Clark County restaurants all month.
• VERY MUCH RELATED: According to a new study from Johns Hopkins University, the United States could have saved 36,000 lives if it had began social distancing just one week earlier. But never mind that, because it's time to reopen and get our nails painted, baby!
• Also VERY MUCH RELATED: Nancy Pelosi and Chuck Schumer wrote a letter to President Trump requesting flags be flown at half staff once the U.S. hits 100,000 deaths from coronavirus: We are expected to hit that grim milestone in the next couple of days. (Anybody want to lay bets as to how Trump will respond?)
• While testing across the nation has definitely improved, the government's early and completely botched response to the virus has put us far behind where we should be by now.
• Once upon the '90s there was a vice president who misspelled the word "potato" in public and we (correctly) ruined his career in politics. Meanwhile...

Pres. Trump on his coronavirus test today: "I tested very positively, in another sense, this morning. I tested positively toward negative, right? No, I tested perfectly this morning — meaning I tested negative. But that's a way of saying it: positively toward the negative." pic.twitter.com/Jylltw0JXs
— NBC Politics (@NBCPolitics) May 21, 2020
• Another 2.4 million Americans filed for first-time unemployment benefits last week even as some states begin to reopen. Though still an incredibly high number, first-time filings have been falling for seven straight weeks after the peak of 6.9 million in the last week of March, reports CNN Business. These new numbers bring the total number of people unemployed since mid-March to 38.6 million.
• Nevertheless, Senate Majority Turtle Mitch McConnell wants your ass off the government cheese ASAP: The Kentucky senator reportedly does not want enhanced unemployments benefits to be carried over into the next federal relief package.
• Oh, and if you get government money, we're SURE you'd like to spend it all at the casino! Which you can do starting June 1 at Spirit Mountain—joining North Bend's Mill Casino (which opened Monday) and Lincoln City's Chinook Winds Casino (which opened today!). Spirit Mountain will require masks be worn at all table games, reduce hours to make deep cleaning a priority, prohibit attendees under 21 years of age, and administer temperature scans at entrances. [Insert "gambling with your life" joke here.]
The president says he DID WEAR A MASK off camera in an area of the plant where Ford said it was necessary but he says that he "didn't want to give the press the pleasure" of seeing him in a mask. Watch. pic.twitter.com/ikfTtwl90V

— Kelly O'Donnell (@KellyO) May 21, 2020
In retrospect, asking dudes to wear a mask if they go outside when they won't even wear a condom for 45 seconds was probably a big request.
— Charlotte Clymer 🏳️‍🌈 (@cmclymer) May 20, 2020
• The OLCC is fast-tracking applications to expand the sale of alcohol to include sidewalks, streets, and parking lots near restaurants and bars, so venues won't be in violation of state-mandated social distancing guidelines.
• Three Oregon prison inmates have been hospitalized with COVID-19, per OPB. As our own Alex Zielinski has reported, health and safety conditions in state jails and prisons have been sorely lacking since the beginning of the pandemic.
• Amazon's homegrown consumerist holiday, Prime Day, is being tentatively moved back to September in an attempt to get the company "back to normal," a phrase that essentially has no applicable meaning in our current reality. Amazon expects to lose around $100 million due to the delay. Prime Day 2019 earned an estimated seven billion dollars in total sales.
• In somewhat more pleasant bookselling news, Powell's announced that starting today, they're offering contactless pickup from their Burnside location, joining many of the city's other independent booksellers in making the option available to local readers. Our Bob Ham has more.
• Get your tickets NOW for the hilarious (and sometimes poignant) Confinement Online Film Fest (CoFF) debuting this Friday. Grab those tickets and watch the trailer here!
• Need MORE laughs? Then don't miss the livestream I, Anonymous Show next Thursday, May 28 at 8 pm! Hilarious comedians, jaw-dropping rants and confessions... what more could you possibly need? (Don't say "love.")
• And finally, who doesn't love a good "Karen" montage?

"Karen Training"

The internet is undefeated... pic.twitter.com/IpiFhXJh7R

— Rex Chapman🏇🏼 (@RexChapman) May 21, 2020
Sponsored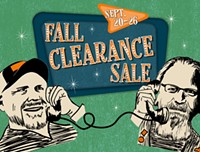 Our lowest prices of the season! Join us live on FB/Insta weekdays at 12 + shop nextadventure.net