Here's your daily roundup of all the local and national news about COVID-19. (Like our coverage? Please consider donating to the Mercury to keep it comin'!)
Sponsored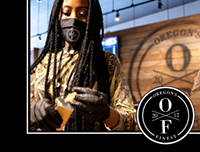 Oregon's Finest has great deals on cannabis gifts with curbside pickup & FREE delivery!
• According to the Oregon Health Authority, the state currently has 3,864 positive COVID-19 cases (that's up 45 since yesterday) and two additional deaths, for a total of 147. Note: While not great, that's still almost FIVE TIMES LESS than the current counts in Alabama, a state that was late to start social distancing, quick to stop it, and is on the verge of another outbreak.
• Also according to the OHA, half of Oregon's counties are now struggling to adhere to state healthcare guidelines necessary to keep their counties open. So maybe this might be why Multnomah isn't in a huge rush to apply for Phase One reopening?
Remember, some people can't wear a face covering due to health conditions. We all want to be safe, but we can only control our own actions. Protect yourself, respect your neighbors. #ProtectOneAnother #LivingWithCOVID https://t.co/bzQF8g7Xrw pic.twitter.com/B4R5f1UPBd

— Multnomah County Health Dept (@MultCoHealth) May 22, 2020
• While many state parks and recreational areas are re-opening for Memorial Day weekend, officials are urging potential outdoor adventurers to stick closer to home so corona outbreaks don't overwhelm smaller communities.
• Oregon Senators Ron Wyden and Jeff Merkley signed their names to a bipartisan letter asking Senate leadership to prioritize relief legislation for independent live events venues and their workers in the coming months. Oregon Gov. Kate Brown has already stated large-scale events are effectively prohibited through September at the least.
• Okay, this is legit SHOCKING: In Washington state, identity thieves stole personal information from tens of thousands of people in order to get hundreds of millions of dollars in unemployment benefits.
IN NATIONAL NEWS:
• U.S. Government buildings, military posts, and embassies will be flying the American flag at half-mast for the duration of Memorial Day weekend in remembrance of those who died due to COVID-19 this year, with the total expected to cross the 100,000 threshhold by Monday.
• Dr. Anthony Fauci spoke on the possibility of Moderna Inc.'s vaccine trials leading to a deliverable product by December 2020, saying it's a "conceivable" possibility, but "never a promise." Full results from the trials are still weeks away from being submitted to a peer-reviewed journal.
• Meanwhile, Donald Trump (not a doctor, won't even wear a mask in public), who has been taking and promoting the usage of hydroxychloroquine, possibly learned from a study of 96,000 patients (he doesn't actually read, after all) that the antimalarial drug was found to have increased the risk of dying in those who were taking it, as well as introducing a type of heart arrhythmia that can lead to sudden cardiac death.
• The CDC has updated their information on how coronavirus spreads, emphasizing that transmission happens primarily "person to person" and it's less likely to be picked up from contaminated surfaces or animals.
• Our idiot president held a press conference this morning to announce that he's deeming all houses of worship (reminder: he doesn't go to church and doesn't believe in asking God for forgiveness) to be "essential services" and threatened to "override" governors who do not allow them to re-open immediately.

Pres Trump says he will "override the governors" if they don't follow new CDC guidance and open places of worship this weekend.

Context: The 10th Amendment of the Constitution says powers not delegated to federal government are reserved to the states. https://t.co/CmTrFY4HVB

— Yamiche Alcindor (@Yamiche) May 22, 2020
• Obviously, this chart by Vox (based on the scales of COVID-19 risk in public gatherings), was not consulted, as it very clearly shows the most high risk activity one can undertake in the pandemic involves large gatherings indoors.
• Related:

The states reopening are experiencing spikes in COVID-19 cases, but what does that matter if the heartland can own the libs by seeing Christopher Nolan's movie before the coastal elites? pic.twitter.com/79DtqaOa7I
— Steven Santos (@stevensantos) May 22, 2020
• Get your tickets NOW for the hilarious (and sometimes poignant) Confinement Online Film Fest (CoFF) debuting TONIGHT, Friday May 22. Grab those tickets and watch the trailer here!
• Need MORE laughs? Then don't miss the livestream I, Anonymous Show next Thursday, May 28 at 8 pm! Hilarious comedians, jaw-dropping rants and confessions... what more could you possibly need? (Don't say "love.")
And finally, I am LIVING for the recent trend of women lip synching (and trolling) political dudes!

Breaking News: @NYGovCuomo and his daughters watch the news pic.twitter.com/Q9lEqb9d2u

— Maria DeCotis (@MariaDeCotis) May 22, 2020