We need your help. The economic fallout of the coronavirus has threatened our ability to keep producing the Mercury. If you're able, please consider donating to the Mercury.
Good morning Portland. It's been a long weekend for our small team over here at the Merc. I apologize in advance for any sleepy-eyed blunders in this morning's news roundup.
It's been just under a week since Minneapolis police officers left George Floyd, a 46-year-old Black man, dying on the streets of his city. In the days since, every major city (and a bunch of minor ones) has shown their outrage over another Black man's death with massive protests, some leading to property destruction, looting, and arson. In many instances, armed police officers in riot gear have responded with violence, in the form of tear gas, explosive munitions, and seemingly unprovoked aggression. Here's what that looks like:
Protests started in Erie.. a girl here was peacefully protesting, after 15 minutes she was maced and kicked.. #PoliceBrutality pic.twitter.com/nC6HhXMpCe
— Nick / nak5132 🍐 (@the7goonies) May 31, 2020
Holy shit the NYPD just attacked the protesters for no reason. Oh my god. pic.twitter.com/P3wRjZg1xy
— Nate Igor Smith (@drivenbyboredom) June 1, 2020
Police brutality leads to protests leads to more police brutality leads to more protests...

It's a pattern seen in many parts of the world: authorities think violence will stop public outrage, when it is, in fact, the cause of the outrage. pic.twitter.com/3B83zmGsZo
— Andrew Stroehlein (@astroehlein) May 31, 2020
Protests have erupted in at least 140 cities across the United States over racism and police brutality. Some of the demonstrations have turned violent, prompting the activation of the National Guard in at least 21 states. https://t.co/IgDntKt02K pic.twitter.com/srpBanf3dS

— The New York Times (@nytimes) June 1, 2020
Many of the police targets have been journalists. Over the weekend, a Minneapolis photojournalist lost her eye after police shot her in the face with a rubber bullet and dozens of others were directly tear gassed after identifying themselves as the media. That includes Eugene Weekly reporter Henry Houston.
My favorite part was watching the police officers inside their tank laugh as I screamed I'm a journalist.
— Henry Houston (@hwhouston1) June 1, 2020
Response from EPD spokesperson: pic.twitter.com/AqkyB2euZ7
— camilla@eugeneweekly.com (@EugWklyCamilla) June 1, 2020
Portland saw three nights of varied protests, including a peaceful vigil in North Portland, a frenzy of broken windows, theft, burning banks, and tear gas downtown, and a large march of chanting demonstrators winding through Portland's Eastside. Here's the Mercury's live, on-the-ground coverage from Friday, Saturday, and Sunday.
Update. pic.twitter.com/vhMS7wHyZD
— Alex Zielinski (@alex_zee) May 30, 2020
Portland Mayor Ted Wheeler has offered somewhat contradicting responses to the weekend's events, both condemning and acknowledging the intention behind destructive rallies. Yesterday afternoon, a group of Black Portland leaders joined him at a press conference to demand he continue to improve the inequitable and racist outcomes of his governing. Wheeler placed the City of Portland under a 8 pm curfew in the past few nights. That curfew will be reactivated tonight.
In a morning press conference, US Attorney Billy Williams called for Gv. Brown to activate the National Guard. "Everyone is doing their best, but we need bodies," said Williams. "We need more numbers to do something to stop this ridiculous violence."
As an example, Williams points to protesters dispersing and spreading out over the city "at some point during each protest." (Does not mention that police officers are using tactics—tear gas, munitions—that force these crowds to disperse).
— Alex Zielinski (@alex_zee) June 1, 2020
Meanwhile, a Gresham police officer shot and killed a man in Southeast Portland yesterday evening. The exact details of the shooting have yet to come out — but we're paying attention.
During the eruptive weekend, Oregon Gov. Kate Brown fired the head of the Oregon Employment Department for the agency's shockingly slow ability to deliver unemployment benefits—even months after jobless Oregonians have filed claims.
A rocket was launched?!
We have liftoff. History is made as @NASA_Astronauts launch from @NASAKennedy for the first time in nine years on the @SpaceX Crew Dragon: pic.twitter.com/alX1t1JBAt
— NASA (@NASA) May 30, 2020
The Supreme Court is poised to reconsider "qualified immunity" today, the legal tool that protects law enforcement from being sued for official actions.
Oh, and don't worry—Donald Trump has responded to a week of protests led by communities of color against police brutality by announcing his intent to identify Antifa as a terrorist group.
Sponsored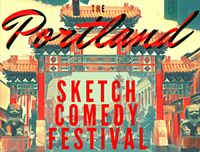 Sketch comedy troupes from all over N. America descend on The Siren Theater for 3 glorious nights.