With Multnomah County entering into Phase 1 of Oregon's reopening plan tomorrow (June 12), dozens of restaurants, bars, and shops are, as you read this, hurriedly making sure they meet the state guidelines to keep customers safe. That includes the city's many tattoo parlors.
Sponsored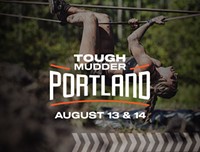 Lock in your summer adventure, Portland. Join us for world famous obstacles over a 5K or 10K distance.
(Update, June 11, 7:30 pm: Gov. Kate Brown has placed a hold on Multnomah County's reopening plans for at least one week, after Oregon saw a spike in new COVID-19 cases.)
"I've been in my studio all weekend, literally walking around with a tape measure and moving furniture and completely revamping the schedule," says Tomma Mueller, co-owner of Anatomy Tattoo. "We have to have all new procedures: one client, one tattoo artist, and nobody else. We're figuring out how we're going to get people in the front door with clean hands and a mask on. It's not just reopening. It's a whole different ball game than it was before we left."
Like all estheticians, tattoo artists are in a particularly fraught position during the coronavirus pandemic. Theirs is a high touch profession that requires getting up close and personal with their clients with the added risk of contracting infection through bloodborne pathogens.
That would be concerning enough, but there are even greater issues at play. The Oregon tattoo industry has seen a huge influx of new artists. There are, at present, 1,375 licensed tattoo artists in the state—nearly 450 in Multnomah County alone—up from around 900 just two years ago. While potentially exciting for the continued growth of this artform, what many established tattooers are seeing is a flood of inexperienced artists being pushed through understaffed, overpopulated schools that are doing more harm than good.
"They're cutting a huge hole in the industry," Mueller says. "As these schools have ramped up, they're putting artists out in three to six months, multiple times. It's thinned the ability for a lot of us who have worked here for a long time to continue to make a living wage. And there's not a lot of ethical learning in these schools. They don't understand why undercutting themselves is undercutting the industry as a whole."
Problems like these are what prompted Mueller and two of her friends and fellow tattoo artists—Olivia Britz-Wheat, who works out of Scapegoat Tattoo, and Jessi Preston, the owner of Lombard Street Tattoo—to start Reform Oregon Tattooing (ROT), an advocacy group that wants to fix the state regulations that are harming the industry they love, as well as helping the artists that are here to navigate the pandemic-clouded present.
ROT began about three years ago when Britz-Wheat wanted to take on an apprentice, but realized that, to make that happen, they would have to jump through a dispiriting amount of regulatory loopholes that essentially forced her and her boss to register Scapegoat as a tattoo school.
"It took us three years to do all the paperwork," Britz-Wheat remembers. "Over $4,000. It was so frustrating. Just the fact that [someone] that had been tattooing for over 10 years wasn't legally able to apprentice one person without basically opening a school that, in their eyes, is meant to run forever. We were in a very tough situation."
Unlike much of the US, Oregon heavily regulates the tattoo industry. The Oregon Health Authority (OHA) has put a number of important rules in place for safety and sanitation, but also muddied the waters for the industry. Loopholes in the system have allowed anyone with even a scant bit of experience to open up a tattoo school while also putting heavy restrictions on allowing visiting artists to see clients or let already established tattooers from other parts of the country to easily get an Oregon license.
As well, many of these new schools slip through the typical safety inspection process because they get opened up within already established tattoo parlors and simple governmental bureaucracy.
"It all comes down to data and numbers and statistics," says Britz-Wheat. "Testimonials aren't enough. If we say, 'We want you to come to these schools,' they say, 'You guys haven't gotten enough complaints to warrant more inspectors.' Even if a student has an issue with a school and files a complaint, if officials start looking into it and realize that the student didn't talk to the school and there's no paper trail, they're going to side with the school."
ROT has been able to make some substantive changes within the industry. Last year, they were able to push the OHA to streamline the process for guest artists to apply for a temporary license and for tattooers to get pre-approval for programs that will fulfill the continuing education requirements for all state licenses.
"I can say, 'Okay, I've got an expert in tattoo history. We'll set up a series of lectures,'" says Dan Gilsdorf, owner of Atlas Tattoo. "We just provide a little bit of background information on them and their program to the state and the state will hopefully say that qualifies. That kind of thing would have been impossible in the past."
There's still more work to do. Currently, tattoo instructors only need two years' worth of experience, including their own apprenticeship, to become a teacher—something that the ROT would like to see dramatically increased. Exactly how much, though, depends on getting the state's Higher Education Coordinating Committee to play nice with the Oregon Health Authority, two governing bodies that don't often communicate. As well, they are advocating for a program that will allow apprentices to work in a licensed tattoo parlor and earn experience before getting their full licensure.
For the time being, though, ROT has pivoted into assisting tattoo parlors and artists navigate the coronavirus present, helping direct them to resources for payroll protection loans, unemployment benefits, and other state and federal support to help them survive until they can work more regularly. And making sure that folks who own shops have what they need to reopen safely.
"We're not trying to tell people how to work or that all of us don't want to work," says Britz-Wheat. "We are trying to be a resource so that, if people decide that they feel safe enough to go back to work, here's all the information they need."
Mueller adds: "We all want to go back to work really, really badly. I miss tattooing so much it makes me want to cry. But I definitely don't want to jump in the pool before it's safe to. That's why we're trying to help people."
Sponsored
Virtual Auction Event & Drag Queen Fashion Show. You won't want to miss this show!