We need your help. The economic fallout of the coronavirus crisis is threatening our ability to keep producing the quality reporting you've come to love. If you're able, please consider donating to the Mercury.
GOOD MORNING, PORTLAND! It's always times like these when I think of you, and I wonder if you ever think of me. 'Cause everything's so wrong and I don't belong living in your precious memory. LET'S GO TO PRESS.
Sponsored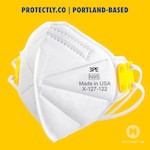 We have USA Made N95 masks available. Order N95, KN95, Surgical, Face Shields, Thermometers. Click here and USE CODE MERCURY FOR EXTRA 5% OFF.
Remember how Multnomah County was suppose to enter into Phase 1 of reopening today? Well, hold your horses! According to Gov. Kate Brown's office, several counties (including Multnomah) who have applied for various phases of reopening are being put on hold for one week due to the recent spike in coronavirus cases in the state. Check out my report from last night for more details.
By the way, there were 178 new cases of COVID-19 reported yesterday by the OHA, with the most infections coming from Clackamas and Multnomah counties. WASH YA HANDS, WEAR YA MASK.
BREAKING: Oregon Supreme Court vacates Baker County Judge Matthew Shirtcliff's preliminary injunction that found @OregonGovBrown's exec orders limiting social gatherings were 'null & void.' Ruling leaves governor's executive orders in effect.

— Maxine Bernstein (@maxoregonian) June 12, 2020
A Portland City Council vote to approve the annual budget failed yesterday after Commissioner Chloe Eudaly refused to vote in favor of it, citing that the cuts to the police budget—$27 million—did not go deep enough. Portlanders have been clamoring for a $50 million cut out of the $256 million the cops were planning on getting. Our Alex Zielinksi has more.
Yesterday's downtown protests passed without an excessive amount of violence from the police—man, our expectation bar is really low—probably due to a lack of crowds from rain, fatigue, and all-day police budget meetings. Our Blair Stenvick, Bob Ham, and Tuck Woodstock have all the blow-by-blow action (including info on marches on the Eastside and a kids march!) in our live blog.
In a special legislative session, Oregon lawmakers are planning to pass police reforms of their own, including a bill that would not allow the punishment of bad cops to be reversed by outside arbitrators.
IN NATIONAL NEWS:
Speaking of statewide changes to the justice system, Gov. Tim Walz of Minnesota is convening a special session with an eye on overhauling police policy and tackling economic inequality.
Meanwhile, responding to the senseless killing of Breonna Taylor at the hands of police, Louisville's city council unanimously voted to ban the "no-knock" warrants that led to her death.
In Seattle, where bizarre rumors are being pushed by conservatives mad about the Capitol Hill Autonomous Zone:

Seattle PD has to publicly retract information they passed from some less than optimal sources. Let's hope everyone has learned an important lesson about verification, trust, etc https://t.co/pIVXBbrUhk pic.twitter.com/hDy24ZaBan

— Jason Wilson (@jason_a_w) June 12, 2020
Even as the country's opinions about police brutality and systemic racism are overwhelmingly shifting, Trump remains idiotically defiant—even when some Republicans and members of his base are against him.
The US has now topped the 2 million mark in coronavirus cases, and Arizona is seeing a growth of more than 1,000 new cases per day.
In a headline that will absolutely NOT shock you in the least, since the current White House is so decidedly racist: "Restrictive U.S. immigration policies put in place during the pandemic could be permanent."
Gen. Mark Milley, the chairman of the Joint Chiefs of Staff, apologized yesterday for agreeing to pose with President Trump in his ridiculously stupid church photo shoot which was paired with the gassing of peaceful protesters and clergy.
Better read the fine print! In order to attend Trump's upcoming rally on Juneteenth in Tulsa, Oklahoma, you have to sign a waiver saying you won't sue them if you catch COVID-19. Now there's a president who cares about his base!
And ohhhhhh, you hate to see it (which is to say, you love to see it): "Fox News Host Tucker Carlson Loses More Advertisers."
Starbucks reverses its stance and will now let baristas wear 'Black Lives Matter' apparel https://t.co/mKPmWSZZPf pic.twitter.com/XYJVIUZBIl

— Fox12Oregon (@fox12oregon) June 12, 2020
In a new biography about Melania Trump, a reporter writes that the First Lady originally delayed her arrival to the White House "as leverage for renegotiating her prenuptial agreement with President Trump." OOOOH!
You look hot... in a good way! Now you can look even hotter by purchasing the new Mercury Tiger Tank Top (sizing available for all genders and body types) for only $25! Thank you, you'll be supporting our continuing journalism... while looking like a million bucks!
Now let's squint suspiciously at the WEATHER: Scattered showers today and tomorrow with lows in the mid-60s.
And finally, HURRAYYYY! The new Damian Lillard video has dropped!