We need your help. The economic fallout of the coronavirus has threatened our ability to keep producing the Mercury. If you're able, please consider donating to the Mercury.
Good morning, Portland! Happy second day of summer. Here's the news you may have missed while testing the boundaries of Multnomah County's Phase 1 reopening this weekend:
Sponsored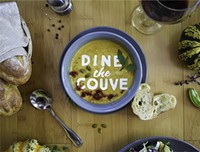 Experience the bounty of northwest flavor with special menus at Clark County restaurants all month.
Trump'd: Only 6,000 or so people showed up to support Donald Trump at his Tulsa campaign rally over the weekend, where Trump was expecting at least one million. Trump filled the spacious stadium with familiar superlatives about his ability to run the country and barely mentioned the multiple public health crises griping the nation.
Meanwhile, outside of the rally:
This is Trump's America: a woman with an "I can't breathe" T-shirt was pulled from the line to Trump's Tulsa event - which she said she had a ticket for- and arrested pic.twitter.com/aTB4nl8gcJ
— Don Moynihan (@donmoyn) June 20, 2020
Special Treatment for Chauvin: Black guards at the Minneapolis jail holding Derek Chauvin, the officer charged in George Floyd's death, say they've been intentionally prohibited from accessing Chauvin's holding cell, where white officers have allowed him policy-breaking privileges like having access to a cell phone. Eight Black guards filed a discrimination complaint with the state for these violations Friday.
NASCAR, Reformed? A noose was found hanging in the garage stall belonging to Black NASCAR driver, Bubba Wallace, this weekend—just over a week after Wallace successfully convinced NASCAR to a ban the Confederate flag at its events and facilities.
Nothing to See Here, Folks: The top prosecutor in Manhattan US Attorney's office who has led investigations into Donald Trump's many cases of criminal misconduct was forced to resign this weekend by US Attorney General Bill Barr.
The COVID-19 Creep: With 183,000 new cases, Sunday was the largest single-day increase in coronavirus cases across the globe. Brazil continues to lead the way in its transmission rate.
"What's happening in #Siberia this year is nothing short of remarkable. The kind of weather we expect by 2100, 80 years early."

— CBS Meteorologist @WeatherProf #climatecrisis #extremeweather #heatwaves #weatherhttps://t.co/EpeChHK4d4
— EcoWatch (@EcoWatch) June 22, 2020
Battling COVID-19 Behind Bars: Inside an Ohio jail where nearly 80 percent of all inmates have contracted COVID-19.
It's Not Getting Better: According to Oregon epidemiologists, the spike in COVID-19 numbers don't just show that the state has been testing more people over the last few weeks—it's an indicator that the virus is spreading at a faster rate.
Portland Does Juneteenth: Black Portlanders celebrated Juneteenth Friday with a jubilant march across North Portland.
Press Freedoms: As protests against police brutality continue across the US, journalists continue to be attacked by officers for covering them. In the words of this Neiman Lab article, "It's becoming clear that attacks by police on journalists are becoming a widespread pattern, not one-off incidents."
Heavy-handed Policing: Over the weekend, Portland protesters drew ire from members of law enforcement, who seemed more eager to physically attack protestors than fire munitions into the crows. Catch up on the Mercury's on-the-ground reporting from Friday and Saturday nights. A snippet:
Update: the "projectiles" are dildos.
— Alex Zielinski (@alex_zee) June 21, 2020
Back in Session: Wednesday kicks off Oregon's long-awaited special legislative session, with a promised focus on COVD-19 relief and alleged police reforms. Here's what to expect.
Sponsored
This 9th floor patio boasts stunning views of the city, three mountains, and Portland's West Hills.