We need your help. The economic fallout of the coronavirus has threatened our ability to keep producing the Mercury. If you're able, please consider donating to the Mercury.
Sponsored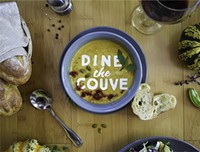 Experience the bounty of northwest flavor with special menus at Clark County restaurants all month.
Good morning, Portland!
I'm returning from a four-day vacation that included a camping trip in Mt. Hood National Forest, and lots of TV-watching (stream
Taste the Nation With Padma Lakshmi
on Hulu and season two of
Pose
on Netflix!).
And now... back to the headlines.
• Last night was a relatively uneventful round of protesting at the Multnomah County Justice Center, though Portland Police Bureau (PPB) attempted to use park rules to control the protests. We're still waiting on numbers for how many arrests were made.
Very normal response to Portlanders... standing.... in a park.... pic.twitter.com/1nhGIikM7k
— Tuck Woodstock (@tuckwoodstock) June 23, 2020
• Speaking of protests—you may have seen a video circulating on social media of a protester who appeared unresponsive being taken away on a stretcher on Sunday night. The good news is that the protester is okay, health-wise—our Alex Zielinski has more details in this update.
• You may remember that Jeremy Christian was found guilty on all counts for the 2017 MAX stabbings back in February. (Funny story, at the time I thought that was probably the biggest story I'd cover all year!) After some coronavirus-related delays, Christian's sentencing hearing begins today—check back for updates from the Mercury later.
• According to county health leaders, the new spike in Multnomah County COVID-19 cases isn't linked to some big public gathering—rather, it stems from cases spreading among family and friends. "It may feel uncomfortable or awkward to wear face coverings or masks as you are socially connecting with friends, but now would still be a good time to do that—not just when you're in a grocery store," advises Kim Toevs, the county's communicable disease director.
• The Oregon Legislature's special session starts tomorrow—and cops aren't happy with police accountability legislation on the table:
As expected, law enforcement unions have issues with the proposals before the Oregon Legislature. https://t.co/Qt09r1wCz8
— Ryan Haas (@ryanjhaas) June 23, 2020
• Educators at both K-12 schools and universities in Oregon are currently taking furlough days to save the state money, with the understanding that they'll be payed $600 a week in unemployment benefits to help make up for lost pay. But six weeks in to the furlough schedule, those teachers have yet to see that money, and they aren't happy about it.
• One of the Atlanta police officers responsible for killing Rayshard Brooks says that while he considers Brooks' death "heartbreaking," he wouldn't have handled it any differently if given a second chance. "I feel like my side wasn't really heard," he adds. Because that's the one hurdle police officers face in this country—no power or sympathetic ears.
• After an embarrassingly small showing in Tulsa, Trump is moving forward with some smaller rallies in Arizona that will focus on border security. It's almost like the border is a political tool he uses to scare people into voting for him, and he pulls it out whenever his reelection prospects look bleak.
• Sarah Mirk has blessed us once again:
I spent the last two weeks interviewing extremely generous queer Portlanders ages 50 and up about how their experiences during COVID-19 compare and contrast to the early days of the HIV epidemic. I made this comic with a lot of heart. https://t.co/4BRtGqeSWu
— Sarah Mirk (@sarahmirk) June 22, 2020
Sponsored
This 9th floor patio boasts stunning views of the city, three mountains, and Portland's West Hills.