Here's your daily roundup of all the latest local and national news. (Like our coverage? Please consider donating to the Mercury to keep it comin'!)
• The sentencing trial of convicted MAX murderer Jeremy Christian convened earlier this morning and was thrown into turmoil when Christian was removed from the courtroom after screaming at one of his Black victims, Demetria Hester, on the witness stand saying "I should have killed you, b**ch!" In court, Hester said, "I blame the system for creating and facilitating people like Jeremy."
Sponsored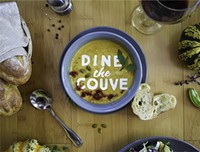 Experience the bounty of northwest flavor with special menus at Clark County restaurants all month.
This was the exchange at 11:25 this morning and, oh boy, the outburst language is harsh [WARNING]@KATUNews — https://t.co/LQiWoVDalb pic.twitter.com/9d8rlaq1pN
— Evan Schreiber (@SchreiberEvan) June 23, 2020
• According to officials, a noose was found hanging at a downtown construction site that will eventually be home to events for local colleges and universities. It is being considered a hate crime and is under investigation.
• Another big day for new coronavirus infections in Oregon with 191 new positive cases that we know of, though there were zero new deaths. REMINDER: According to health officials, this new spike is thanks to clusters of friends and extended family members reentering society and co-mingling. So WASH YA DAMN HANDS AND WEAR YA DAMN MASKS (especially around friends)!
• In local protest news: You may have seen a video circulating on social media of a protester who appeared unresponsive being taken away on a stretcher on Sunday night. The good news is that the protester is okay, health-wise—our Alex Zielinski has more details in this update.
• The Oregon Legislature's special session starts tomorrow—and SURPRISE! The cop union isn't happy with police accountability legislation on the table.
• If you're looking for an illuminating read on Portland's troubling racist history, do yourself a favor and check out our reposting of Santi Elijah Holley's 2017 feature about the 1967 Albina race riot called, "Burn the Town Down."
• Police will be re-entering Seattle's CHOP boundaries after three people were shot in two different shootings over the space of 48 hours. Mayor Jenny Durkan told reporters "It's time for people to go home... The impacts on the businesses and residents and community are now too much." The Stranger's Nathalie Graham has more.
If you're inside and in public it's mandatory and if you can't maintain 6 feet of social distancing. Not doing so can result in a misdemeanor. In Yakima County, where the state's hotspot is now, it's more strict—businesses must mandate all customers have face coverings.
— nathalie graham (@gramsofgnats) June 23, 2020
IN NATIONAL NEWS:
• The nation's leading infectious disease expert, Dr. Anthony Fauci, testified before Congress today that he was "disturbed" by the sudden spike in coronavirus cases across the country, and that we have roughly two weeks to get control of the surge. So yeah... you bet your ass we're going to say it again: WASH YA DAMN HANDS AND WEAR YOUR DAMN MASKS!
Dr. Anthony Fauci told members of Congress that the U.S. does not yet have the coronavirus under control and is seeing a "disturbing surge" of infections in some parts of the country https://t.co/ouGDoPaTLD

— The New York Times (@nytimes) June 23, 2020
• Aaron Zelinsky, a current prosecutor at the Department of Justice, is set to testify in front of Congress tomorrow as one of two whistleblowers calling out the politicization of the office; specifically in the case of Roger Stone, who was allegedly "cut a break" due to the acting US Attorney being "afraid of the president."
• The European Union is preparing to reopen its own borders on July 1 in hopes tourists and travelers can help stimulate their own stalled-out economies. Whoa whoa whoa, whoa. Wait a second, United States. Not you. The US, Russia, and Brazil are currently unwelcome to visit the EU in a draft obtained by the New York Times, because when your country has 2.3 million cases currently, and over 120k COVID-19 fatalities, you shouldn't be getting on planes and flying anywhere.
• So much for the "oh, he was just joking about slowing down the testing" defense of our idiot president's criminal negligence in handling COVID-19. When asked if he was joking, he told reporters "I don't kid."
• Further proof of his inability to find pleasure in anything aside from other people's suffering: Attempts to pull down a statue of Andrew Jackson (his favorite president!) in Lafayette Square were halted by DC cops who swarmed the square, firing chemical agents and swinging batons to clear protesters and protect the statue.
• Related: Our idiot president tweeted that he's "authorized" the arrest of anyone caught vandalizing or destroying monuments on federal property, with those convicted potentially facing up to 10 years of imprisonment. His authorization isn't needed, as the law in question was already passed in 2003, but that's not going to stop him from also signing an executive order that "reinforce(s) what's already there, but in a more uniform way," an explanation that doesn't actually explain anything, or possess any discernible meaning.
• Just because she's being rumored as Joe Biden's VP pick doesn't mean Sen. Kamala Harris isn't putting in work on the Senate floor. For example, here she is reducing Republican Senator John Cornyn into a stammering, ineffectual bag of laundry.

Republicans sent John Cornyn out to troll @SenKamalaHarris while she explained in detail why their bill is a transparent effort to derail actual police reform. It did not go well. pic.twitter.com/gFn5JddH8g
— Chris Harris (@chris_p_harris) June 23, 2020
• Miami mayor Francis Suarez touched on the possibility of his city hosting one of the three presidential debates this coming October, but noted that it might need to be held without an audience, a "complication" that has proven to make debates more substantive and interesting in primaries across the country.
• Speaking of primaries, Kentucky and New York are holding theirs today, with Kentucky's being particularly attention-worthy, not only due to the hotly contested race between Amy McGrath and Charles Booker—the winner looking to be the one that dethrones Mitch McConnell in November—but because the city of Louisville (population: 602,011) only has ONE (1) polling station.
• You need some guaranteed laughs, right? Then don't miss the I, ANONYMOUS SHOW, livestreaming into your home this Friday, June 26, and featuring loads of unhinged true confessions and rants as well as a hot-shit lineup of nationally beloved comics including Mohanad Elshieky, Maggie Maye, and Josh Gondelman! GET YOUR TICKETS HERE!
• And finally, as always, LOOK BEFORE YOU PUMP.

Oh no pic.twitter.com/vp1P1JIdfF
— Emily Herring is extremely online (@EtheHerring) June 23, 2020
Sponsored
This 9th floor patio boasts stunning views of the city, three mountains, and Portland's West Hills.