We need your help. The economic fallout of the coronavirus crisis is threatening our ability to keep producing the quality reporting you've come to love. If you're able, please consider donating to the Mercury.
GOOD MORNING, PORTLAND! A black cherry paradise, half the sugar twice the spice. I don't wanna treat you nice, come on baby, roll the dice. LET'S GO TO PRESS.
Sponsored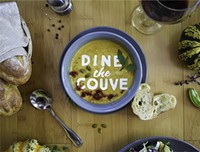 Experience the bounty of northwest flavor with special menus at Clark County restaurants all month.
• IMPORTANT NOTE: Gov. Kate Brown's mandatory mask rule for those who are inside indoor public spaces kicks off today. The rule applies for those in seven counties, including Multnomah, Washington, and Clackamas, all of whom have seen a big uptick in coronavirus infections. Reminder: The current COVID spike is stemming from people who are not masking up around friends and extended family... which probably includes YOU, doesn't it? This ain't no joke, people. WASH YER DAMN HANDS AND WEAR YER DAMN MASKS.
Today the mask requirement for public indoor spaces goes into effect for Multnomah, Clackamas, Washington, Marion, Polk, Hood River, and Lincoln counties. This will save lives. Let me share with you why I wear a mask, and why I hope you will too. pic.twitter.com/qgvguWWodb

— Governor Kate Brown (@OregonGovBrown) June 24, 2020
• Meanwhile, Washington Governor Jay Inslee is mandating mask-wearing for the entire state.
• The sentencing trial of convicted MAX murderer Jeremy Christian convened yesterday and was thrown into turmoil when Christian was removed from the courtroom after he began screaming at one of his Black victims, Demetria Hester, on the witness stand saying "I should have killed you, b**ch!" In court, Hester said, "I blame the system for creating and facilitating people like Jeremy." The hearing will be reconvening this morning. Stay tuned to the Mercury for details.
"Since (Jeremy Christian's conviction in Feb.), global protests have arisen over police violence and systemic racism — themes that were clear in victim speeches as they spoke about Christian's violence." @meerahpowell on Christian's sentencing hearing: https://t.co/4dDdfLvobm

— Samantha Matsumoto (@samanthamatsu) June 24, 2020
• Because it's more important to focus on the words of Black people who are victimized by racism rather than the racists themselves, here are some more words from Demetria Hester during the Christian hearing:

"Our community is being victimized over and over again by the system and we are paying for it financially, physically, mentally and emotionally," Hester said. "There is no help from the mayor, governor, congress, judge."
• Last night marked a rare, calm evening for Portland protests as around 200 demonstrators gathered once again at the Justice Center (then marching to the Apple Store which is the site of a beautiful artistic memorial to George Floyd and other slain Black Americans) to listen to speakers, chant the names of those killed by cops, and (new addition!) pet a baby chick. No oversized, violent response from the police.
• A warrant has been issued for the arrest of Tusitala "Tiny" Toese, a member of the Proud Boys and Joey Gibson's Patriot Prayer organization who has assaulted Portland protesters and has been recently spotted lurking around local Black Lives Matter demonstrations.
• The Oregon Legislature's special session starts today—and SURPRISE! The cop union isn't happy with police accountability legislation on the table.
• The state employment department has yet to provide unemployment benefits for 70,000 Oregonians who haven't received a check since the pandemic started. The department expects to be caught up by early August.
IN NATIONAL NEWS:
• As the country continues to insist on reopening, as of yesterday the US has a whopping 35,000 new COVID-19 cases, which is the single highest day since the virus' peak in April. Meanwhile, what's the federal government's response to this? PULLING BACK FUNDING FOR COVID TESTING, of course.
• According to a New York Times poll, Joe Biden has taken a 14 point lead over our idiot-in-chief, though don't get too excited and keep up the pressure. A panicky despot like Trump will do anything he can to stay in power.
Analysis: Warning signs keep mounting for Trump, from polls to primaries https://t.co/CHpMRlWpt2

— The Washington Post (@washingtonpost) June 24, 2020
• A federal appeals court panel has ordered a judge to dismiss the case against Trump toady Michael Flynn, who had pleaded guilty TWICE about lying to the FBI.
• Just three days before meeting with Trump in the White House, Kosovo President Hashim Thaci has been indicted for multiple war crimes including the murder of 100 people. (Birds of a feather, right?)
• Senate Democrats are threatening to scuttle the GOP's wholly inadequate attempt at police reform, because... SURPRISE! It is wholly inadequate.
• A gay, progressive, Democratic senator from Wisconsin was reportedly attacked outside the statehouse by protesters during a demonstration against police violence.
• Despite a pandemic and a concentrated GOP effort to discourage voting, people turned out in droves yesterday to cast their ballots in various primaries across the country.
your periodic reminder that voter suppression is a very real problem in the south and that "haha just cut the south off they're just a bunch of racist rednecks" is a shitty, willfully ignorant attitude to have about the people that live here that can't vote for anything better

— ricardo milos tf2 hat (@CaptainSnoop) June 23, 2020
• You need some guaranteed laughs, right? Then don't miss the I, ANONYMOUS SHOW, livestreaming into your home this Friday, June 26, and featuring loads of unhinged true confessions and rants as well as a hot-shit lineup of nationally beloved comics including Mohanad Elshieky, Maggie Maye, and Josh Gondelman! GET YOUR TICKETS HERE!
• Now let's crane our necks toward the skies to examine the WEATHER: Another warm day with a possible sprinkle and a high of 80.
And finally, this mashup of Trump's Tulsa speech and the Hall of Presidents is MMMM-WAH!

Trump's Tulsa speech was truly one for the history books. pic.twitter.com/lnyo5N8vel

— Steven Rosenthal (@Rosenthaltweets) June 22, 2020
Sponsored
This 9th floor patio boasts stunning views of the city, three mountains, and Portland's West Hills.