Here's
your daily roundup of all the latest local and national news
. (Like our coverage? Please consider
donating to the Mercury
to keep it comin'!)
• IT'S FINALLY OVER: Jeremy Christian has been sentenced to two life sentences without the possibility of parole for fatally stabbing Ricky Best and Taliesin Namkai-Meche, and wounding Micah Fletcher, on a MAX train in 2017. Get all the details and a recap of the sentencing hearing from our Blair Stenvick.
Sponsored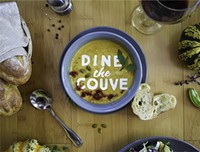 Experience the bounty of northwest flavor with special menus at Clark County restaurants all month.
Jeremy Christian has been sentenced to life imprisonment without the possibility of parole for killing two people on a MAX train on May 26, 2017.https://t.co/lRWipPGyAV
— Portland Mercury 🗞 (@portlandmercury) June 24, 2020
• Gov. Kate Brown's mandatory mask rule for indoor public spaces kicked off today. The rule applies to seven counties, including Multnomah, Washington, and Clackamas, all of whom have seen a big uptick in coronavirus infections. Reminder: The current COVID spike is stemming from people who are not masking up around friends and extended family... which probably includes YOU, doesn't it? WASH YER DAMN HANDS AND WEAR YER DAMN MASKS.
• Related: As of today, Oregon has 171 new confirmed cases of COVID-19, and three additional people have died of the virus.
• Sad restaurant news: Le Bistro Montage—the Portland institution famous for various mac 'n' cheese recipes and tin foil leftovers—has announced they are closing forever thanks to the pandemic. Suzette Smith has the tender eulogy.
• Chef John Gorham of Toro Bravo fame is stepping away from most of his restaurants after writing and deleting Facebook posts in which he threatened a trans woman of color.
• Portland Public Schools is developing a plan for this fall which could involve small groups of students attending class on a rotating basis, with kids from historically underserved communities getting priority treatment.
• Last night marked a rare, calm evening for Portland protests as around 200 demonstrators listened to speakers, chanted the names of those killed by cops, and (new addition!) pet a baby chick. No oversized, violent response from the police.
• Oregon legislators are considering a bill that would make it easier for cities to fire police officers who commit misconduct. However, Portland's top police accountability advocates argue that the legislation will do little to fix the system that repeatedly shields delinquent officers from discipline or termination. Our Alex Zielinski has more.
One of the central bills legislators are pushing to reform policing in Oregon might miss the mark, police accountability advocates warn.

Here, I attempt to explain why (wonky but worth it, I promise)! https://t.co/sgiDAwvqFr
— Alex Zielinski (@alex_zee) June 24, 2020
IN NATIONAL NEWS:
• It's about goddamn time: The three white men arrested in the killing of a Black jogger, Ahmaud Arbery, have been indicted on charges of murder.
• More than 36,000 new coronavirus infections across the country were reported today, breaking the previous single day record.
• Meanwhile, Texas is also experiencing record numbers of new COVID-19 cases, and has been setting (and breaking) those records on a daily basis for the past week. So of course the federal government is ending support for 13 drive-thru testing sites, seven of which are in Texas. Guess Trump really wasn't kidding about slowing down the testing, huh?
NEW: Democratic convention delegates are told to stay home from Milwaukee, as event moves to a smaller venue. https://t.co/75Hkil1TGl
— Reid J. Epstein (@reidepstein) June 24, 2020
• New York, New Jersey, and Connecticut seem to be following the EU's lead in not welcoming travel from the United States, announcing that anyone coming from a state with a high COVID-19 rate will be quaratined for two weeks. Looking at the stats, that's... basically the other 47 states.
• New York also officially canceled the New York City Marathon due to COVID-19.
• The Republican-led Senate passed a significant milestone today, confirming our idiot president's 200th judicial nominee. That's 200 conservative judges appointed to lifetime positions on the federal bench in less than four years.
• The Senate could not, however, get their toothless and insulting excuse for a police "reform" bill past Democrats, failing to reach the needed 60 votes.
• Meanwhile, in the House of Representatives, where the Judiciary Committee was listening to Department of Justice whistleblowers:

#BREAKING - WILD CONGRESS MOMENT: Rep. Louie Gohmert refuses to stop banging on desk as Donald Ayer goes over time limit.

Reps. Nadler & Johnson fail to get Gohmert to stop. Johnson asks if sergeant-at-arms could be brought in.

Rep. Doug Collins jumps in, insults Nadler. pic.twitter.com/K6VXyr2H6J
— The Hill (@thehill) June 24, 2020
• A federal appeals court panel has ordered a judge to dismiss the case against Trump toady Michael Flynn, who had pleaded guilty TWICE about lying to the FBI.
• The White House is apparently so wigged out over the very notion of statues coming down during protest actions that they've gone ahead and activated 400 National Guard troops for the express purpose of protecting said monuments.
• More and more high profile corporations are joining the ban against Facebook (who staunchly refuses to curtail the promotion of right wing lies on their site), including Ben & Jerry's, Eddie Bauer, and REI.
• You need some guaranteed laughs, right? Then don't miss the I, ANONYMOUS SHOW, livestreaming into your home this Friday, June 26, and featuring loads of unhinged true confessions and rants as well as a hot-shit lineup of nationally beloved comics including Mohanad Elshieky, Maggie Maye, and Josh Gondelman! GET YOUR TICKETS HERE!
• And finally, we would like all action movies to be remade by these two kids, thankyouverymuch, goodbye.

We so much love this movie and we hope @chrishemsworth and @netflix sees this remake, pls retweet 🙏🏽 pic.twitter.com/x47h9UV9Sz
— ikorodu bois (@IkoroduB) June 24, 2020
Sponsored
This 9th floor patio boasts stunning views of the city, three mountains, and Portland's West Hills.