We need your help. The economic fallout of the coronavirus has threatened our ability to keep producing the Mercury. If you're able, please consider donating to the Mercury.
Sponsored
Win a behind-the-scenes tour of our kitchen, see how we make our artisan edibles, and get some swag.
Good morning, Portland!
Time to wrap up your
morning yoga routine
and settle in for another day of news.
Here are the headlines.
• The Oregon State Legislature's special session started yesterday, and a lot of hope is riding on one bill meant to strengthen police accountability. But police reform advocates worry the bill has some gaping holes in it that would render it largely ineffective. Alex Zielinski, resident expert on all things cops, has more details.
• Yesterday, Jeremy Christian was sentenced to life imprisonment without the possibility of parole for fatally stabbing Ricky Best and Taliesin Namkai-Meche, and wounding Micah Fletcher, on a MAX train in 2017.
• Eder's at it again with the good local schools reporting:
For the last year, I've followed Wilson High's Black Student Union as its members tackle racist incidents, demand action from school leadership and, now, reflect on momentum spurred by weeks of #BlackLivesMatter protests: https://t.co/Gx8AisgWxi
— Eder Campuzano (@edercampuzano) June 25, 2020
• The Portland Police Bureau (PPB) has been getting help from a host of other outside law enforcement agencies to police protests over the last month, which isn't great from a police accountability standpoint. And it turns out PPB also isn't keeping track of which agencies provide assistance on which night—or at least, they wouldn't provide that information to a reporter who asked about it.
• If you think police defunding and police abolition are brand-new ideas, think again. This Vox piece offers a nice deep-dive into how community activists and even the United States government were considering these policies back in the 1960s.
• Never afraid to squander recently acquired goodwill, the US Supreme Court has ruled that immigrants who are denied asylum can not challenge that decision in court.
• Not so fast! States that were bullish in reopening during the COVID-19 pandemic are now slowing that process because of a nationwide uptick in coronavirus cases. Those states include Kansas, North Carolina, and Louisiana.
• Boo! Le Bistro Montage, the height of both late-night dining and foil-animals in Portland, announced yesterday that it is closing permanently. Here's Suzette Smith with a proper send-off.
• Yay! The University of Oregon plans to rename Deady Hall, a campus building named after a white colonizer who supported slavery. The building will be called University Hall until the school can start a formal renaming process next school year.
• ICYMI:
In the midst of everything else going on I managed to put together a Queer Week package last week for the @portlandmercury and I'm pretty happy with how it turned out. You can find all 12(!) Queer Week articles here:https://t.co/zqF71hl3yU
— Blair Stenvick 🏳️‍🌈 (@BlairStenvick) June 24, 2020
Sponsored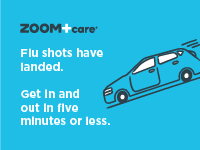 ZOOM+Care makes flu shots easy and safe. Schedule ahead, skip the line—get in and out in 5 minutes.