We need your help. The economic fallout of the coronavirus crisis is threatening our ability to keep producing the quality reporting you've come to love. If you're able, please consider donating to the Mercury.
Sponsored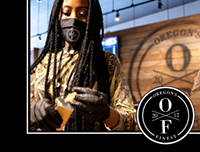 Oregon's Finest has great deals on cannabis gifts with curbside pickup & FREE delivery!
Good morning, Portland! Let's get you caught up on the weekend's news before we dive back into another wild 2020 week.
First, A Piece of Good News: The majority-conservation Supreme Court has overturned a Louisiana abortion law that used burdensome, unnecessary rules to effectively regulate abortion clinics out of existence.
Now, Back to Doom/Gloom: The number of global coronavirus deaths passed 500,000 Sunday, with the number of total cases surpassing 10 million. The death count has doubled in less than two months. More than a quarter of all known deaths have been in the United States. Texas has been hit particularly hard, as its leadership chose to begin reopening months ago. "In other words, we are all in this together. But we are also completely and totally on our own," writes New York Times opinion writer and Texan, Mimi Swartz.
What About Us? Sunday marked the third day in a row that Oregon saw more than 200 new COVID-19 cases. According to the Oregonian, "the number of new cases in the past seven days, 1,406, account for 17 percent of all of Oregon's coronavirus cases, which stand at 8,341.
Bookmark This: If you haven't had time to read Nikole Hannah-Jones' astounding piece on reparations for Black Americans, please do yourself the favor today. A snippet:
"To summarize, none of the actions we are told black people must take if they want to 'lift themselves' out of poverty and gain financial stability — not marrying, not getting educated, not saving more, not owning a home — can mitigate 400 years of racialized plundering. Wealth begets wealth, and white Americans have had centuries of government assistance to accumulate wealth, while the government has for the vast history of this country worked against black Americans doing the same."
White Supremacist-in-Chief: Speaking of working against Black Americans, Donald Trump retweeted a video Sunday of an old white guy driving a Trump-flag-emblazoned golf cart in a Florida retirement community chanting "white power." Sure, it's deleted now, whatever that means.
Here's how a wealthy white couple welcomed a group of St. Louis demonstrators marching to the mayor's house over the weekend:


Armed couple wields AR-15 rifle or other weapon of war at #BLM demonstrators in Central West End section of St. Louis. Woman points handgun as they walk by the house en route to the Mayor.

This is an unprovoked display of lethal force. #StLouis #mccloskey pic.twitter.com/2YZHwHuXfa
— Kristen Clarke (@KristenClarkeJD) June 29, 2020
Here's how Detroit police officers decided to treat another group of demonstrators over the weekend:
Detroit Police Department drove into 10-12 protesters including myself. Multiple people are going to the hospital. #NoJusticeNoPeace #detroitpolice #GeorgeFloyd #BreonnaTayor #PoliceBrutality pic.twitter.com/etj3a6ejzN
— Activist Ethan Ketner (@DJEazyTwist) June 29, 2020
Protest Photog Killed in Kentucky: Tyler Gerth, a 27-year-old photographer who'd spent the past weeks taking photos of Louisville demonstrations against the murder of Breonna Taylor, was fatally shot this weekend by a man wielding a gun at a protest. The shooter, who protesters flagged as disruptive earlier in the week, has been arrested.
Seems... Overdue: Mississippi lawmakers voted on Sunday to remove the Confederate battle flag emblem from the state flag, in hopes of inching away from the state's racist past.

Flipping the Script: After a night of intense protesting in Northeast Portland, local officials held a press conference Friday, scolding protesters for stoking violence and fear. The event came after Don't Shoot Portland held its own press conference, decrying police violence against protesters.
BREAKING: We just filed a lawsuit against police in Portland for violently targeting journalists and legal observers at protests about racist police violence. The police are making a mockery of the First Amendment and they must be held accountable. https://t.co/24YRw7zdcv pic.twitter.com/9s44BvQOrb

— ACLU of Oregon (@ACLU_OR) June 28, 2020
Where's Rubio? Here's what incoming City Commissioner Carmen Rubio has to say about Portland's recent protests.
Backpack Boom: Someone was arrested yesterday after a backpack exploded (?!) at a Southeast Morrison bus shelter. No one was injured at the scene. Police are still piecing together the story.
Ending on a High Note: Behold these fire performances from last night's virtual BET Awards.
.@KeedronBryant opens #BETAwards with his powerful song, ""I Just Wanna Live"" followed by a 2020 twist to ""Fight The Power"" by @MrChuckD ft. @flavorflav, @HipHopEducate, @BlackThought, @Rapsody, @Nas & @YG! #BETAwards pic.twitter.com/GsgJ1WZJdD
— #BETAwards (@BETAwards) June 29, 2020
.@iamjhud put us in our feelings with ""Young, Gifted, & Black"" #BETAwards" pic.twitter.com/WpW2Pj5vQ9
— BET Music (@BETMusic) June 29, 2020