We need your help. The economic fallout of the coronavirus has threatened our ability to keep producing the Mercury. If you're able, please consider donating to the Mercury.
Good Morning, Portland! Today is the last day of Pride month—let's go out by remembering the time HIV/AIDS activist group ACT UP put a giant condom over the home of a homophobic, anti-safe-sex senator:
Sponsored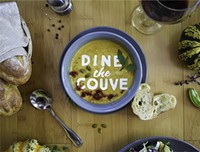 Experience the bounty of northwest flavor with special menus at Clark County restaurants all month.
Alright, here are the headlines!
• Gov. Kate Brown plans to extend a mask requirement for indoor public spaces to the entire state, starting tomorrow. Several counties—including Multnomah—have already had an indoor mask requirement for about a week now. (Psssst: you can get more headlines like this in our daily Good Afternoon, News!)
• We've now got some more details about a non-fatal police shooting in Sellwood that happened on Sunday evening. Portland Police Bureau (PPB) Officer Laurent Bonczijk fired at a mute homeless man holding some type of fake gun who was squatting in a townhouse—and then a SERT team (that's PPB lingo for a SWAT team) was called.
• Police reform may be headed to the local ballot:
City Commissioner Jo Ann Hardesty and a coalition of activists are considering a November ballot measure to remake how Portland handles police misconduct.

The scoop from @conradjwilson & @Rjaellis: https://t.co/e9n2ri55g7

— OPB (@OPB) June 30, 2020
• Pharmaceutical company Gilead is ready to start selling remdesivir, a drug that seems effective in quickening COVID-19 recovery time for hospitalized patients—at $3,120 for one five-day regimen.
• It's official: United States residents aren't allowed to travel to the European Union, thanks to our high number of COVID-19 cases and woefully lax health precautions.
• The Chinese government has passed a law giving it new powers over Hong Kong—including the authority to quash a protest uprising happening there. The move has drawn intense criticism for being authoritarian, both internationally and in China and Hong Kong.
• Speaking of quashing protests:
Coming up in about 10 minutes on KATU, Portland Police spent more than $20k, on chemical riot agents on June 1. That purchase came just days after protests began in Portland. It's the largest single purchase I could find since at least 2017. #LiveOnK2 pic.twitter.com/YjnI3uJ1qU

— Keaton Thomas (@keaton_thomas) June 30, 2020
• The Supreme Court ruled this morning that private religious schools should be able to receive some tax-funded benefits. Churches continue to not be required to pay taxes.
• Startling footage from this weekend shows that NYPD officers wielding batons indiscriminately charged at a crowd of people who turned out to celebrate LGBTQ+ Pride. Three Pride attendees were arrested for allegedly assaulting a police officer.
• The Oregon Supreme Court decided yesterday that 2020 law school graduates will not be required to pass the bar exam in order to start practicing law. "All students in our three law schools had to finish their law school careers remotely, sometimes under dire home circumstances due to COVID-19," the deans of Oregon's three law schools wrote to Chief Justice Martha Walters earlier this month.
• Let's go out on a high note:
Oregon voters will probably have a chance to legalize the therapeutic use of psilocybin—the hallucinogen found in magic mushrooms—this November.https://t.co/gYeYMINUkj

— Portland Mercury 🗞 (@portlandmercury) June 29, 2020
Sponsored
This 9th floor patio boasts stunning views of the city, three mountains, and Portland's West Hills.