Here's
your daily roundup of all the latest local and national news
. (Like our coverage? Please consider
making a recurring contribution to the Mercury
to keep it comin'!)
• According to the Oregon Health Authority, the state has 181 new positive coronavirus cases since yesterday, and three more people have died from the virus. Reminder that the new, STATEWIDE mandatory face mask rule goes into effect TOMORROW.
Sponsored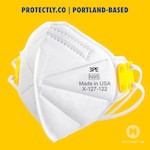 We have USA Made N95 masks available. Order N95, KN95, Surgical, Face Shields, Thermometers. Click here and USE CODE MERCURY FOR EXTRA 5% OFF.
• Gov. Kate Brown has extended Oregon's state of emergency rules for an additional 60 days, until September 4, due to the surge in new positive cases around the state. Our Alex Zielinski has the details.
• Commissioner Chloe Eudaly and Portland racial justice group Albina Vision Trust are pulling their support for the I-5 expansion after the Oregon Department of Transportation failed to come through with promised restorative justice measures. Our Blair Stenvick has more on the story.

"This is the wrong project for our city," says Commissioner Chloe Eudaly. "I am stepping down from the steering committee. I do not support the Rose Quarter I-5 Corridor project."https://t.co/JLWVWj7ney
— Portland Mercury 🗞 (@portlandmercury) June 30, 2020
• What's this? The Portland Mercury (hey, that's us!) has joined other local journalists and the ACLU in requesting a temporary restraining order against the Portland Police for their continuous attempts to harm and intimidate reporters during the ongoing Portland protests.
• More details have been revealed about a non-fatal police shooting and a HUGE police response in Sellwood on Sunday evening. Portland Police Bureau (PPB) Officer Laurent Bonczijk fired at a mute homeless man that was squatting in a vacant townhouse, and who police say was holding some type of fake gun. At least 20 cop cars including the PPB's version of SWAT, a crisis response team, AND a robot (!!) was called in. Due to the sketchy nature of the info given by police thus far, we're looking deeper into it.
• Employees of a Southeastern Portland Market of Choice are speaking out about their bosses sending them home from work for wearing "Black Lives Matter" pins and face masks. Our Alex Zielinski has more.
• Looks like Oregonians might get the chance to legalize the therapeutic use of psilocybin—the hallucinogen found in magic mushrooms—this November. Check out the story from our Blair Stenvick!
City Commissioner Jo Ann Hardesty and a coalition of activists are considering a November ballot measure to remake how Portland handles police misconduct.

The scoop from @conradjwilson & @Rjaellis: https://t.co/e9n2ri55g7
— OPB (@OPB) June 30, 2020
• The list of Portland restaurants that are permanently closing is growing very long, and today includes the shuttering of Shift Drinks and Bluehour.
• In "sporty-sports and video gamey-game" news: "Trail Blazers' Damian Lillard named cover athlete for NBA 2K21."
IN NATIONAL NEWS:
• Dr. Anthony Fauci says the US could expect up to 100,000 new coronavirus cases PER DAY (that's double the current number) unless we make a concerted effort to stop the surge (AKA WASH YA DAMN HANDS, WEAR YA DAMN MASK!).
• In a speech earlier today, Joe Biden handed Trump his ass in no uncertain terms and on a number of topics including the president's failure to lead during the COVID crisis, and blatantly ignoring (covering up?) Russia's efforts to assassinate US troops.
• Related: Nobody in their goddamn right mind believes for one split second that Trump didn't know about the Russia-funded hit jobs on American soldiers.
Kayleigh: The President does read and also consumes intelligence verbally. This President is the most informed person on the planet earth when it comes to the threats that we face pic.twitter.com/tr0e8MU0LN
— Acyn Torabi (@Acyn) June 30, 2020
• Thanks to our inability to follow rules and a severe lack of government leadership, US citizens are currently not allowed to travel to the European Union because of all our gross COVID. (I don't blame 'em! We're GROSS.)
• The new drug remdesivir, which seems effective in speeding up COVID-19 recovery time, is going on sale for the LOW, LOW PRICE of only $3,120 for one five-day regimen.
• CONTENT WARNING: "Bar Lives Matter" is potentially the stupidest thing you'll see all day.

HAPPENING NOW: The "Texas Bars Fight Back" protest is happening outside the Texas Capitol to protest the closing the bars statewide. pic.twitter.com/NPLen0fFmF
— Kacey Bowen (@KaceyonFox7) June 30, 2020
• In an attempt to prove they aren't actively trying to destroy American society (too late!), Facebook has designated the far-right extremist group "Boogaloo" as a "dangerous organization" and is removing hundreds of their accounts.
• Last night's primary election in Kentucky revealed that retired Marine Corps fighter pilot Amy McGrath will take on "Moscow" Mitch McConnell in November.
• Despite not having to pay taxes, private religious schools will be able to receive some tax-funded benefits, according to a new ruling from the Supreme Court.
• One of the most brilliant comedians of the past century, Carl Reiner, has died of natural causes at the age of 98.
• And finally, in "Portland, still keeping it weird!" news:

I didn't expect that 😭😭 🕷 pic.twitter.com/qdsp5vSUjI
— Theo Shantonas (@TheoShantonas) June 30, 2020