Here's
your daily roundup of all the latest local and national news
. (Like our coverage? Please consider
making a recurring contribution to the Mercury
to keep it comin'!)
• The Portland Police and mayor's office have been trying REALLY HARD over the past few days to control the narrative around the city's continuing protests, alternately claiming that the demonstrations have nothing to do with the Black Lives Matter movement (anyone actually attending these protests know this is untrue), are out of control and excessively violent (they are not), distracting the police from "their real work" (such as dealing with those in mental health crisis, which they have no business doing), and according to Mayor Wheeler today, that the protests are helping Trump get reelected. (I wish they put this much energy into rethinking the police department!)

TLDR: Portland's mayor, chief of police, and fire bureau leadership allege protesters were trying to burn people alive last night.

Protesters and journalists say police trampled nonviolent protesters and clouded a residential neighborhood in tear gas. https://t.co/RoGTeMX6Fm
— Alex Zielinski (@alex_zee) August 6, 2020
Sponsored
Win a behind-the-scenes tour of our kitchen, see how we make our artisan edibles, and get some swag.
• Acting DHS Chief (and poster boy for toxic masculinity) Chad "CHAD" Wolf revealed today that federal officers are still in Portland, on standby, and will remain so until he's convinced no one will spray graffiti on the federal courthouse or shake its fence. In response, U.S. District Judge Michael H. Simon has extended the restraining order against federal officers for two additional weeks, legally stopping them from threatening reporters and legal observers.
• On the heels of our reporting about the unknown health risks attached to the daily teargassing of peaceful protesters by federal officers, Oregon Sen. Ron Wyden is demanding that AG Bill Barr and dull-witted frat boy Chad "CHAD!" Wolf reveal all the information they have about their potentially very dangerous munitions. Contributor Abe Asher has more.
• And lest we forget, one more time for those in the back: PORTLAND POLICE ARE STILL USING TEAR GAS.
• Speaking of tear gas: The Portland Bureau of Environmental Services has started cleaning tear gas residue out of storm drains in downtown Portland that will hopefully stop the unhealthy chemicals from making it to the river and possibly poisoning us. Wish them (and us!) luck.
• ICYMI (and you shouldn't!), check out this fascinating report from our Alex Zielinski and Blair Stenvick on Portland protesters who have been detained—and in one case kidnapped—by federal officers during recent demonstrations.
Oregon has surpassed 20,000 known cases of COVID-19, according to the latest update from the Oregon Health Authority. pic.twitter.com/iLjUQavWLB
— Mark Miller (@markdmiller2) August 6, 2020
• As the Oregon Employment Department struggles to overcome an antiquated computer system and mismanagement, and the federal government bickers over how little they can give taxpayers in relief payments, local residents are still struggling. Our Blair Stenvick catches up with Portlanders previously interviewed by the Mercury to see how they're doing now.
IN NATIONAL NEWS:
• In news that has been a long time coming, the New York Attorney General is suing the NRA for fraud and other illegal activities, as well as demanding that it pay back its members, followed by dissolving the organization entirely. Sounds like a good start!
New York's attorney general is moving to dissolve the National Rifle Association after an 18-month investigation found the gun group was "fraught with fraud and abuse," including financial misconduct in the millions of dollars. https://t.co/gyCDAWiLv4
— NPR Politics (@nprpolitics) August 6, 2020
• Congressional leaders still haven't worked out the details for a second COVID-19 financial relief package—but the good news? The process is apparently putting Republican Mitch McConnell through hell as he finds himself stuck between Trump and the braying members of his own party.
• Good thing Republican Ohio Gov. Mike DeWine had a planned meeting with President Trump and was tested—otherwise he may not have found out until much later that he has coronavirus. (If only the rest of America had the same access to tests as those who surround Trump!)
• Today in COVID misinformation: The president is now claiming a vaccine may be ready by election day. (It won't be, and you already knew that.)
President Trump has faced pushback from Republicans in Florida who alerted him to the fact that Democrats were capitalizing on his comments about voting by mail and building a substantial lead in the amount of vote-by-mail requests. https://t.co/swUFKdjZBB
— NPR Politics (@nprpolitics) August 6, 2020
• Extremely disappointing Vice President Mike Pence has called Chief Justice John Roberts a "disappointment to conservatives." Well, he would certainly know, having disappointed people his entire life.
• Today in "purging fake social media accounts" news: "Facebook removes troll farm posing as African-American support for Donald Trump." In a related story, Facebook is still garbage.
• Beloved saint Michelle Obama revealed that she is suffering from "low-grade depression" thanks to coronavirus, the Trump administration, systemic racism, and *gestures wildly around the room* just everything.
• Want to support the Mercury AND look like a million bucks? Buy our newest "RESIST" T-shirt created by local artist Sloane Leong that comes in black, white, yellow, and teal and is perfect for anyone who wants to protest in style!

• THE WEATHER REPORT: So long, clouds!
The sun returns tomorrow
with a high of 78!
• And finally, in "kicking God's ass" news:

"My opponent is able to hurt God" kinda sounds like a compliment? https://t.co/imzK8DDZS8
— Patton Oswalt (@pattonoswalt) August 6, 2020
Sponsored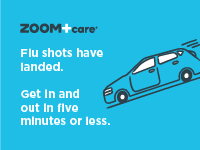 ZOOM+Care makes flu shots easy and safe. Schedule ahead, skip the line—get in and out in 5 minutes.