We need your help. The economic fallout of the coronavirus crisis is threatening our ability to keep producing the quality reporting you've come to love. If you're able, please consider making a monthly contribution to the Mercury.
GOOD MORNING, PORTLAND! Interior crocodile alligator. I drive a Chevrolet movie theater. LET'S GO TO PRESS.
Sponsored
Win a behind-the-scenes tour of our kitchen, see how we make our artisan edibles, and get some swag.
• On day 70 of Portland protests against systemic police brutality and the killing of Black Americans, around 200 protesters gathered outside the East Precinct where chanting ensued, along with a small garbage can being lit on fire, occasional arguments with neighbors, more overreaction and misinformation by the police, breaking the terms of the temporary restraining order to deny media access, and eventual bull rushing to push the protesters out of the neighborhood.
• Though before the protest even started the Portland Police was engaging in Twitter battles with teenage protesters, and got dragged across the internet for their trouble.

If you guys don't knock this silly shit off I'm gonna buy the only Dutch Brothers in Sherwood and charge cops triple.
— karms (@IanKarmel) August 6, 2020
• Despite overwhelming calls for police reform, the PPB and mayor's office remain obstinately resistant to any meaningful change and have called several press conferences this week in an attempt to control the narrative of the protests, incorrectly accusing demonstrators of abandoning the Black Lives Matter movement, being excessively violent, and according to Mayor Wheeler, actually helping Trump get reelected. That's some grade-A desperation right there.
• I'm just going to leave this related headline right here: "Portland police use of force against Black people remained disproportionate in 2019 even as numbers overall declined, report says."
• Meanwhile... SURPRISE! Federal officers that teargassed and snatched peaceful protesters off the streets have remained in town and will probably continue to do so up until the election.
Coronavirus in Oregon: State passes 20,000 milestone, adding 267 cases and one death https://t.co/fIXnNUsSEm pic.twitter.com/0Ebylt2VfV

— The Oregonian (@Oregonian) August 6, 2020
• As the Oregon Employment Department struggles to overcome an antiquated computer system and mismanagement, and the federal government bickers over how little they can give taxpayers in relief payments, local residents are still struggling. Our Blair Stenvick catches up with Portlanders previously interviewed by the Mercury to see how they're doing now.
• This November, people in Multnomah County will get the opportunity to vote "HELL YES" to a measure that would tax incomes of more than $125,000 to fund universal preschool.
IN NATIONAL NEWS:
• Because I guess he's still mad at the teens who screwed up his Tulsa pep rally, Trump has issued an executive order barring any US company from business dealings with TikTok's parent company, which could remove the social media platform from app stores. (Psst... most experts think he won't legally get away with it.)

Trump's executive orders against WeChat and TikTok are yet another abuse of emergency powers under the broad guise of national security. They would violate the First Amendment rights of users in the US who use these apps to communicate with family, friends, or business contacts.

— ACLU (@ACLU) August 7, 2020
Trump doing more to shut down Tik Tok than covid 19 is peak trumpism.

— steven pasquale (@StevePasquale) August 7, 2020
• Meanwhile Trump—the same president who sent feds to crack down on demonstrations in Portland and across the country—has decided it's not hypocritical at all to impose sanctions on Chinese officials for suppressing their country's pro-democracy protests.
• A federal appeals court ruled today that Democrats can sue to force Trump's former White House counsel Donald McGahn to testify in front of Congress and produce documents.
NEW: Memphis environmentalist, Black activist and single mom Marquita Bradshaw scores upset win in Democratic primary for open U.S. Senate seat in Tennessee. https://t.co/bc16xyfJRJ

— NBC News (@NBCNews) August 7, 2020
• Following a public outcry, a Georgia high school has revoked the suspension of a student whose picture of her school's crowded (and mostly mask-less) hallway went viral.
• An entire high school football team AND marching band are under quarantine in Alabama following their exposure to COVID-19.
• You will not be shocked to learn that negotiations to push forward a coronavirus relief package are going NOWHERE thanks to Republicans who continue to quibble over giving taxpayers $600 a month to merely survive the current crisis.
• Today in SPORTS: "German nudist chases wild boar that stole laptop."
• Want to support the Mercury AND look like a million bucks? Buy our newest "RESIST" T-shirt created by local artist Sloane Leong that comes in black, white, yellow, and teal and is perfect for anyone who wants to protest in style!

• Now let's peel our eyelids back for a look at the
WEATHER
: So long, clouds!
The sun returns today
with a high of 78!
• And finally, I could watch videos of George unboxing products all damn day long.

George got a new thermos. Reads the instructions and all... pic.twitter.com/7pwtLWzcvq
— Rex Chapman🏇🏼 (@RexChapman) August 6, 2020
Sponsored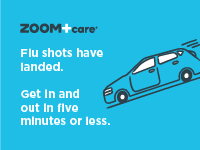 ZOOM+Care makes flu shots easy and safe. Schedule ahead, skip the line—get in and out in 5 minutes.