We need your help. The economic fallout of the coronavirus crisis is threatening our ability to keep producing the quality reporting you've come to love. If you're able, please consider making a monthly contribution to the Mercury.
Good morning, Portland!
Today's Good Morning, News, is brought to you by the fact that
Ben Shapiro thinks having a wet-ass pussy is a medical condition.
(No, seriously, after hearing the new Cardi B/Megan Thee Stallion song "WAP," he complained about the vulgar lyrics and asked his doctor wife what it meant!)
Sponsored
Win a behind-the-scenes tour of our kitchen, see how we make our artisan edibles, and get some swag.
Ben Shapiro please watch pic.twitter.com/wIoZPJp6Jq
— 𝓜𝓮𝓻𝓻𝓲𝓬𝓴 𝓓𝓮𝓥𝓲𝓵𝓵𝓮 (in bird jail) (@merrickdeville) August 11, 2020
Well, it's probably all downhill from here, but here are the headlines.
• 🚨🚨🚨It's Election Day!🚨🚨🚨 If you've yet to cast your ballot in the Portland City Council runoff between Dan Ryan and Loretta Smith, make sure you drop it in a Multnomah County dropbox before 8 pm today. Here's our endorsement pick for this race.
• You may have heard that Demetria Hester, a hate crime survivor and beloved local activist, was arrested by the Portland Police Bureau (PPB) while protesting against police brutality on Sunday night. Now, some good news: The Multnomah County District Attorney's office has dropped the charges against Hester—and the national Black Lives Matter movement is backing her up, saying the protests in Portland are definitely "about Black lives."
• Last night, Portlanders once again took to the streets for the 75th night in a row, this time outside PPB's North Precinct. Police arrested nine people and declared an "unlawful assembly" around 11 pm. Hmm, PPB might want to give this a read!
"Textually, the words 'unlawful assembly' embody a tension, even a contradiction—because the First Amendment, in its very terms, protects 'the right of the people peaceably to assemble,'" @Profepps writes. https://t.co/dXftUU4Uhm
— The Atlantic (@TheAtlantic) August 9, 2020
• I had the privilege of recently speaking with the founders of the Portland Sex Worker Relief Fund, which provides economic relief for local sex workers who have lost income because of the coronavirus pandemic. "In Portland, people tend to align sex work with this super-empowered, conventionally attractive, tattooed white stripper," they told me. "And that is super, super far from the reality among sex workers." Read the full Q&A for more wisdom like that!
• The Oregon Legislature held a one-day-long special session yesterday to close a $1.2 billion budget hole created by COVID-19's economic impacts. They also passed a few others miscellaneous bills, including one that bans police use of chokeholds except in instances of self-defense. (Such a policy already exists for PPB.)
• In case you missed this yesterday: OPB reporters went the extra mile to confirm that a man seen in the area shortly after pipe bombs were launched at protesters over the weekend is Louis Garrick Fernbaugh, an ex-Navy SEAL and CIA contractor who has espoused dangerous far-right views on social media.
• By some estimates, 30 million people in the United States will face evictions next month, as COVID-19 emergency protections expire in many states. That's about ten percent of the country's population.
• The funny thing about this is that every person I've ever seen wearing a neck gaiter looks pretty much exactly like the guy in this picture:
Researchers from Duke recently developed a simple method to test the effectiveness of various commonly available masks and alternative face coverings.

They found that wearing a neck gaiter may be worse than no mask at all.https://t.co/8SmSBzfMnd
— Allyson Chiu (@_allysonchiu) August 11, 2020
• Portland isn't the only place with an election today—delayed primaries are taking place across the country, and many states will see "record numbers" of people voting by mail, making today a good trial-run for the November presidential election. Also, I thought this article from NPR that basically just explains what a ballot drop-box is was pretty cute.
• Since we opened today with Ben Shapiro's warped views on "WAP," I thought it was only right that we wrap things up by letting Cardi and Meg reclaim their space:
Sponsored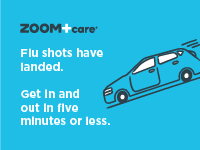 ZOOM+Care makes flu shots easy and safe. Schedule ahead, skip the line—get in and out in 5 minutes.