Here's your daily roundup of all the latest local and national news. (Like our coverage? Please consider making a recurring contribution to the Mercury to keep it comin'!)
GOOD MORNING, PORTLAND! How could you ever be so cold to go behind my back and call my friend? Boy, you must have gone and bumped your head. LET'S GO TO PRESS.
Sponsored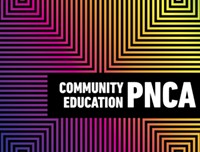 Online art and design classes at the Pacific Northwest College of Art now open for registration!
• Portland Police are apparently growing frustrated with the nightly calls to stop their brutality of Black people, and have significantly ramped up their arrests of protesters. According to an investigation by the O, "officers have made 217 arrests at protests since Aug. 1, nearly three times the 77 they made in all of July."
• Portland's business community has apparently forgotten that it was COVID that wrecked the lives of Portlanders rich and poor, and have started (successfully) twisting Mayor Wheeler's arm to get him to clean up downtown and put down the protests so they can start making money again.
• NOTE TO PORTLAND'S WEALTHY BUSINESS LEADERS: Perhaps it's time to stop worrying about how you're going to afford a summer home, and start listening to the people that are being directly affected by the systemic racism that you are participating in and allowing to continue. Here are two voices from Portland's peaceful "March for Justice for Jacob Blake" last night, organized by PDX Black Youth Movement:

Here's an interview Kai (left), an 18-year-old member of PDXBYM:

"We're doing this tonight for Jacob Blake because we believe that there's too many Black people that are being killed and shot and harassed and belittled on the streets by police." (1/2) pic.twitter.com/GFGnBE6qcW

— Cata Gaitán (@catalinagaitan_) August 28, 2020
• Very much related: "Analysis shows Black people more likely than whites to be arrested at Portland protests."
• In coordination with the march for racial equity in Washington, DC, the Portland chapter of the NAACP will be leading a rally/march today in support of Black lives that will start at the Dr. Martin Luther King Jr. Memorial Sculpture outside the Oregon Convention Center at noon and march for one mile.
• Meanwhile, Portland Police and the mayor are insisting that getting rid of the Gang Violence Reduction Team has led to increased shootings... but local experts who've studied the subject say that argument is exaggerated at best, and deliberate politicization at worst. Our Blair Stenvick has more.
• In other protest news, federal judges (two of whom were appointed by Trump) have overturned a lower court and given federal officers the go-ahead to arrest journalists and legal observers who refuse to disperse when ordered to do so. The Trump judges posited that if reporters were allowed to stay and witness the officers' actions, it would cause "irreparable harm to law enforcement efforts and personnel."
The White River Fire burning in the Mt. Hood National Forest is now estimated to be 4,500 acres. https://t.co/kyHiGXmv2i

— KATU News (@KATUNews) August 28, 2020
IN NATIONAL NEWS:
• Accepting the nomination of his corrupt party at last night's GOP Garbage Parade (AKA the Republican National Convention), Trump went on to accuse Democrats of giving a big thumbs up to violent criminal behavior (better known as peaceful protesters) while promising to defeat coronavirus, even though he was speaking to a packed, mostly maskless crowd for over an hour. If you're interested in the depth of the many lies Trump told, here's a fact check of the speech.
The moment when Ivanka Trump greeted President Trump and first lady Melania Trump at the #RNC2020 went viral on social media. More coverage: https://t.co/917aPV10T9 pic.twitter.com/MRhjDXCpFC

— Reuters (@Reuters) August 28, 2020
• Speaking of "violent, criminal behavior," thousands of peaceful protesters will march on Washington, DC at the Lincoln Memorial today to demonstrate against the racist, police brutality that has led to the death of so many Black people and, most recently, Wisconsin's Jacob Blake getting shot seven times in the back by officers.
• According to the father of Jacob Blake, the first question the young man asked when waking up in the hospital was, "Why did they (the police) shoot me so many times?"
• Vice Presidential nominee Kamala Harris says that the officer who shot Jacob Blake should be charged, and promised to take on police reform if elected.
• The 17-year-old gunman who killed two people and injured another at a Jacob Blake rally in Kenosha, Wisconsin is now facing two charges of homicide.
• Members of Riot Kitchen—an offshoot of free food activists Riot Ribs which was founded in Portland—were reportedly arrested by officers jumping out of an unmarked vehicle while preparing to feed protesters in Kenosha, Wisconsin.
• Today in AUTHORITARIANISM:

The White House is reportedly compiling a "very large" dossier on a Pulitzer Prize-winning Washington Post reporter and others who it said are a "disgrace to journalism and the American people."
I'll be on @MSNBC in a few minutes to talk about this story: New receipts show how @realdonaldtrump's company privately charged US taxpayers more than $900,000. https://t.co/nzARoS4V18

August 28, 2020
• Now let's peer to the skies for the WEATHER: Heating up a touch more today
for yet another fine, sunny day
with a high of 86.
• And finally, be as brave as this 12-year-old today.

Tony Hawk coaches this 12 year old (Sky Brown) to skate this 100-foot mega ramp.

This is the Twitter content I'm here for. Girls, bruh...pic.twitter.com/YmynVn25ml

— Rex Chapman🏇🏼 (@RexChapman) August 27, 2020
Sponsored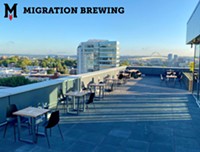 This 9th floor patio boasts stunning views of the city, three mountains, and Portland's West Hills.