Here's
your daily roundup of all the latest local and national news
. (Like our coverage? Please consider
making a recurring contribution to the Mercury
to keep it comin'!)
• Gov. Kate Brown's plan for quelling Portland protests calls on cops from neighboring counties to help local police continue brutalizing protesters for little reason. Unfortunately for the governor, those cops have little interest in policing our demonstrations because they think our city is "too soft on crime." (Yay! There's an example of our bad reputation actually helping us!)
Sponsored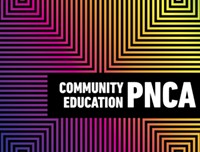 Online art and design classes at the Pacific Northwest College of Art now open for registration!
City attorneys argued Tuesday that restraining police from targeting medics at Portland protests would put police in danger. The evidence? Small trashcan fires.

"The circumstance is widespread and violent lawlessness. Life-threatening violence." https://t.co/9l50J6St06
— Karina Brown (@karinapdx) September 1, 2020
• Acting Department of Homeland Security chief Chad "CHAD!" Wolf is sticking his nose in our business once again, telling Mayor Ted Wheeler that he should accept federal officials help in cleaning up Portland. You'll recall his past "help" included critically injuring protesters, kidnapping them off the streets, and polluting Portland's streets and river with tear gas. Soooo... thanks, but no thanks?
• Meanwhile Oregon House Speaker Tina Kotek released a far more nuanced view on the nightly protests, which we encourage you to read in full—but here's a great snippet:
"I've been disturbed by the number of times I've heard police officials and other elected officials defining these protests against racism and police abuse as universally violent. Such a broad brush is simplistic and does not help deescalate these nightly encounters. Unfortunately, there have been too many attempts to use the reprehensible actions of a few to dismiss a genuine grassroots movement and dehumanize all protestors as violent or destructive anarchists. And, this rhetoric has too often been used as an excuse for the indiscriminate use of force against protesters, the majority of whom are not vandals and are not doing anything violent.

People should be held responsible for destructive, dangerous, and violent acts – regardless of their job or their politics. Police officers should be held responsible for destructive, dangerous, and violent acts. At this critical moment, they're not being held sufficiently accountable and therefore the protests continue."
• Very much related: Here's video of a Portland cop tackling a protester and repeatedly punching them in the face. Looks like the cops don't need any extra help in the violence department.

A police officer runs ahead of his line, tackles a protester, and starts punching them on the ground pic.twitter.com/gpwmMjwuWC
— Sergio Olmos (@MrOlmos) September 1, 2020
• In a move that will surely send Oregon's Trumpers into a sweaty, fit of rage, Gov. Kate Brown announced today that she's extending the current state of emergency for another 60 days, thereby renewing her executive orders requiring individuals, businesses, and schools to take coronavirus-related health precautions. Our Blair Stenvick has more!
• Everyone calm down... PORTLAND IS NOT "ABLAZE" as President Trump has wrongly claimed. In fact, Portland's Fire & Rescue confirmed to CNN that Portland is currently not on fire, and the small, insignificant number of blazes that have set by protesters haven't required more than one fire engine. So take off your asbestos pajamas and sleep easy, Portland!
IN NATIONAL NEWS:
• The New York Times has a very illuminating "visual investigation" that uses video, photos, and witness accounts to track all the participants in Saturday's killing of a Patriot Prayer member.
• Despite being asked to stay away by local officials, Trump visited Kenosha, Wisconsin anyway, using the trip to continue spreading conspiracy theories and demonizing left-leaning cities that he incorrectly claims are hotbeds of "domestic terror."
• Los Angeles County sheriff's deputies have once again fatally shot a Black man, this time after stopping Dijon Kizzee for a bicycle violation (you read that right). According to police, Kizzee ran from them, punched an officer, dropped a bundle of clothes that contained a gun, and was then fired upon and killed.

we don't need armed police enforcing traffic laws https://t.co/V1zOo5fYSy
— b-boy bouiebaisse (@jbouie) September 1, 2020
• Trump's lawyers have once again delayed the release of his tax returns by asking a federal judge for time to appeal a lower court's ruling that ordered the president to turn over the documents. Ya know... I'm starting to suspect that Trump might be hiding something!
• The president is vehemently denying that his mysterious, sudden trip to Walter Reed hospital last year was due to him suffering "a series of mini-strokes"... which also mysteriously has never been mentioned until he said it aloud. So thanks for the info, Trump!
• Today in "bags of soup"...

Watch this without laughing.

It's not possible.

He's the President of the Untied States of America... pic.twitter.com/UofWPJLiju
— Rex Chapman🏇🏼 (@RexChapman) September 1, 2020
• Things are looking baaaaad in Iowa, which now holds the dubious distinction of having the highest number of positive COVID cases in the United States.
• THE WEATHER REPORT: Thing continue heating up tomorrow with sunny skies and a high of 87.
• And finally, this is one frog who WILL NOT BE MOCKED.

Omg lmfao 😂😂😂 🐸 pic.twitter.com/vE2Qdn1yDD
— Hendew, The first Hoodkage 🏚 (@HJR_Bae) August 31, 2020
Sponsored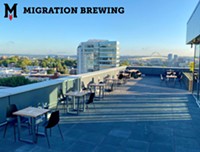 This 9th floor patio boasts stunning views of the city, three mountains, and Portland's West Hills.