We need your help. The economic fallout of the coronavirus crisis is threatening our ability to keep producing the quality reporting you've come to love. If you're able, please consider making a monthly contribution to the Mercury.
Sponsored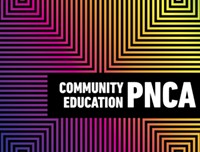 Online art and design classes at the Pacific Northwest College of Art now open for registration!
Good morning, Portland!
While the "
entire city" isn't "ablaze all the time,
" it's going to be
a hot one today
. Another thing that'll get you steamed this morning? These headlines:
- Downtown property owners are lobbying the city to deputize someone to serve as a "night mayor"—basically a direct contact to city leadership to prioritize issues raised by nightclub and bar owners in downtown Portland. Yes, it's as wildly inequitable as it sounds! (P.s. Where do I put in my request for a Bring-Me-Snacks Mayor or a Round-Up-All-the-Neighborhood-Dogs-So-I-Can-Pet-Them Mayor?)
- As for Portland's actual mayor, Ted Wheeler responded to a widely-spread video of a Portland police officer punching a protester in the face by equating it to his condo being vandalized. About that condo: Wheeler's also decided to move out of his Northwest Portland apartment after protesters made it a destination for nightly demonstrations.
- If you want to truly understand all the messy and convoluted dynamics at play as Portland heads toward the November mayoral election, this OPB story has it all.
- It's back to school today for Portland Public Schools—but the school buildings will remain empty. Here's what the first day of school looks like in the middle of a pandemic.
I don't think this can be emphasized enough.

"A former top Department of Homeland Security official who resigned in April says the Trump administration is creating the conditions for domestic extremism to flourish in the United States."https://t.co/fA0upiwGjy
— Ryan Haas (@ryanjhaas) September 2, 2020
- Unsurprisingly, Gov. Kate Brown has extended Oregon's state of emergency due to COVID-19 by another 60 days. This emergency declaration, initially announced in mid-March, is what allows Brown to issue executive orders requiring individuals, businesses, and schools to take coronavirus-related health precautions.
- Brown's declaration extends the statewide foreclosure moratorium, but it doesn't do the same for the eviction moratorium, a protection keeping thousands of Oregonians from falling into homelessness. BUT! Oddly enough, the federal government has stepped in to help. On Tuesday, the Centers for Disease Control (CDC) unveiled a new order barring evictions until the end of 2020. While it's still deeply unclear how, exactly, this sweeping policy will work, it comes as a massive relief for those who've been stripped of their income during the pandemic.
- The federal government is also extending a food assistance program that has been providing free meals to millions of children during the COVID-19 pandemic until the end of 2020. Go USA?
- Donald Trump made these comments about protesters throwing "bags of soup" in July, but the video clip is making the rounds again. We're not complaining:
I'm sorry. I've been laughing about this nonstop. I can't stop. 😭pic.twitter.com/8IAihng3vv
— Matt Rogers 🗳 (@Politidope) September 1, 2020
- A group of Oklahomans have filed a lawsuit against the city of Tulsa, demanding reparations for the 1921 Tulsa massacre, in which white mobs burn down a thriving black neighborhood and killed an estimated 300 Black people. They argue that the mass destruction of lives and property has undermined the success of Black Tulsans ever since.
- While protesters marched across the country calling out Breonna Taylor's name, Louisville prosecutors tried to convince her ex, charged with drug trafficking, to agree to a plea deal, where he would falsely claim Taylor was part of an "organized crime syndicate". (He didn't).
- Trump visits Kenosha, blames everything terrible on "anti-police" politicians, forgets to mention that a teenage boy that supports his campaign recently murdered two people.
Sponsored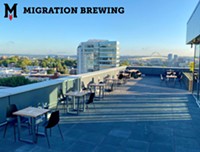 This 9th floor patio boasts stunning views of the city, three mountains, and Portland's West Hills.