We need your help. The economic fallout of the coronavirus crisis is threatening our ability to keep producing the quality reporting you've come to love. If you're able, please consider making a monthly contribution to the Mercury.
Good morning, Portland! Haven't had your coffee yet? No problem—the rage induced by reading this story by the one and only Sergio Olmos should perk you right up! Here's a sneak preview:
Sponsored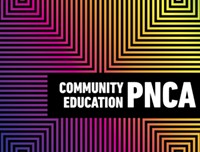 Online art and design classes at the Pacific Northwest College of Art now open for registration!
''yeah, well, you punched him. So you assaulted the officer.' And I was like, 'I punched him, like, what are you talking about?' Um, and he was like, 'yeah, it's all on video. We got all the evidence'." pic.twitter.com/1pXTPbFM4U

— Sergio Olmos (@MrOlmos) September 3, 2020
Okay, here are the rest of the headlines.
• The City of Portland has spent decades creating policies and programs meant to break down inequities long-maintained by the city's traditional government structure. Now, in the midst of a global movement for racial justice, an audit of one of those city programs shows that even well-meaning racial equity work can leave white, middle-class people benefitting the most.
• Three Portland protesters face federal civil disorder charges. That means the charges were brought by the federal government (in this case, the Oregon US Attorney's Office) rather than the Portland Police Bureau (PPB). These are the first federal charges for "civil disorder" against Portland protesters—and the charge is decidedly more vague than past federal charges for arson or assaulting an officer. It's a new, frankly worrying tactic in how the federal government is responding to Portland's protesters.
• Three members of Portland's Citizen Review Committee—one of the city's police accountability boards—resigned yesterday, citing frustrations about how the committee isn't actually empowered to change things. One member wrote that "excessive force used by officers on the streets" during recent protests was a factor in his decision to resign. (For more on the dysfunctional history of the committee, read this 2019 piece from our own Alex Zielinski.)
• Let's check in on our nightly Black Lives Matter protests! Last night saw a relatively small group of protesters make their way to PPB's North Precinct, where they were met by police who made arrests. PPB hasn't released the number of arrests yet.
• Journalism gets results, baby!
Oregon Gov. Kate Brown calls for audit after our reporting on a state institute that lobbied for the timber industry https://t.co/XWOSJpmirc pic.twitter.com/vlX1DBhqx8

— The Oregonian (@Oregonian) September 2, 2020
• The Department of Homeland Security (a government entity that, I should note, was only created in 2002 and is completely unnecessary to the functioning of our society!) recently declined to publish a memo about election security. Specifically, the memo was about a campaign Russia is waging against Joe Biden, which is meant to call into question Biden's health and fitness for office. Hmmm...where have I heard that line of thinking before?
• Donald Trump plans to start restricting funding to some US cities that a White House memo describes as "anarchist jurisdictions"—or, as I like to call them, "places where people give a shit about stopping police brutality." And you better believe Portland is on that list!
• The Centers for Disease Control and Prevention (CDC) is telling states to plan for a potential COVID-19 vaccine in late October. In theory, that sounds great! But it would also be the fastest any vaccine has been created in history—and some are worried that the timing, right before Election Day, is suspicious.
• Are you worried about what role negligent social media companies will play in the 2020 election? If so, I've got some GREAT news for you!!! Facebook announced it's going to stop accepting new political ads one whole week before Election Day to cut down on confusion caused by potential election interference—so we're all good! It's not like, in this election specifically, millions of Americans will likely vote by mail weeks before Election Day! Whew, I feel much better.
• And finally, here's a timely reminder that if we want to make change, we've gotta work for it:
September 3, 2020
Sponsored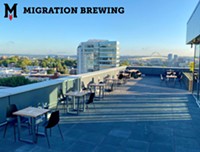 This 9th floor patio boasts stunning views of the city, three mountains, and Portland's West Hills.