Here's your daily roundup of all the latest local and national news. (Like our coverage? Please consider making a recurring contribution to the Mercury to keep it comin'!)
• In case you didn't notice, high winds whipped around the state yesterday, bringing with it smoky air, and brush and building fires all around the Portland metro area. Meanwhile wildfires across the state are prompting some communities—such as Santiam Canyon and Silver Falls State Park in Marion County—to evacuate.
Sponsored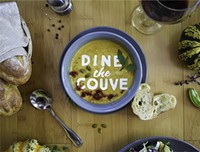 Experience the bounty of northwest flavor with special menus at Clark County restaurants all month.
#OregonFires Enchanted Forest in Salem Oregon looks downright Apocalyptic today. pic.twitter.com/DzgaJzuoFo

— Jesse (@UglyBoyJ2) September 8, 2020
• Trump supporters and the Proud Boys teamed up for a violent protest yesterday to protest the violence of Portland protests (?). Many of their ranks carried guns, baseball bats, pipes, and mace and attacked Black Lives Matter demonstrators—that is, when they weren't spewing conspiracy theories and suggesting that Democratic leaders "be shot dead in the street." Only two of the thugs were arrested, and police spent much of the time cajoling the crowd and asking them nicely to stay in their designated spots. (HUH. It's almost like there are different levels of justice when it comes to protests!)
The right-wing crowd crossed the street and began pursuing the left-wing crowd, knocking one guy to the ground, punching him, then spraying him with mace. pic.twitter.com/hdkBEFUYxZ
— Mike Baker (@ByMikeBaker) September 7, 2020
• Speaking of demonstrations, this weekend marked the 100th (!!) consecutive day of protests against police brutality and systemic racism in Portland, and we sent our great staff of freelance photogs to take pics of all the day's events. Check it out, they came back with some really good stuff!
• On the 100th night of protests, police indiscriminately shot tear gas into Ventura Park and the surrounding neighborhoods which flooded people's homes with noxious, dangerous fumes. As resident Timur Ender put it:

"It was a really frightening situation because you don't really have anywhere you can go," Ender said. "The police are outside your home on all sides. If the tear gas gets in your house, there's no escape. I mean, they don't make a gas mask for a 2-month-old baby."
• Meanwhile the Oregonian editorial board wrote another of their famous tone-deaf screeds, this time telling Black people how, when, and where they should protest if they want to end systematic racism and police violence. It's a divisive, truly uninformed piece that reeks of privilege—but happily the terrific Mac Smiff wrote a blistering response which leaves the O's dumb piece in a pile of ashes. Read that instead!
As the march started, I published a response to the @Oregonian's uninformed opinion piece.

These people should not be allowed to lecture us about Black Lives. https://t.co/rwsbtSLpiY via @weoutherenet pic.twitter.com/1VhRZJmMXt
— The Editor 🏁🐍 (@MacSmiff) September 7, 2020
The O Editorial Gang has been at this sort of thing for 52 years. pic.twitter.com/X7DpNkYXUB
— Mister Sowers (@mistersowers) September 7, 2020
• Mayor Ted Wheeler announced he'll be asking city council to extend renter relocation protections for Portlanders struggling from the effects of COVID-19. Currently, landlords must help tenants relocate if rent increases go over 10 percent—under the new plan landlords must provide relocation help for any rent increase. Our Alex Zielinski has the details!
• The Oregon Department of Transportation (ODOT) has pulled the plug on an advisory group for its contentious I-5 Rose Quarter project, after the group disagreed with ODOT's plan. Our Blair Stenvick spoke with the group's members to get a clearer picture of what really happened.
IN NATIONAL NEWS:
• To the surprise of no one, Trump is using the Black Lives Matter movement to racially enflame his followers, going so far as to suggest a "rise of citizen militias around the country."
White supremacists will remain the most "persistent and lethal threat" in the United States through 2021, according to Department of Homeland Security draft documents https://t.co/2h828GwdCH
— CNN (@CNN) September 8, 2020
• The chief and command staff of the Rochester, New York police department have suddenly "retired" after intense criticism and charges of a cover-up that followed the suffocation death of Daniel Prude at the hands of their officers.
• Ahead of his new book, former Trump crony Michael Cohen is giving interviews and providing juicy criticisms of his old boss, including that the president is a racist and "a cult leader."
• More corrupt Trump cronyism: House Democrats plan on investigating Postmaster General Louis DeJoy after it was discovered he allegedly encouraged his former employees to donate to Republicans and then promised to reimburse them later in the form of bonuses.
Happy birthday, @BernieSanders! You changed the United States of America for the better and created one of the all-time great political moments in beautiful Portland, Oregon. #NotMeUs pic.twitter.com/M81bDW9nw2
— Anthony Johnson (@anthonyj1977) September 8, 2020
• Multiple rescues were made as wildfires continue pushing through California, burning at least two dozen homes.
• Related: "A gender-reveal stunt sparked a California wildfire that has forced 21,000 people to evacuate."
• Tennis pro (and professional smug crybaby) Novak Djokovic was ejected from the US Open yesterday after angrily hitting a ball that struck a line judge in the throat.
• In TV news you love to hear: The show clearly responsible for the decline of Western civilization, Keeping Up with the Kardashians, is finally, finally, FINALLY coming to an end!
• The WEATHER REPORT: Still a bit breezy tomorrow with a high of 90.
• And finally, here's some deep squirrel love.

In a world when you can be anything, be kind ❤ pic.twitter.com/hoqiLx7rv5
— RealJesusChrysler aka Captain Clorox (@ChryslerReal) September 7, 2020
Sponsored
This 9th floor patio boasts stunning views of the city, three mountains, and Portland's West Hills.