We need your help. The economic fallout of the coronavirus crisis is threatening our ability to keep producing the quality reporting you've come to love. If you're able, please consider making a monthly contribution to the Mercury.
GOOD MORNING, PORTLAND! Everybody's looking at me now, like "Who's that chick, that's rockin' kicks? She's gotta be from out of town." LET'S GO TO PRESS.
Sponsored
Win a behind-the-scenes tour of our kitchen, see how we make our artisan edibles, and get some swag.
• Gov. Kate Brown has declared a state-wide emergency after high winds and dry conditions have exacerbated wildfires across Oregon, forcing thousands to evacuate their homes. While Marion County is suffering the worst, fires are growing in neighboring Washington and Clackamas counties as well. Also... CLIMATE CRISIS.
Wow. This is truly like nothing I've ever seen. You'd think this was a time lapse during sunset.
This was taken around 7:30 this morning driving south on I-5.
I believe I started the video north of Wilsonville and ended it north of Woodburn. #LiveOnK2 #BeachieCreekFire pic.twitter.com/taUyFiLodR

— Genevieve Reaume (@GenevieveReaume) September 9, 2020
• Needless to say, people who have or are recovering from COVID-19 are at a greater risk from the smoky air produced by wildfires.
• Bad news for all the protest nay-sayers: A new poll clearly shows that a majority of Portlanders have an unfavorable view of the way the Portland Police bureau and its union operate, and things aren't looking good for Mayor Wheeler either.
• Related headline: "Portland will pay almost $1 million in wrongful death settlement after 2019 police killing."
• A crowd of 100 marched from the waterfront to city hall last night in the continuing protests against police brutality and systemic racism. While police bull rushed the crowd and several arrests were made, the cops stopped short of calling it an unlawful assembly—though they continued to use brutal, unnecessary tactics anyway. One person suffered a seizure while being arrested.
Three medics crossed the street with their hands up to render aid after seeking permission from an officer. Another officer in the opposite side of the street shoved the medics as they approached. #PortlandProtests #PDXprotests #BlackLivesMatter pic.twitter.com/z5zqEXIJ3O

— Justin Yau (@PDocumentarians) September 9, 2020
• Mayor Ted Wheeler announced he'll be asking city council to extend renter relocation protections for Portlanders struggling from the effects of COVID-19. Currently, landlords must help tenants relocate if rent increases go over 10 percent—under the new plan landlords must provide relocation help for any rent increase. Our Alex Zielinski has the details!
IN NATIONAL NEWS:
• Late-stage trials of a coronavirus vaccine have been halted after a test subject developed an unexplained illness. The company who created the vaccine is currently performing a safety review, which, according to Dr. Anthony Fauci, is exactly what they should be doing. Fauci also believes a safe COVID-19 vaccine probably won't be ready until early 2021.
• Trump's Department of Justice plans to represent the president in a defamation lawsuit from E. Jean Carroll who accused him of sexual assault. While the DOJ is supposed to be independent, Bill Barr says they can defend Trump because he uttered the defamation while carrying out his duties as president, and DEAR GOD WHAT HAS THIS COUNTRY BECOME?
Taxpayers should not be funding this defense for alleged conduct occurring in Trump's personal capacity and before he was president. DOJ is way out of line here. https://t.co/Wze6aKI39b

— Barb McQuade (@BarbMcQuade) September 9, 2020
• Here's some good news: Trump is so far refusing to prep for his upcoming presidential debate against Joe Biden. Stay the course, Mr. President!
• According to a new poll, Biden leads Trump by nine points in Pennsylvania—one of the swing states that helped the president beat Hillary Clinton in 2016.
• After a long stint of sitting on his thumbs, Senate Majority Turtle Mitch McConnell has finally released a coronavirus relief package that is so thin and useless, even many of his fellow Republicans aren't expected to support it.
• The chief and command staff of the Rochester, New York police department have suddenly "retired" after intense criticism and charges of a cover-up that followed the suffocation death of Daniel Prude at the hands of their officers.
Facebook's CEO isn't very familiar with his site
"The stories that get the most reach on a day to day basis are the same things that people talk about in the mainstream. They're not highly partisan political issues-it's just meaningful news that's happening on a day-to-day basis" pic.twitter.com/UgZDo0VV9I

— Ellen K. Pao (@ekp) September 9, 2020
• Now let's squint skyward for the WEATHER REPORT: Still a bit breezy today with a high of 90.
• And finally, for those who think that the streets of Portland and New York City are hellish landscapes filled with protests and violence, well... HERE'S YOUR PROOF RIGHT HERE!

I'm crying.🤣😭🤣

Wait for the dismount... pic.twitter.com/OHfw3vwhHs

— Rex Chapman🏇🏼 (@RexChapman) September 9, 2020
Sponsored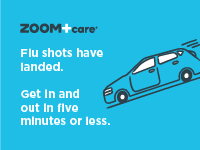 ZOOM+Care makes flu shots easy and safe. Schedule ahead, skip the line—get in and out in 5 minutes.