We need your help. The economic fallout of the coronavirus crisis is threatening our ability to keep producing the quality reporting you've come to love. If you're able, please consider making a monthly contribution to the Mercury.
GOOD MORNING, PORTLAND!
Now that it's raining more than ever, know that we'll still have each other.
You can stand under my umbrella.
LET'S GO TO PRESS.
Sponsored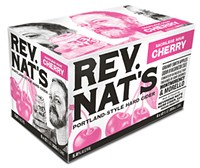 No-fee, same-day delivery of Rev Nat's Hard Cider & Old Town Brewing throughout Portland Metro
• After a long, dry month, drenching rains finally came to the area in earnest last night, bringing with it thunder and lightning as well. The National Weather Service warned about flooding in Clackamas County, Southwestern Multnomah County, and downtown Portland could be receiving an excess of rain today as well. The welcome wetness is also expected to help firefighters combat the state's wildfires, and... well, would you look at that? Portland is no longer the city with the worst air quality in the world! As I write this it's merely "unhealthy for sensitive groups." OH SWEET RELIEF. (Still be careful during outdoor activities, though!)
After a serious thunderstorm, the AQI is still "Very Unhealthy" but I dare say that's some blue sky. #AndThatsBeautiful #pdxtst #OregonWildfires2020 pic.twitter.com/QJS9PtT6xs
— Katelyn Bruhn (@GoFlyAKate) September 18, 2020
• Multnomah County Chair Deborah Kafoury has called for an investigation into members of the Sheriff's Department who allegedly encouraged the armed vigilantes who blocked roads and terrorized people during the wildfires.
• AND WILL YOU LOOK AT THAT: Three Oregon men have been arrested and charged with disorderly conduct in the second degree for reportedly setting up an illegal roadblock and frightening citizens.
• Portland Police predict they'll be going at least a whopping $1.5 million over budget in the coming year—largely thanks to their own choice to over-police protests and collect juicy overtime. Our Alex Zielinski has more.
• According to a department spokesperson, the Department of Justice explored the possibility of criminally charging Portland officials for "allowing" the city's nightly protests by Black Lives Matter demonstrators. Naturally, this spurious case would get laughed out of court—but winning isn't the point, is it?
Residents recount terrifying descent of wildfire into Santiam Canyon: 'It was like hot lava' https://t.co/7PsiBcu74s pic.twitter.com/f5BVoXH8LD
— The Oregonian (@Oregonian) September 18, 2020
• It looks like the 2020 Pac-12 football season is back on again after Governor Brown gave the okay for Oregon and Oregon State teams to resume practice pending approval from the Oregon Health Authority. Hope everyone's happy, because it probably won't end well.
IN NATIONAL NEWS:
• As they threatened, the Trump administration has banned the Chinese-owned WeChat and TikTok from app sites, with the WeChat ban going into effect and rendered unusable this Sunday, while TikTok is scheduled (thus far) to meet the same fate on November 12. The company says they'll challenge the order in court.
• A federal judge in Washington state has blocked the changes to the Post Office that has resulted in slowing down the mail and endangering mail-in voting. The judge ruled that the Trump administration is "involved in a politically motivated attack on the efficiency of the Postal Service."
When President Trump first ran for the White House in 2016, he promised to "come up with a great health plan." Once elected, he swore he had a "wonderful plan" and would be "putting it in fairly soon." On Tuesday night, four years later, he was at it again.https://t.co/axlGBcC6We
— The New York Times (@nytimes) September 18, 2020
• More immigrant women held at a Georgia detainee center have come forward to say they didn't consent to unwanted hysterectomies and other gynecological procedures forced upon them at the ICE facility.
• The US Department of Education is threatening to pull funding from Connecticut high schools if they continue to allow transgender students to participate on their chosen sports teams.
• In further evidence of his utter bungling of the coronavirus, a new document shows that the Trump administration scuttled a plan to send protective masks to every American—a move that would've stressed the importance of wearing masks to stop the virus.
• AND THEN: A criticized CDC advisory that claimed asymptomatic people who had been exposed to COVID-19 didn't have to get tested wasn't okayed by CDC scientists at all, but pushed and published by Trump's Department of Health and Human Services.
• For those who still don't think that Trump needs to be frog-walked out of office ASAP, I'm just going to leave this headline right here: "Trump alleges 'left-wing indoctrination' in schools, says he will create national commission to push more 'pro-American' history."
In their latest shift, Baltimore Police have ordered most of its plainclothes units into uniform and assigned them to work out of marked cars. https://t.co/hmYJu3isZq
— The Baltimore Sun (@baltimoresun) September 18, 2020
• The Louisville City Council has leveled a vote of "no confidence" in their mayor for the way he mishandled the Breonna Taylor killing by police and failed to hold those officers accountable.
• Daily US coronavirus cases, which had started to decline, have recently started increasing again over the past five days—a bad sign as we approach the flu season.
• Now let's peer hopefully at the skies for the WEATHER: Expect more heavy rain today with a high of 66.
• And finally, fine... I'll admit it. He plays a mean accordion.

America — according to Accordian Trump... pic.twitter.com/hcMHu40Gnl
— Rex Chapman🏇🏼 (@RexChapman) September 17, 2020