We need your help. The economic fallout of the coronavirus crisis is threatening our ability to keep producing the quality reporting you've come to love. If you're able, please consider making a monthly contribution to the Mercury.

Sponsored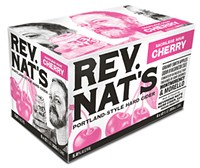 No-fee, same-day delivery of Rev Nat's Hard Cider & Old Town Brewing throughout Portland Metro
Good morning, Portland!
It's... fall? The new season kicks off with a storm of
heavy rain and gusty winds
, expected to start later Tuesday night. Keep an eye out for landslides or flash floods near areas affected by wildfires. The fun never stops!
- Three businesses have filed a class action lawsuit against the State of Oregon, requesting compensation for the income lost through statewide business restrictions meant to slow the spread of COVID-19. The plaintiffs are represented by famed high-profile attorney John DiLorenzo, who's made a name for himself suing state agencies.
- The Department of Justice has declared Portland an "anarchist jurisdiction," threatening to cuts millions of dollars of federal spending for city leaders "tying the hands of law enforcement" during the past few months' of protests. Other anarchist cities, according to the DOJ, are Seattle and New York.
- Surprise! Federal agents tuned in to protesters' private cell phone communications over the summer to monitor illegal activities. According to former FBI officials (and... everyone else!) this was a clear abuse of protesters' constitutional rights.
- Construction on the Interstate Bridge means traffic delays between Vancouver and Portland—but it ALSO means we get to see a zipper truck in action:
While one span of I-5 #InterstateBridge is closed, all traffic shares the other. Twice a day, about noon & about 2 AM, a zipper truck shifts 6,400-ft of concrete barrier to provide 2 lanes in heaviest commute direction. View in action, courtesty @OregonDOT! @wsdot_sw @VancouverUS pic.twitter.com/a6eLeNyLD1
— VancouverPublicWorks (@VanPubWorksUS) September 21, 2020
- Sorry, but Mitt Romney isn't going to abstain from voting to nominate a Supreme Court justice to replace the seat vacated with Ruth Bader Ginsberg's death if the vote is scheduled before election day. (What did I tell you about trying to make this guy your hero.)
- In lieu of republican heroism, Democrats are now considering "packing the court" (ie: expanding the number of justices on the Supreme Court) to keep the court from skewing conservative. Here's more on what that would take to achieve.
- Police are operating under a state of emergency in Louisville, Kentucky as the community awaits an announcement by the state attorney general about his investigation into the fatal shooting of Breonna Taylor by Louisville officers.
- The Manhattan district attorney's office that's been battling Donald Trump over the release of his tax returns claims it has legal grounds to investigate Trump and his businesses for tax fraud.
- Oh hey, it's National Voter Registration Day! Do the damn thing already.
- Southern California is battling a fast-moving fire that is "bigger than the city of Denver." The Bobcat Fire, fueled by drier-than-usual vegetation, continues to creep closer to the dense suburbs outside of Los Angeles.
- I leave you with this concerning tidbit:
"The f***ing White House has commandeered our websites." — close friend of mine, from her office at CDC in Atlanta

This is bad. #COVID19
— Johnathan S. Perkins 😷 (@JohnathanPerk) September 21, 2020