Here's your daily roundup of all the latest local and national news. (Like our coverage? Please consider making a recurring contribution to the Mercury to keep it comin'!)
• In response to the far-right, white nationalist-aligned Proud Boys coming to Portland on Saturday, Gov. Kate Brown has declared a state emergency, assigning Oregon State Police and the Multnomah County Sheriff's Office to have jurisdiction over the rally. The Portland Police Bureau will work under OSP and MSCO—and all three law enforcement agencies will have the power to use CS gas (or tear gas), despite a recent ban from Mayor Ted Wheeler. (Note: All three agencies include officers who have been chummy and more than accommodating with those in far-right organizations—which is a baaaaaad sign for peaceful protesters showing up to demonstrate against hate. Be careful out there.)
Sponsored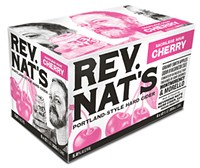 No-fee, same-day delivery of Rev Nat's Hard Cider & Old Town Brewing throughout Portland Metro
Here's what we know about the Proud Boys rally planned for Portland this Saturday, Sept. 26: https://t.co/6tlXqpxwml
— Portland Mercury 🗞 (@portlandmercury) September 25, 2020
• To learn more about the Proud Boys, their past visits, and the questionable deference they've received from the Portland Police, check out this very informative story by our Alex Zielinski.
• In this fascinating investigative piece from OPB, it's noted that Oregon has an unlawful paramilitary activity law that would stop weapons-carrying groups like the Proud Boys from causing civil unrest. This was pointed out to Mayor Wheeler as a possible legal response to violent right-wing groups like the Proud Boys... and was promptly ignored.
• Looking for a way to counteract the traumatic effects to Black people from rallies like the one the Proud Boys are planning this weekend in Portland? Consider giving to the "Black Joy Weekend" fund, which you can find out more about here!
A lot of y'all have been asking about how the Portland Police Budget compares to other similar sized cities. Portland has the smallest population out of these six cities, but PPB spending per person is mid range- about $350 per citizen in 2019. pic.twitter.com/4fCdhsGT45
— Kat McKelvey (she/her) (@KatMcKelvey) September 25, 2020
• An outbreak at a seafood plant in Clatsop County is one of the reasons the Oregon Health Authority announced the highest number of new COVID-19 cases reported in a single day, at a whopping 457 new infections. Case counts have been trending upward all week long.
• If you like FOOD and DRINK, then don't miss the Mercury's latest food and drink news roundup, which lists all the latest openings, closings, gossip, and delicious stuff to stick in your gorgeous mouth!
IN NATIONAL NEWS
• As pretty much expected, Trump has chosen Amy Coney Barrett as his pick to replace Ruth Bader Ginsburg on the Supreme Court. Unlike Ginsburg, Barrett is a right-wing devout Catholic that's staunchly anti-abortion. So that's pretty much terrible news for everyone except for far-right evangelicals (AKA the bad guys in The Handmaid's Tale).
• Meanwhile a clear majority of Americans believe that the replacement for Ruth Bader Ginsburg on the Supreme Court should not happen until after the election. But as Trump and the GOP have clearly demonstrated, they care not a single shit for the opinions of the majority.
WATCH: Justice Ruth Bader Ginsburg's longtime personal trainer, Bryant Johnson, does push ups next to her casket as the late justice laid in state at the U.S. Capitol. https://t.co/1qn4Wh86gd
— NPR Politics (@nprpolitics) September 25, 2020
• Even after being publicly contradicted by Sen. Mitch McConnell and other Republican leaders, Donald Trump is doubling down on his refusal to promise a peaceful transfer of power if he loses the November election.
• Legal experts are saying that Breonna Taylor's boyfriend Kenneth Walker was justified under Kentucky's "castle doctrine" to fire at intruders entering their home—which in this instance was the police who were wrongly attempting to serve a warrant.
• The New York attorney general is VERY CORRECTLY proposing that the NYPD should no longer be allowed to perform routine traffic enforcement, which is the cause of so many unnecessary deaths by the hands of police.
• Local officials in Pennsylvania are pushing back on Trump's claims of election fraud in the state, saying that nine potentially mishandled ballots were actually accidentally thrown away in the office trash.
From Myanmar to Canada, people are asking: How was a superpower like the U.S. felled by a virus? And why won't the president commit to a peaceful transition of power?

We talked to people around the world about how they see America today. https://t.co/vOrO644W4v
— The New York Times (@nytimes) September 25, 2020
• Despite have 695,000 COVID-19 cases in Florida, Gov. Ron DeSantis has lifted all restrictions on businesses statewide, pushing Florida into a wildly dangerous "Phase 3" reopening.
• A federal judge has ruled against Trump and is ordering the US Census to continue for another month, out of fear that a shortened count would lead to inaccurate results.
BREAKING: A federal judge has ruled that the Trump administration's public lands steward has been serving unlawfully and has blocked him from continuing in the post. Montana's Democratic governor sued to remove Bureau of Land Management's acting director. https://t.co/TtYGTcheyG
— The Associated Press (@AP) September 25, 2020
• Need some laughs? Then DO NOT MISS the upcoming Thursday Oct 1 livestream edition of the I, Anonymous Show, featuring a panel of nationally-beloved comedians riffing on the weirdest and wildest submissions from our famous I, Anonymous column and blog! It's HILARIOUS, and you need that.
• The WEATHER REPORT: Expect scattered showers tomorrow with a high of 67—but a pretty nice sunny Sunday!
• And finally, hope you go into this weekend vibing to Fleetwood Mac like this skateboarding and juice-drinking dude.

I will never be as cool as this guy, skateboarding, drinking juice straight out of the bottle, and vibing to Fleetwood Mac.

pic.twitter.com/vjhmqb7kNR
— SassyMétisChick ❤️ 🇨🇦❤️ (@SassyCanadianCk) September 25, 2020